About the Chemistry Program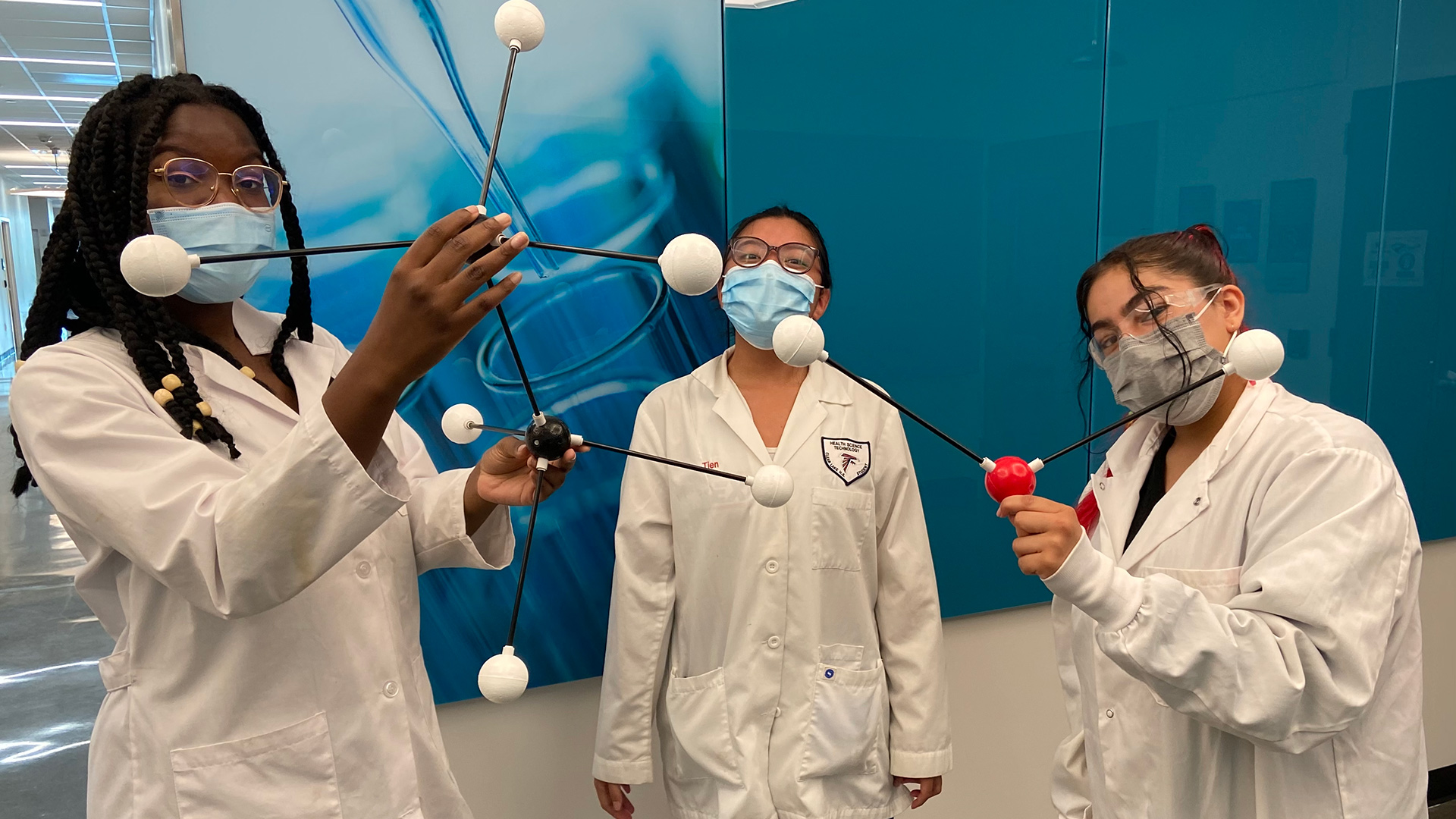 What is Chemistry?
Chemistry is often referred to as the central science as it joins together physics, mathematics, biology, medicine, and environmental sciences.
Chemistry is the link that connects problems in the fundamental nature of matter to the complex and relevant problems of human civilization.
Chemistry Career Opportunities
Mission Statement
To provide high quality chemistry education and hands-on laboratory training for undergraduate and graduate students that would enable them to be equipped for advanced degrees and careers in STEM fields after graduation.
History Highlights of the Chemistry Program at UHCL
The Chemistry Program was established in 1983, shortly after the founding of UHCL. We are strategically located in Greater Houston metropolitan area, are adjacent to NASA Johnson's Space Center.
In 2018, we moved into a new cutting-edge $65.7 million STEM building, with the whole 3rd floor dedicated for Chemistry.
Currently (Spring 2021), the Program consists of 6 full-time and 2 part-time Professors, 2 Lecturers, 1 Lab Technician, 44 BS students, 11 BA students, 9 MS students, and 14 students pursuing a Chemistry Minor.
Chemistry Program HistoryIn the News
Curriculum
Standard Chemistry Core in the traditional areas of Analytical, Inorganic, Organic, Physical Chemistry, and Biochemistry.
Advanced Electives (Principles of Chemical Engineering, Advanced Polymer Chemistry, Spectroscopic Identification of Organic Compounds, Astrobiochemistry I and II, Symmetry in Chemistry, Organometallic Chemistry, Synthetic Organic Chemistry, Special Topics).
Learn More About Our Academic Programs
What We Offer
All students will enjoy a low student-to-faculty ratio, and have access to the most relevant, state-of-the-art scientific instrumentation.
Chemistry BA - designed to prepare students for admission to professional healthcare schools or teaching careers.
Chemistry BS - designed to prepare students for graduate training and for technical careers in the chemical industry.
Chemistry MS – designed to provide students with extensive hands-on research experience and prepare for Ph.D. schools or advanced technical careers in the chemical industry. Additional specialization in Petrochemical & Process Chemistry is available.
Facilities
10 cutting-edge Research Labs and 5 Teaching Labs
JEOL 500 MHz NMR Spectrometer
LC/MS with XL ion Trap Mass from Thermo
Agilent GC-MS system
Perkin-Elmer Optima 7000 DV ICP-OES
XRD Powder Diffractometer
Agilent Cary Eclipse Fluorescence Spectrophotometer
Perkin-Elmer Frontier IR spectrometers
Thermo DXR2 Raman Spectrometer