Chemistry Program
Program Overview
University of Houston-Clear Lake's chemistry program offers opportunities for students seeking a bachelor's or master's degree in chemistry. The program's research opportunities allow undergraduate and graduate students to become part of a research group and work on cutting-edge projects of scientific significance. In addition to traditional training in chemistry, we prepare students for careers in interdisciplinary areas such as medicine, secondary school teaching, patent law or environmental science.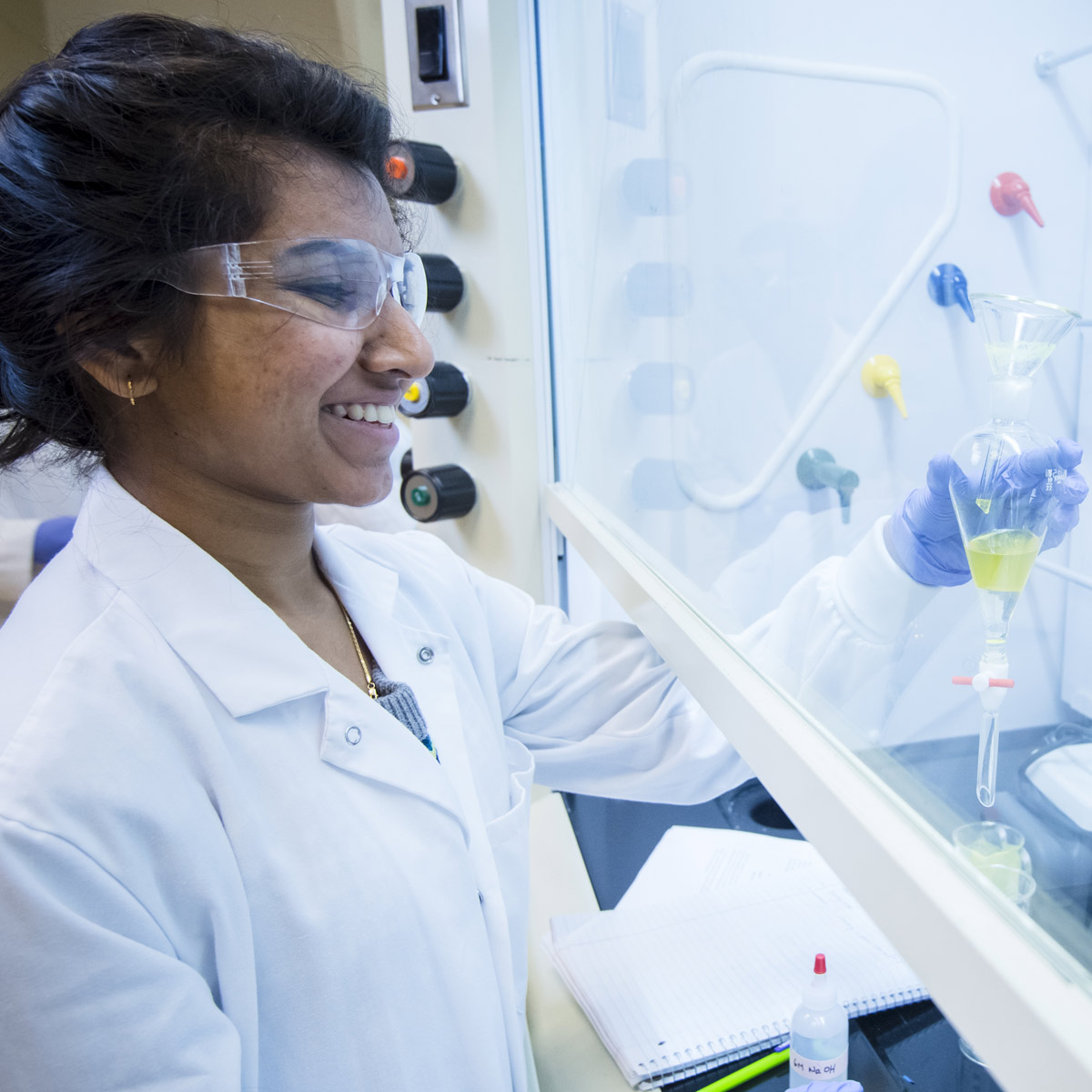 ---
Degrees Offered
Bachelor's Degrees in Chemistry
Chemistry, B.A.
The B.A. in Chemistry degree plan is designed for students who intend to apply for admission to professional (pharmacy, medical, veterinary, dental) schools or to work as school teachers. This degree plan gives students a solid foundation in chemistry while also leaving an ample number of semester credits hours for various elective courses (such as those required for pharmacy or medical schools). BA Chemistry students will also take a one-semester seminar course which will enhance students' oral and written communication skills.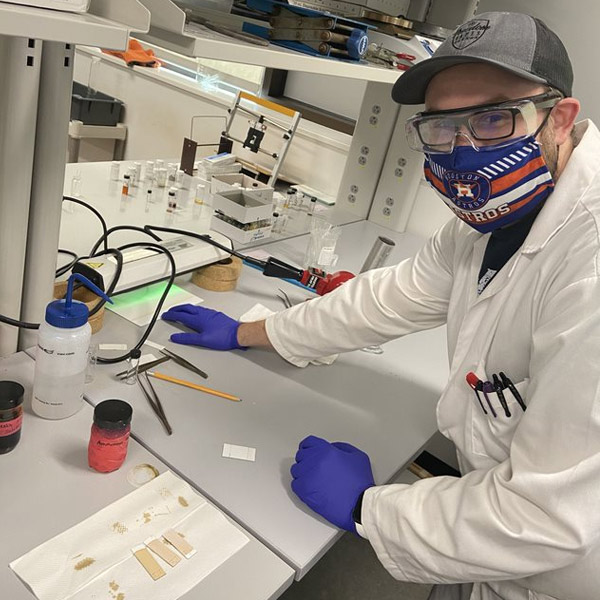 ---
Chemistry, B.S.
The B.S. in Chemistry is designed to meet the needs of students planning careers as professional chemists and is recommended as preparation for graduate training or for a career in the chemical industry.
The B.S. degree is accredited by American Chemical Society, the world's largest scientific society and the premier home of chemistry professionals.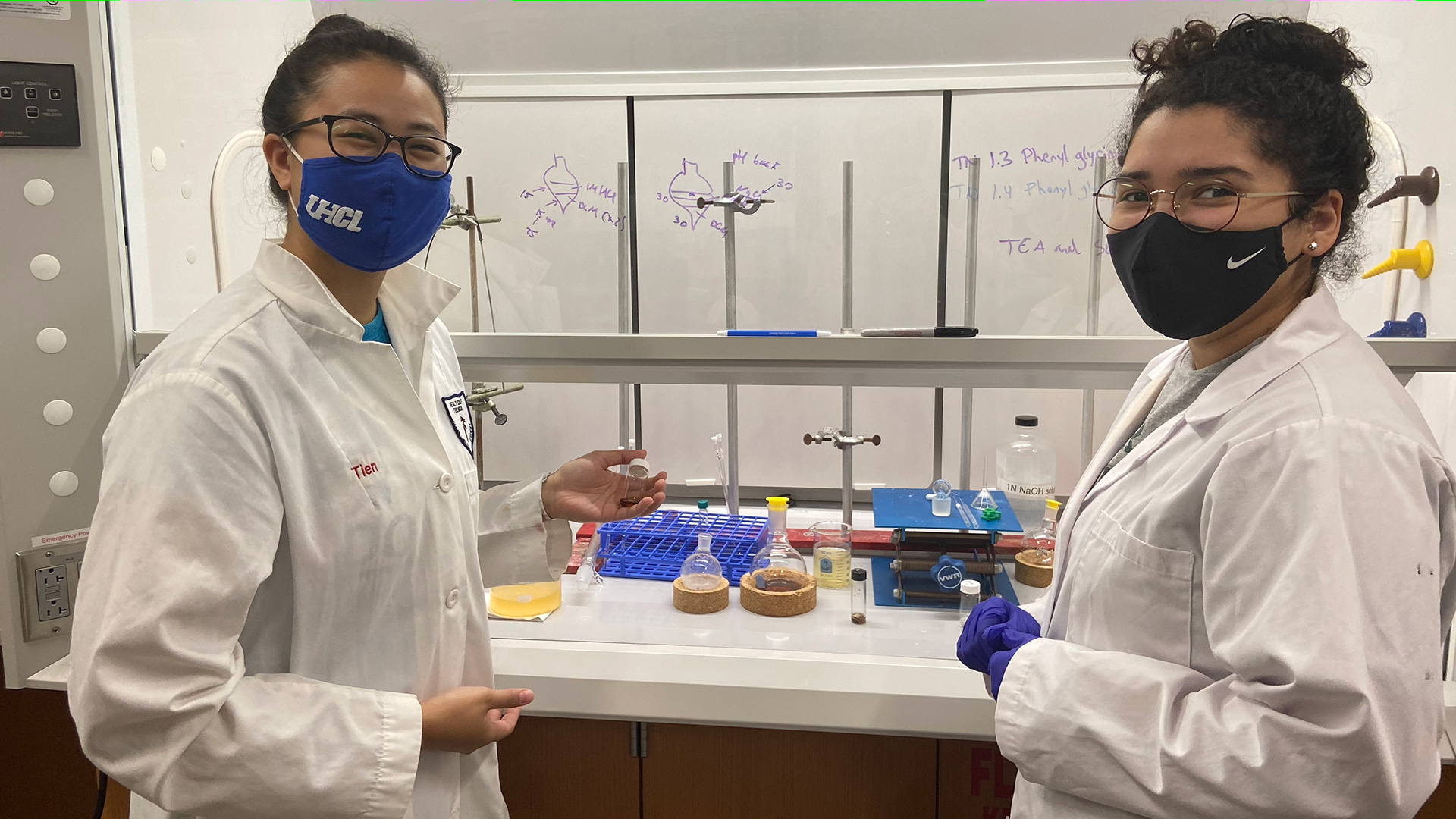 ---
Apply for the Undergraduate Program
Request Info
How to Apply
Visit
If you have questions regarding admissions, please contact the Chemistry Program Undergraduate Enrollment Management Counselor.
Master's Degree in Chemistry
Chemistry M.S.
Graduate Chemistry Student Handbook (PDF)
The standard M.S. in Chemistry Degree consists of 36 total credits. All core requirements and chemistry electives must be completed with a grade of C or better. The goal of this Program is to expand their knowledge beyond what one would see in a typical Chemistry Bachelor's degree program, and also to provide them with extensive research experience. Students have a choice to pursue the MS degree through either an Extended Course Work option or a Thesis option.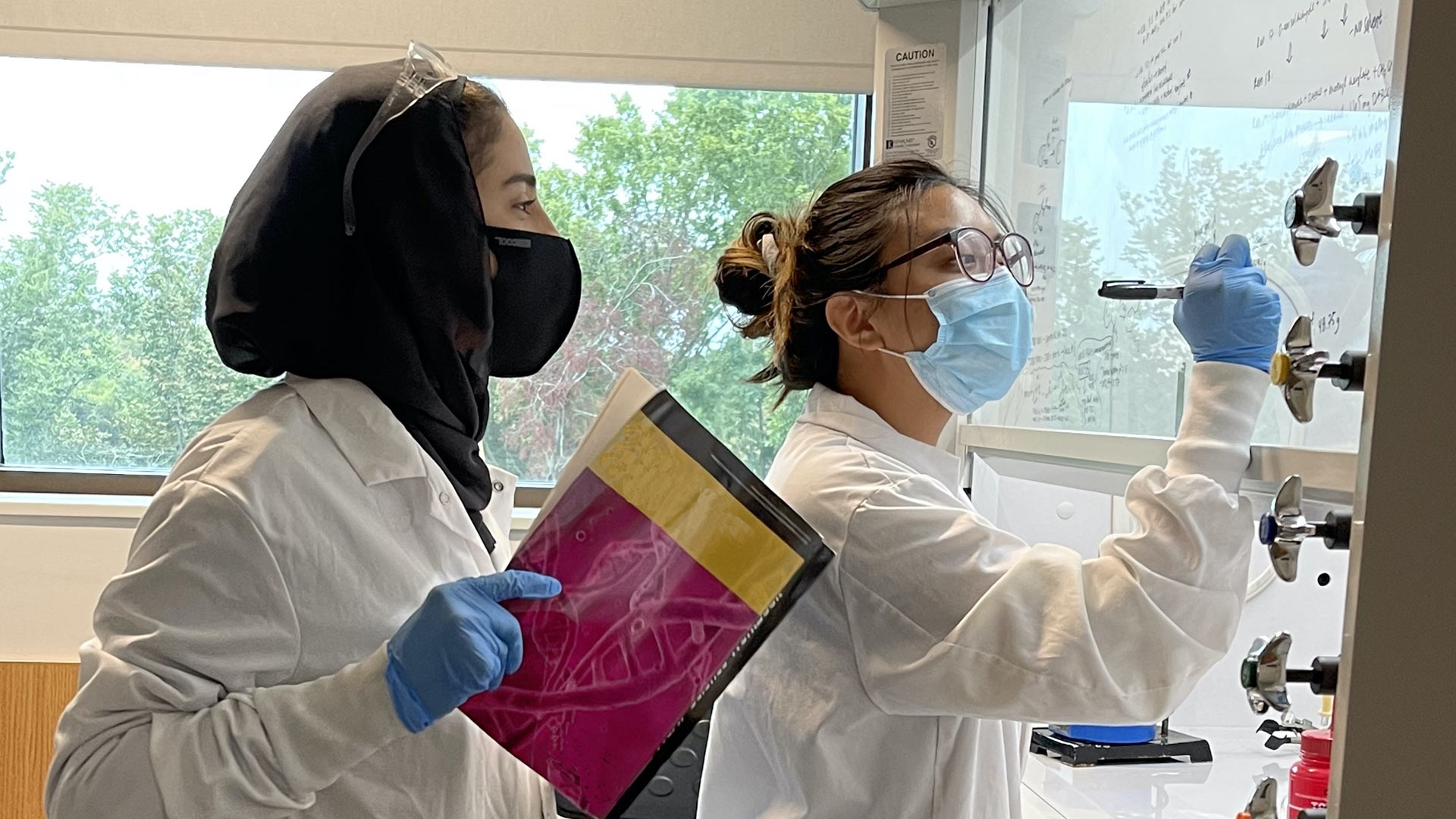 Extended Course Work option. 6 hours of the two Research courses (CHEM 6837 and CHEM 6838), 15 hours of core requirements, and 15 hours of approved electives.
Thesis option. 6 hours in the two Research courses (CHEM 6837 and CHEM 6838), 15 hours of core requirements, 9 hours of approved electives, and a minimum of 6 hours of Master's Thesis Research (CHEM 6939).
We highly recommend taking Research Project I and Seminar (CHEM 6837) in the very first semester of the graduate school and Research Project II and Seminar (CHEM 6838) in the second semester. Then, a candidate is ready to make a choice, to either pursue the extended course work option (and plan for 15 hours of electives) or a thesis option, and continue with 6 hours (or more, if necessary) of Master's Thesis research. See Graduate Book for more details on both Capstone and Thesis options.
For your convenience, both courses (CHEM 6837 and CHEM 6838) are planned to be offered every long semester.
Specialization in Petrochemical and Process Chemistry
Additionally, we offer specialization in Petrochemical & Process Chemistry to both Thesis and non-Thesis option, as long as students complete Advanced Instrumental Analysis CHEM 5332, Advanced Polymer Chemistry CHEM 5635, and Principles of Chemical Engineering CHEM 5132 with a grade of C or higher.
---
Apply for the Graduate Program
Chemistry M.S.

Admission Deadline

Standard Graduate Admission Deadline

Application

A standard university application is required.

Requirements

3.0 GPA
GRE Requirements:

GRE has been waived for those who apply for the Summer and Fall 2021 semesters. The GRE waiver will be automatically applied after successful submission of the admission application.
GRE Total Score of 290 (150 Quantitative)
How to Apply
Visit
Request Info
If you have questions regarding admissions, please contact the Chemistry Program Graduate Enrollment Management Counselor.
Minor
Chemistry Minor
A Minor in Chemistry will serve students who wish to expand their knowledge and skill base in the field of chemistry. This addition to a regular degree can be used to strengthen graduates' applications to professional medical, dental, and pharmacy schools, as well as to applications to graduate schools or pursuing a career in science, business, or education.
In the Minor Degree, students must complete 18 hours as indicated below with at least 9 of those hours drawn from 3000 and 4000 level course offerings.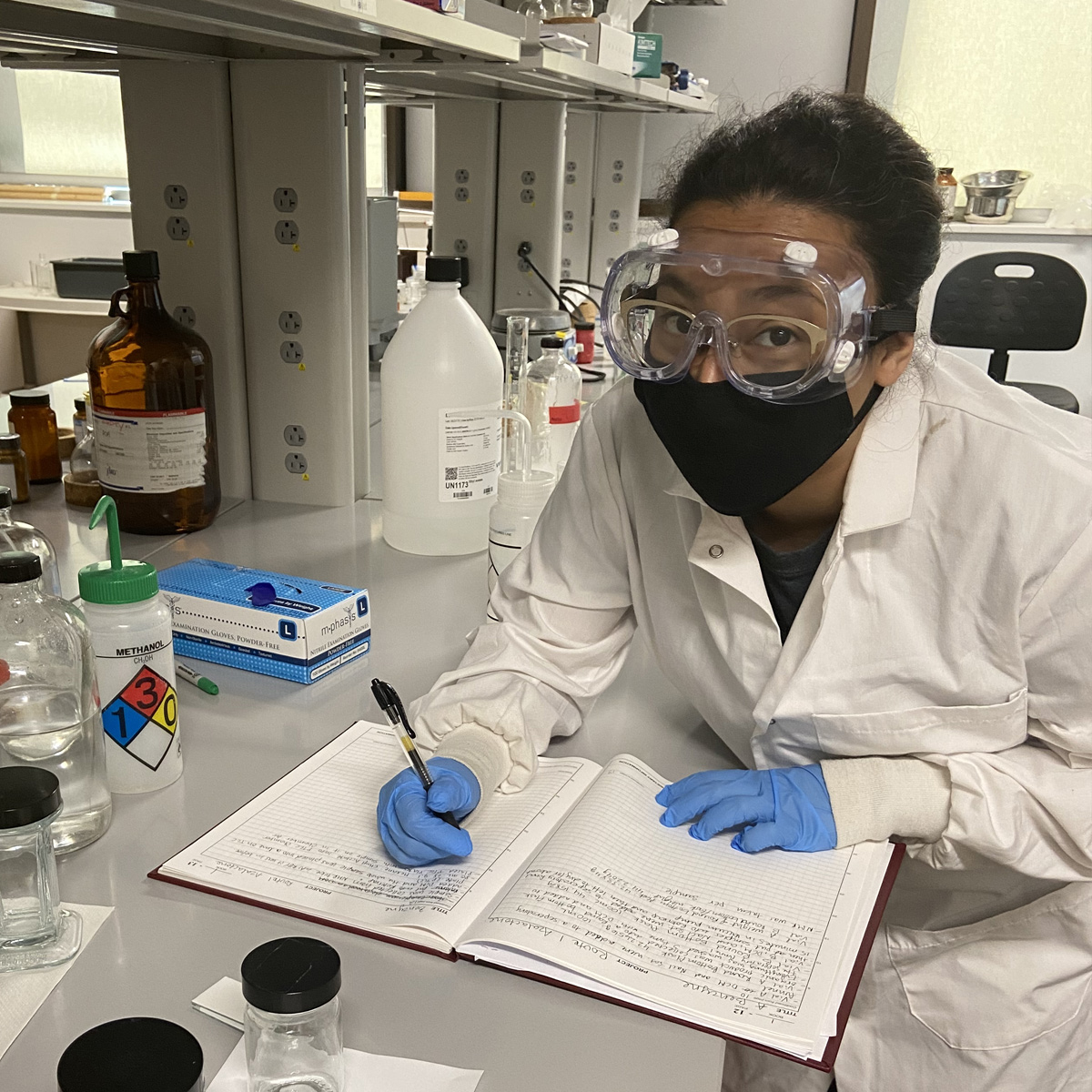 Required courses (8 hours)
CHEM 2323/2123 Organic Chemistry I and Lab
CHEM 2325/2125 Organic Chemistry II and Lab
Elective courses (9 hours)
Choose any 3 of the following courses:
CHEM 3320 Survey of Physical Chemistry
CHEM 4321 Physical Chemistry I
CHEM 4373 Quantitative Chemical Analysis
CHEM 4274 Lab for Quantitative Chemical Analysis
CHEM 4367 Instrumental Analysis
CHEM 4268 Lab for Instrumental Analysis
CHEM 4341 Biochemistry I
CHEM 4335 Inorganic Chemistry
CHEM 4363 Forensic Chemistry
CHEM 4115 Chemistry Practicum
CHEM 4365 Introduction to Polymer Chemistry
CHEM 4368 Advanced Organic Chemistry
CHEM 4379 Undergraduate Research
---
ACS Accreditation
The Chemistry B.S. Program completed evaluation, assessment and re-accreditation by the American Chemical Society (ACS) in 2009, 2014, and 2021, and is on the ACS's list of approved Chemistry Programs nationwide.