About Student Government (SG)
What Is SG?
The Student Government (SG) is UHCL's student government body and official student representative organization. It includes representatives from all registered student organizations, the Executive Council and the Senate. SG's four primary purposes are to:
Advocate for and speak on behalf of the student body at large.
Provide input to university administration on student and organizational issues.
Elect/appoint students to university committees.
Allocate funds to the student organizations.
Mission
The Student Government shares the goal of the University of Houston-Clear Lake to produce students who are satisfied with their university experience and who are afforded the widest opportunities with that experience. The Student Government recognizes the need to provide a more responsive environment for students entering academia. Therefore, the mission of the Student Government, as it relates to the strategic design of the university, is to join the university in its efforts to create a climate which fosters academic excellence as well as professional development.
Vision
Our vision is to foster a vibrant and inclusive student government at the University of Houston Clear Lake (UHCL), where students are empowered to shape their university experience and become catalysts for positive change. We envision a student government that embraces diversity, cultivates leadership, and advocates for the needs and aspirations of all UHCL students. By fostering a sense of unity, collaboration, and engagement, we aim to build a stronger future for our campus community, one that embodies the spirit of a UHCL Hawk and reflects the collective voice and aspirations of UHCL students.
SG Executive Council
Elected by a majority vote, four officers comprise the SG Executive Council (EC) for a one-year term of office.
2023 - 2024 SG Executive Council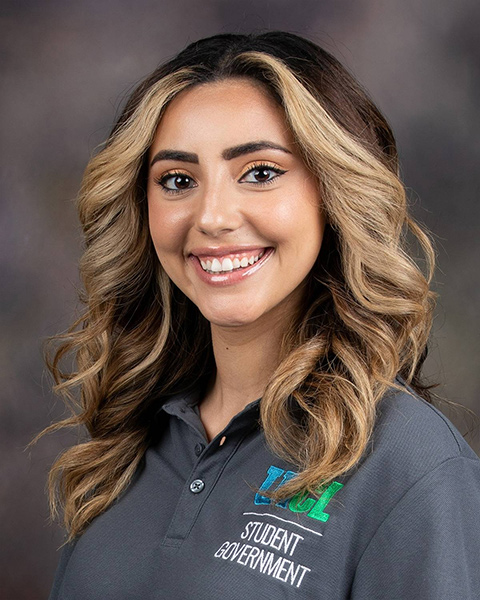 Alexis Staropoli
President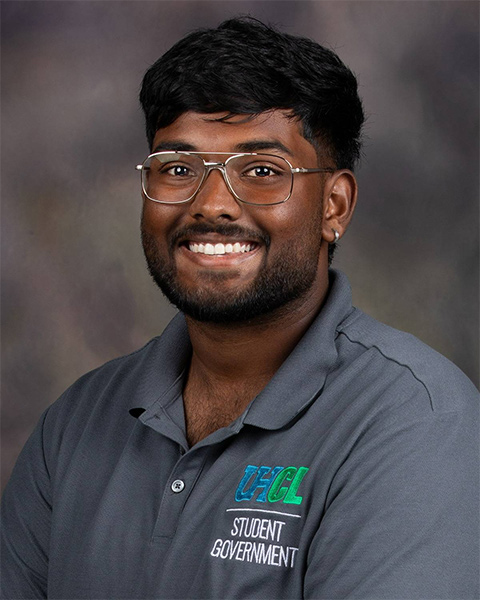 Mukeshkannan Dhanasekar
Vice President – Outreach and Communications
Alexis Staropoli, President
Alexis Staropoli is majoring in Business Marketing and will be graduating in May of 2024. She enjoys the outdoors and exploring the world, she has been to 30 states and visited Costa Rica. Some of her hobbies include dirt bike riding, snowmobiling, wakeboarding and traveling. A fun fact about Alexis is that she has been in 7 commercials and a short film. After graduation Alexis hopes to open her own Social Media Marketing Management Company. Alexis strives to enhance UHCL students college experience and to help students with their concerns. 

During Alexis's first year at UHCL in 2020, she realized she wanted to get involved. She joined the Campus Activities Board as the Recruitment and Retention Coordinator. By getting involved she was able to gain leadership experience and skills that will help her while working with the UHCL community, Administration, Faculty and Staff. Alexis enjoyed her experience on the Campus Activities Board, that she became the President of the Campus Activities Board in 2022-2023. By being in a Fee-Funded Organization she was working closely with Student Government. With her passion for planning events she became the Director of Special Events for Student Government and stayed in that position for 2 consecutive years, 2021-2023. 

Alexis's experience in UHCL leadership by being in Campus Activities Board, Director for Student Government, and being a member of multiple committees, has led her to be the Student Government President. Her mission is to have transparency between the students and administration, bring mental health awareness by providing monthly mental health care packages and making sure the students voice is being heard and followed by action. Alexis is here to have your student excel and to elevate their UHCL college experience! Go Hawks!

Mukeshkannan Dhanasekar, Vice President – Outreach and Communications
Mukeshkannan Dhanasekar, also known as Mukesh. Currently pursuing a bachelor's degree in Biology with a dedicated focus on premed studies, Mukesh's academic journey is fueled by his ambition to venture into medical school. Alongside his scholarly pursuits, he boasts a remarkable 13-year martial arts journey, now imparting his expertise as a part-time martial arts instructor. Mukesh's weekends are a dynamic blend of physical prowess and hands-on hobbies, whether it's hitting the gym, engaging in cricket matches, or tinkering with his beloved car. His adoration for all things mechanical extends to Motorcycles, as he's actively working towards securing his motorcycle license and acquiring his own set of wheels.
Beyond his captivating hobbies, Mukesh thrives as the Vice President of Student Government at the University of Houston Clear Lake.
Driven by a deep-seated belief in amplifying the student's voice, he harnessed his strengths to serve as a vital bridge between the university administration and its vibrant student community. Mukesh champions the notion that every individual deserves a resounding platform for their opinions, and the student government, under his leadership, stands committed to ensuring precisely that - a harmonious blend of advocacy, empowerment, and collective progress. As he continues to carve his path toward medical school, Mukesh's multifaceted persona, dedication to his community, and unwavering commitment to amplifying voices make him a truly inspiring force to be reckoned with.
Shared Governance Committees
Student Government-appointed university committee members help shape UHCL's priorities and projects.
2023-2024 Shared Governance Committee Representatives

| Shared Governance Committee | Student Representative |
| --- | --- |
| Planning & Budgeting Committee | Abigale Chavez |
| Facilities & Support Services Committee | Mukeshkannan Dhanasekar |