Student Government
Your School. Your Voice.
The Student Government (SG) is involved with student organizations, funding and general events/programs on campus. The Senate is concerned about issues pertaining to the betterment of UHCL students. We welcome your interest and participation at SG and Senate meetings.
Join a Committee
As part of a university committee, shape policy and provide student input on initiatives, projects and more.
Request Funding
As part of a student organization, apply for funding to host events, workshops, speakers and more.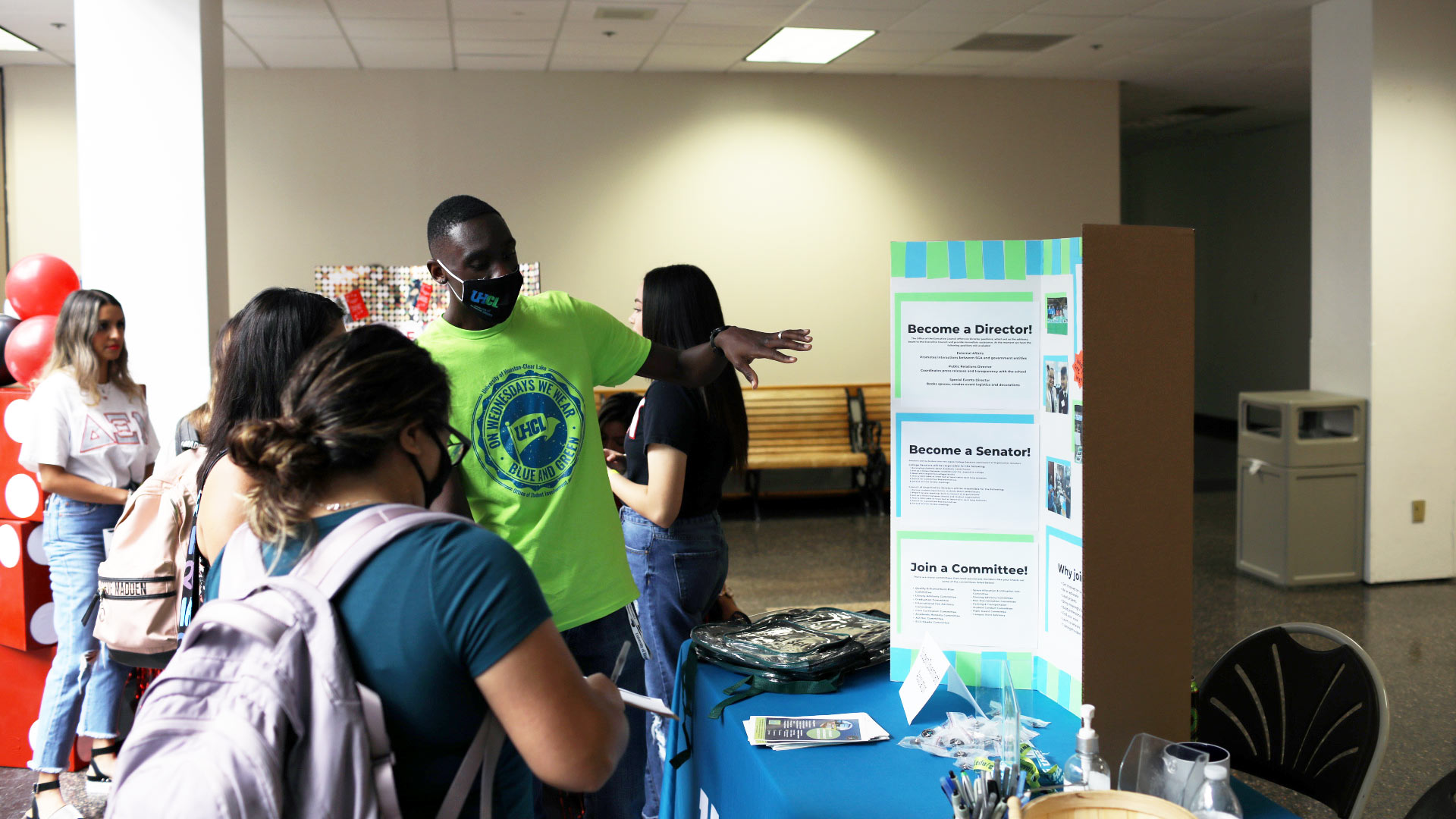 Student Government General Assembly
Every Tuesday, 11:30 a.m. during the fall and spring semesters
Monthly during the summer semester
Open to the UHCL community at large, including all students
Visit GetInvolved for details
The SG is composed of representatives from each of the registered student organizations and is open to all students. Come voice your opinions and concerns at our open-forum styled SG meetings where:
Student organizations and university offices promote their events/programs that encourage an active campus life. If you would like to speak at an SG General Assembly, please fill out a speaking request.


Fund requests and expenditures are considered and reviewed.
Fund Request Details
SG receives funds from Student Services fees every academic year. This allocation is used for sponsoring events that compliment further development of registered student organizations.
Expenditures include speakers, seminars, workshops, special events, and conference travel and can be found in the SG constitution on our Forms page.
Fill out the following forms to make a fund request:
Expenditures
Under no circumstances does SG fund more than 45% of the total cost of a travel event or more than 50% of the total cost of any on-campus event.
Eligibility:

The RSO must have an Active status with the Office of Student Involvement and Leadership.
Events and Activities funded through the student activities fees (including SG funds) must be open to all UHCL students
Organizations eligible for SG funding must attend at least 51% of regularly scheduled meetings.
RSO's must have a bank account in the organization's name with an on-campus Vendor ID number. SG will only reimburse via Direct Deposit the Student Organization, not third-party disbursements.
Full eligibility requirements are outlined on the fund request form.

Presentations: Organizations requesting under $399 are required to present one fund request presentation. Organizations requesting $400 or more must present twice and should amend their request depending on what occurs during the first presentation.
Voting: A quorum (50% + 1) of SG members from registered student organizations must be in attendance to conduct official business and pass requests.
Post-Vote: If an organization's fund request is passed, they must contact the SG advisor on the process of being reimbursed for their expenses no later than two weeks after the event takes place.
Senate Meetings
Monthly during the fall and spring semesters
Senate meetings are not held during the summer semester
Open to the UHCL community at large
Visit GetInvolved for details
The SG Senate is composed of elected student representatives from each of UHCL colleges and the Council of Student Organizations. The Senate focuses on problem areas for students and improvements/upgrades that would benefit students, and considers SG legislation.
For information about speaking at a SG Senate Meeting, please contact sga@uhcl.edu at least two weeks prior to the meeting.