Hawk Training Services
The UHCL Fitness and Wellness Program is dedicated to creating a safe and welcoming environment for all members of the community to embrace fitness and wellness.
Our mission, vision, and values have been established to form a solid foundation in which we are dedicated to the development of quality services for everyone, regardless of personal identity, physical ability or skill level. Our hope is spark a healthier and happier you!
All fitness services can be conducted in-person by appointment only or virtually. Don't wait to start your fitness journey and let our fitness team help navigate those first steps or support you in reaching new goals.
Hawk Group Fitness
A unique experience filled with passion and high-energy in a group setting. Classes are led by certified instructors trained to develop programs that guide, educate and offer variations in order to motivate and inspire participants as they push towards their personal goals. Whether you are an experienced participant who enjoys an extra challenge or a newcomer looking to start your fitness and wellness journey with some extra motivation, our dedicated instructors will be there to encourage and inspire you along the way. We want to spark your passion for a healthier and happier you!!
Participants of all levels, beginning, intermediate and advanced, are welcome to attend all classes. Classes and instructors are subject to change. Additional classes outside the schedule may become available and announcements will be made as soon as events are scheduled.
All students, faculty, staff, and community members will have access to free fitness content available on UHCL Campus Recreation social media platform. This includes PT Tuesday, Fit Fridays, and access to YouTube Live and pre-scheduled Facebook Live events.
For Spring 2021 there will be no additional cost associated with HawkFit, Hawks Fitness On-Demand or the Pro Club Series for all current students and active members.
Spring 2021 Group Fitness
Group Fitness Schedule
The new schedule starts Monday, March 22. Additional classes may be added as special events or specialty classes, so follow us on social media platforms to stay up-to-date.
Register for Group Fitness Classes
Hawk Wellness
UHCL strives to create an environment that supports and fosters healthier lifestyles for all Hawks and the greater UHCL community. UHCL Healthy Campus is a collaborative effort between the Department of Campus Recreation and Wellness, Counseling Services, and the Health Services along with several other campus and community partners.
UHCL Health and Wellness resources
Wellness Wednesday Programs
Join the Campus Rec Fitness Team and other wellness leaders on campus in our Wellness Wednesday series. All sessions will begin at noon and are conducted virtually through Facebook Live, so connect with Campus Recreation on Facebook by following @uhclcampusrec. All UHCL students, employees and RWC members are welcome to attend.
| Date | Topic |
| --- | --- |
| March 24 | Level Up - Pushing yourself to become the best you |
| April 7 | Game Night - The Importance of Social Wellness |
| April 21 | PT Debate: Programming Full Body vs. Muscle Specific |
Holistic Health and Wellbeing Model
The holistic wellbeing model considers the following areas of wellness:
Physical
Social
Emotional
Environmental
Financial
Occupational
Psychological
Intellectual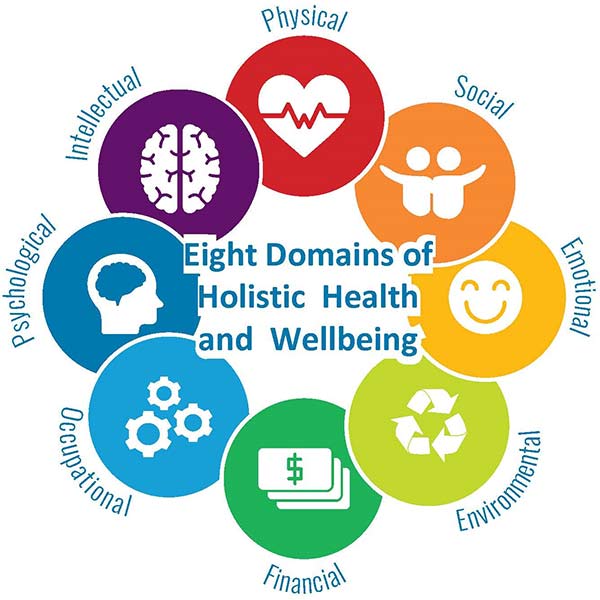 Physical Wellness
The ability to
Maintain a quality of life that allows you to succeed in your daily routines without undue fatigue and stress.
Recognize behaviors associated with your daily routines and choose healthier habits (physical activity, balanced caloric intake, proper rest, etc.) while avoiding destructive ones (tobacco usage, drugs, excess alcohol, etc.).
Engage in vigorous physical activity for at least 150 minutes per week.
Engage in physical activity between aerobic exercise and resistance training.
Engage in flexibility exercise at least two-three times per week.
Engage in functional training (motor skill related exercise, balance, agility, coordination) at least two-three times per week.
Sleep restfully and allow your body to properly recover from the activities of the day.
Social Wellness
The ability to
To be part of something bigger than yourself.
Be able to communicate effectively.
Articulate an awareness of people who are different than you and an understanding of the importance of an inclusive community.
Be able to build networks and relationships with members of your community.
Relate to and engage with others in our world.
Establish and maintain positive relationships with your families, friends and colleagues.
Make willful choices to enhance personal relationships and build a better community.
Live in harmony with others rather than in conflict.
Emotional Wellness
The ability to
Recognize your trigger points and manage your emotions in a healthy and productive way.
Better recognize and understand other's responses to emotional stimuli and how they work together in the most productive way possible.
Integrate productive emotional responses into your daily routines to minimize stress and anxiety.
Build trust and respect in others.
Have an optimistic view on life rather than being pessimistic.
Environmental Wellness
The ability to
Protect yourself against environmental factors that may adversely impact your health or the ecological balances essential to your long term health and environmental quality.
Make decisions that build a better living and working space for the community.
Actively seek ways to preserve the beauty and balance of nature.
Enjoy the natural spaces in and around our city and university.
Financial Wellness
The ability to
Make accurate short and long-term decisions related to your personal and professional choices.
Adequately plan for savings for long-term financial security.
Find resources to assist in managing your financial resources.
Understand that holistic wellness contributes to lower medical costs now and in the future.
Occupational Wellness
The ability to
Find a career that you are passionate about.
Attain leadership skills that prepare you for future roles on campus, in your community, and in your career.
Participate in a variety of professional and career development opportunities to become prepared for your future work environment.
Describe one's life work as the totality of who we are, not as individual silos independent of each other.
Recognize that balancing the different responsibilities of a career is a verb and must be an active process of learning, developing, and demonstrating your growth.
Developing new skills that keep you up-to-date on the needs of an ever-changing world.
Psychological Wellness
The ability to
Recognize that the mind and the body are not two independent parts.
Understand that physical activity has a direct impact on psychological behaviors and processes.
Understand that to keep our brains at peak performance our bodies need to work hard and be challenged daily.
Better manage psychological issues like depression, stress, anxiety, social anxiety, and other behaviors.
Intellectual Wellness
The ability to
Become a positive, productive and respectful member of both the campus and greater community.
Challenge yourself to think outside of the box and maintain an open mind.
Be comfortable being uncomfortable.
Understand that physical activity and movement helps the brain create and maintain connections that strengthen our abilities to learn new information.
Become a life-long learner is strengthened by our involvement in physical activity.