Let us spark your interest in physical activity and get you moving towards a healthier life.
Questions? Contact Bryce Starr, Coordinator for Fitness and Wellness
Resource: Mywellness, Technogym's free app helps you track your fitness progress each day. Available on Google Play and Apple's App Store.
Fitness Services
Eligibility: Current UHCL students and Campus Recreation and Wellness members.
Our trainers have diverse educational backgrounds, areas of specialization, and are nationally certified personal trainers with CPR/AED and First Aid certifications (American Red Cross). Fitness service options are:
Small Group Training
Group training is 2 - 4 participants who share the cost of a small group training package. It's an affordable and fun option that blends individual attention with the positive energy of a group training dynamic.
While all small group participants register individually, payment is done in-person to share the cost. Alternatively, one person could pay in full online and personally collect the other participants' shares.
Fitness Assessment
Cost:
Bundled at no additional charge in training packages
$10/student or $15/non-student for standalone assessment
A fitness assessment is a systematic process of objectively gathering measurable data about your physical state and includes tests such as resting heart rate, body composition, movement, muscular endurance, flexibility and aerobic endurance.
You can use the assessment information to determine the effectiveness of your training program by comparing beginning numbers with those measured weeks, months or years later.
Training Packages
Sessions
Personal Training
Student/Non-Student Cost
Small Group Training
Student/Non-Student Cost
Fitness Assessment
Student/Non-Student Cost
4
$83 / $125
$151 / $190
included
8
$156 / $215
$241 / $300
included
12
$220 / $300
$330 / $410
included
16
$275 / $400
N/A
included
20
$340 / $500
N/A
included
Sessions: 60 minutes
To cancel a session, you must notify us 24 hours in advance, otherwise you lose the session.


Prepayment: Required before any scheduling
Training or assessment must be used within 120 days of purchase.


Refunds: None
All personal training sessions, including fitness assessments are nontransferable and nonrefundable and must be purchased in advance of any session or assessment.


Waiver: Required
We reserve the right to deny service to a participant who may not be able to exercise safely within the parameters of our program.
Fitness Service Registration
If you have a small group training interest, contact the Member Services Desk to arrange for in-person registration and payment for all participants of the group.
Complete the Personal Training Request Form.
The online form will let us know about your goals, preferences and a short medical history using PAR-Q (pdf) questions.
Small group training participants must individually submit the personal training request form.


We'll contact you.
Within five business days, you will either receive a clearance to purchase a Personal Training option or need a required medical waiver before proceeding with training.

The medical waiver (pdf) must be completed by your physician at your request, and you must turn it into fitness and wellness coordinator at Member Services Desk. After reviewing the completed waiver, you will be contacted within five business days.


Wait for clearance from Campus Recreation and Wellness.
After all documentation is submitted and reviewed, you are contacted within 5 business days. Once you receive clearance to proceed from us, you can select and pay for your desired fitness service.

Small group training participants: All group members must commit to the scheduled dates and times established with your assigned trainer before proceeding to the next step.


Select and pay for your desired fitness service (online or in-person).
We accept cash, check and credit card (American Express, Discover, MasterCard, Visa)



Online at rwconnect.uhcl.edu
Small group training may be paid online in-full by one participant who personally collects the other participants' shares.



Login with your UHCL or member account (Example: hunterh).
Select Personal Training.
Select Multi-Visit Passes.
Select your desired fitness service or training package.
Select Personal Training
Select Multi-Visit Passes.
Select Add to Cart.
Select Checkout.

In-person at the Member Services Desk on the 2nd floor.
Small group training participants may pay their portion for the training package in-person.

Your assigned personal trainer contacts you.
Within two business days after your payment has been received, your personal trainer will contact you to schedule an initial consultation appointment (60 minutes) or your next session.

An initial consultation is required when starting training for the first time or if you have a new trainer. It includes having a fitness assessment with initial measurements, setting up an exercise program and scheduling your sessions.

To change your trainer, contact Bryce Starr, Coordinator for Fitness and Wellness.
Renewals
To purchase additional sessions, follow the Fitness Service Registration steps 4 and 5.If you want a specific trainer, you may want to check his/her availability. Remember, payment must be rendered prior to scheduling sessions.
Group Fitness
Discover a new community while obtaining leadership and fitness skills such as cardiovascular, strength and mental training. We aim to encourage diversity and inclusion through our group fitness classes.
Participants of all levels, beginning, intermediate and advanced, are welcome to attend the group fitness classes (pdf). Classes and instructors are subject to change. Additional classes outside the schedule may be available.
Group Fitness: Summer 2019 Schedule
The following applies to the schedule below:
Walk-ins welcome. If you register online, arrive 15 minutes early to secure your spot.
MP 1 is Multipurpose Room 1 and MP 2 is Multipurpose Room 2.
Outdoor Fitness Plaza is the outdoor turf area accessible from Basketball Court 1. In the event of incliment weather, Boot Camp will be moved to the functional training areas on the track.
May 20 - Aug 16, 2019
Class 1 (Instructor)
Class 2 (Instructor)
Class 3 (Instructor)
Monday


Pilates (Aliya)
12 - 12:55 p.m
MP 1
Quads, Core & More (Bryce)
1 - 1:55 p.m.
MP 2
Tuesday



Pilates (Aliya)
11:30 a.m - 12:25 p.m.
MP 1
Rowing (Arjumand)
5:30 - 6:25 p.m.
MP 2
Zumba (Arjumand)
6:30 - 7:25 p.m.
MP 1
Wednesday



Revolution (Bryce)
12 - 12:45 p.m.
MP 2
Thursday




Boot Camp (Dominique)
11:30 a.m. - 12:25 p.m.
Outdoor Fitness

Pilates (Aliya)
5:30 - 6:25 p.m.
MP 1
Zumba (Arjumand)
6:45 - 7:40 p.m.
MP 1
Friday



Yoga (Bryce)
10:30 - 11:25 a.m.
MP 1




Wellness
Resources:
Holistic Wellness Model
The holistic wellness model considers the following areas of wellness:
Physical
Social
Emotional
Environmental
Financial
Occupational
Psychological
Intellectual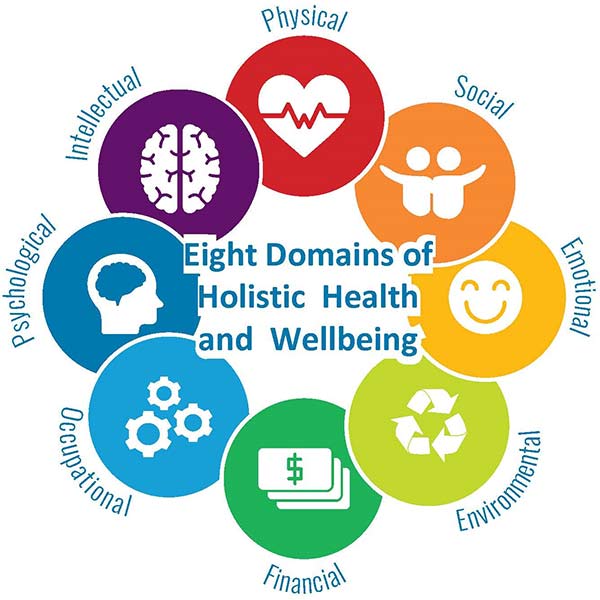 Physical Wellness
The ability to
Maintain a quality of life that allows you to succeed in your daily routines without undue fatigue and stress.
Recognize behaviors associated with your daily routines and choose healthier habits (physical activity, balanced caloric intake, proper rest, etc.) while avoiding destructive ones (tobacco usage, drugs, excess alcohol, etc.).
Engage in vigorous physical activity for at least 150 minutes per week.
Engage in physical activity between aerobic exercise and resistance training.
Engage in flexibility exercise at least two-three times per week.
Engage in functional training (motor skill related exercise, balance, agility, coordination) at least two-three times per week.
Sleep restfully and allow your body to properly recover from the activities of the day.
Social Wellness
The ability to
To be part of something bigger than yourself.
Be able to communicate effectively.
Articulate an awareness of people who are different than you and an understanding of the importance of an inclusive community.
Be able to build networks and relationships with members of your community.
Relate to and engage with others in our world.
Establish and maintain positive relationships with your families, friends and colleagues.
Make willful choices to enhance personal relationships and build a better community.
Live in harmony with others rather than in conflict.
Emotional Wellness
The ability to
Recognize your trigger points and manage your emotions in a healthy and productive way.
Better recognize and understand other's responses to emotional stimuli and how they work together in the most productive way possible.
Integrate productive emotional responses into your daily routines to minimize stress and anxiety.
Build trust and respect in others.
Have an optimistic view on life rather than being pessimistic.
Environmental Wellness
The ability to
Protect yourself against environmental factors that may adversely impact your health or the ecological balances essential to your long term health and environmental quality.
Make decisions that build a better living and working space for the community.
Actively seek ways to preserve the beauty and balance of nature.
Enjoy the natural spaces in and around our city and university.
Financial Wellness
The ability to
Make accurate short and long-term decisions related to your personal and professional choices.
Adequately plan for savings for long-term financial security.
Find resources to assist in managing your financial resources.
Understand that holistic wellness contributes to lower medical costs now and in the future.
Occupational Wellness
The ability to
Find a career that you are passionate about.
Attain leadership skills that prepare you for future roles on campus, in your community, and in your career.
Participate in a variety of professional and career development opportunities to become prepared for your future work environment.
Describe one's life work as the totality of who we are, not as individual silos independent of each other.
Recognize that balancing the different responsibilities of a career is a verb and must be an active process of learning, developing, and demonstrating your growth.
Developing new skills that keep you up-to-date on the needs of an ever-changing world.
Psychological Wellness
The ability to
Recognize that the mind and the body are not two independent parts.
Understand that physical activity has a direct impact on psychological behaviors and processes.
Understand that to keep our brains at peak performance our bodies need to work hard and be challenged daily.
Better manage psychological issues like depression, stress, anxiety, social anxiety, and other behaviors.
Intellectual Wellness
The ability to
Become a positive, productive and respectful member of both the campus and greater community.
Challenge yourself to think outside of the box and maintain an open mind.
Be comfortable being uncomfortable.
Understand that physical activity and movement helps the brain create and maintain connections that strengthen our abilities to learn new information.
Become a life-long learner is strengthened by our involvement in physical activity.