EIH Joins TAMUG for Sea Turtle Research Along the Texas Coast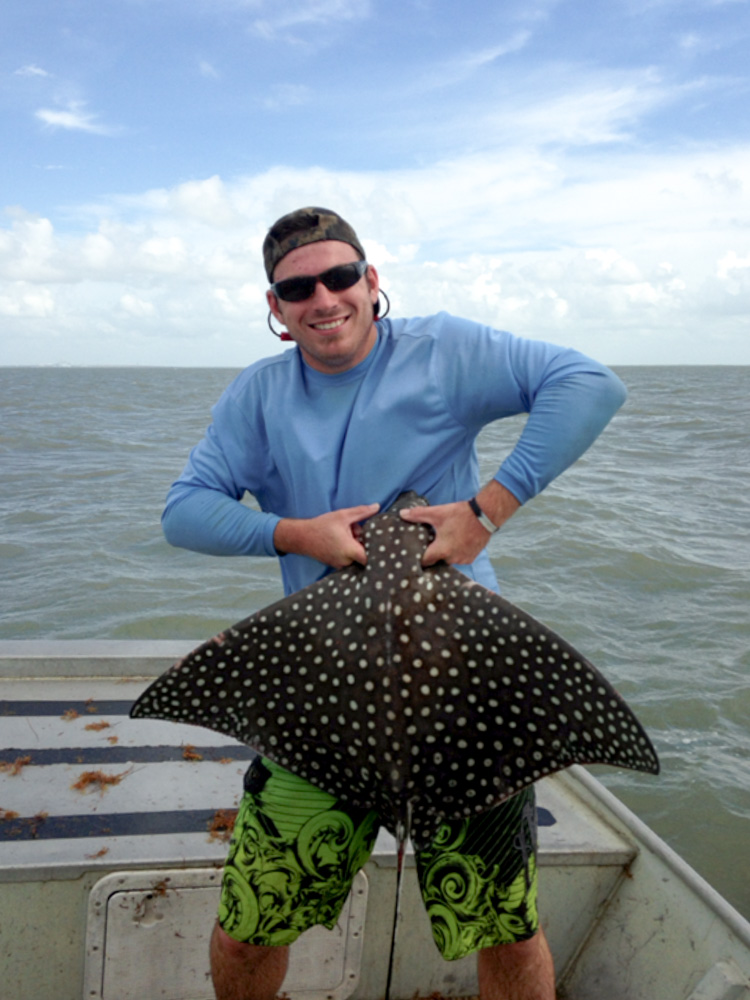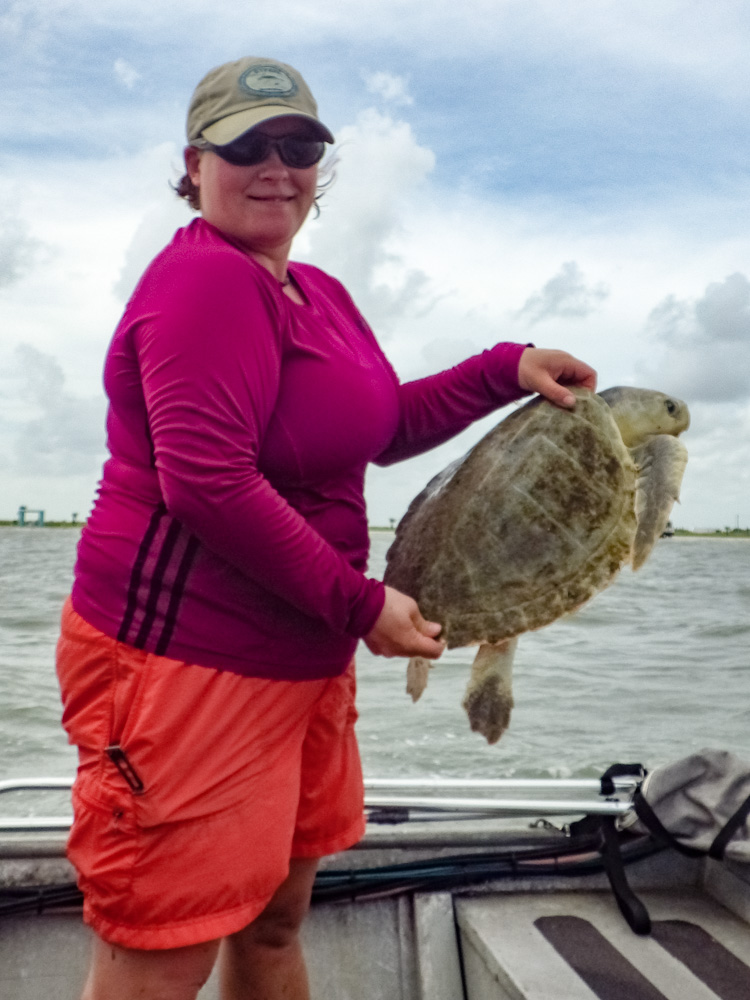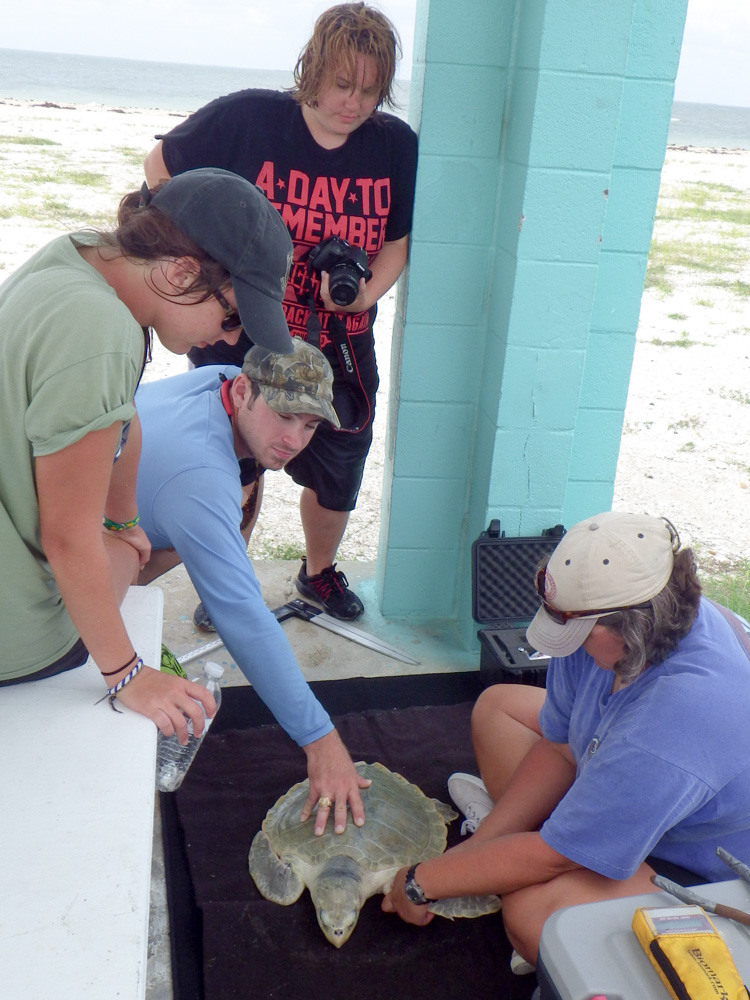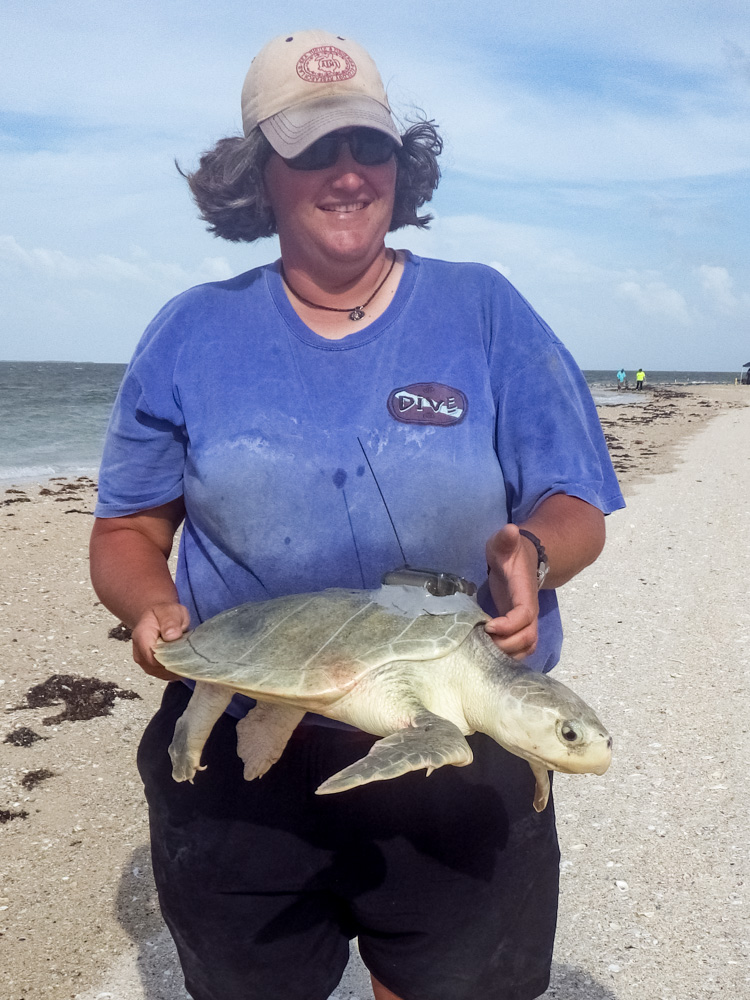 December 4, 2013
The weekend of September 13-15, 2013, the Environmental Institute of Houston's Senior Research Associate Mandi Moss and graduate student Michael Lane joined Texas A&M University at Galveston sea turtle biologist Tasha Metz in Matagorda, Texas, on a sea turtle entanglement netting trip coordinated by TAMUG.
TAMUG researchers have been studying juvenile sea turtle populations along the Texas coast for over a decade. Metz coordinated the sampling trip with EIH to Matagorda Bay in an effort to continue long-term monitoring on juvenile Kemp's Ridley (Lepidochelys kempii) populations along the northern Texas coast and to deploy satellite transmitters. For this event, satellite transmitters were provided by Chris Sasso with the NOAA Southeast Fisheries Science Center in Miami, Fla.
During this sampling trip, one juvenile Kemp's Ridley sea turtle (38.6 cm straight carapace length) was captured approximately 100 m off Magnolia Beach. The turtle was checked for existing tags, including presence of passive integrated transponder tags (injected into the front flipper) and presence of external flipper tags or scars left by detached tags. The turtle had not been previously captured and was equipped with a set of unique tags. The turtle was also examined for overall health, size, length, width, and photographed.
In the last few years, Metz has been involved with various satellite tracking projects coordinated through TAMUG and other academic institutions. The turtle captured during EIH's visit was equipped with a satellite tag and released for tracking. Satellite tracks from tagged turtles are typically uploaded to seaturtle.org for viewing and turtles can be adopted by the general public to help fund additional research.
In addition to assisting TAMUG with this netting in 2013, Metz and George Guillen, director of EIH, have been awarded a grant from the Texas State Aquarium to continue juvenile sea turtle monitoring in summer 2014. Members of EIH, as well as TAMUG students and volunteers, will have the opportunity to join Metz in sampling along the Texas coast evaluating presence of fibropapillomatosis in juvenile populations of green sea turtles (Chelonia mydas) over the course of a few weeks next summer.
"This project represents another example of the commitment of EIH to work with and assist fellow researchers and partner organizations along the Texas coast on critical conservation issues," said Guillen about the opportunity to work with Metz.
Visit seaturtle.org for a list of current and former satellite tracks from TAMUG and other organizations.
You can read more about fibropapillomatosis in sea turtles in a paper by Lawrence Herbst and Paul Klein and Florida FWCC's page.
Related links
TAMUG Kemp's Ridley Tracking 2004-2006
TAMUG Kemp's Ridley Tracking 2007