December 20, 2016
UHCL graduate student Nicole Morris was walking transects, or straight lines, in the marshes of the Sweetwater Preserve on Galveston Island when she made a surprising discovery. Morris and her colleagues Mandi Gordon, senior research associate, and Kris Warner, UHCL graduate student, were searching for depressions in the mud that are indicative of Texas diamond-backed terrapins, what they found was a message in a bottle.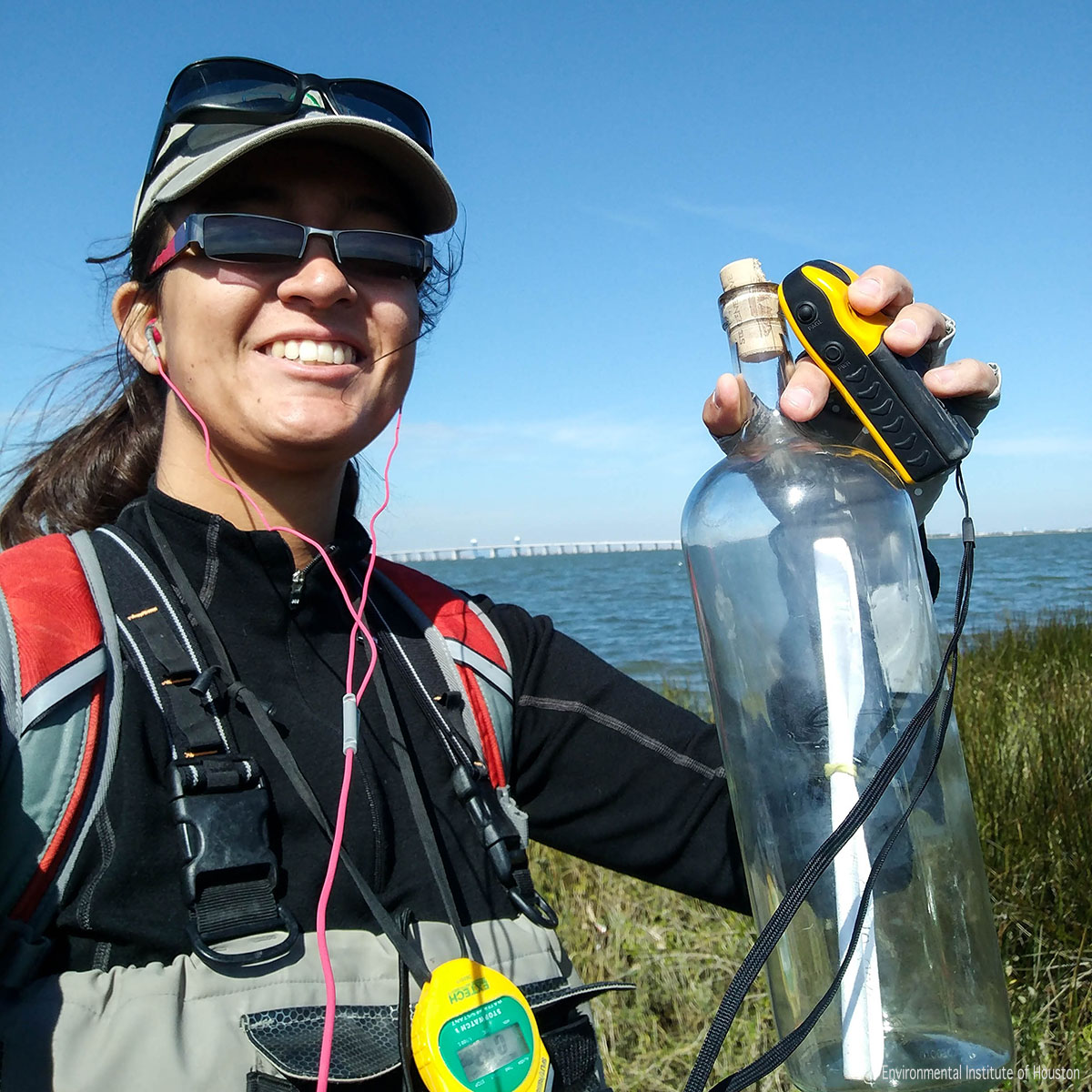 "I had just come to the end of my transect by the water. I looked over, and saw the glass bottle," recounts Morris. "At first I thought nothing of it. Sadly, discarded glass is fairly common on the edges of the marsh."
However, this bottle made Morris do a double-take. What made her take notice? "For one, the cork was intact, which is rare, and the bottle was clear with a rolled up paper inside," explained Morris. "I was very excited when I realized it was probably a real message in a bottle."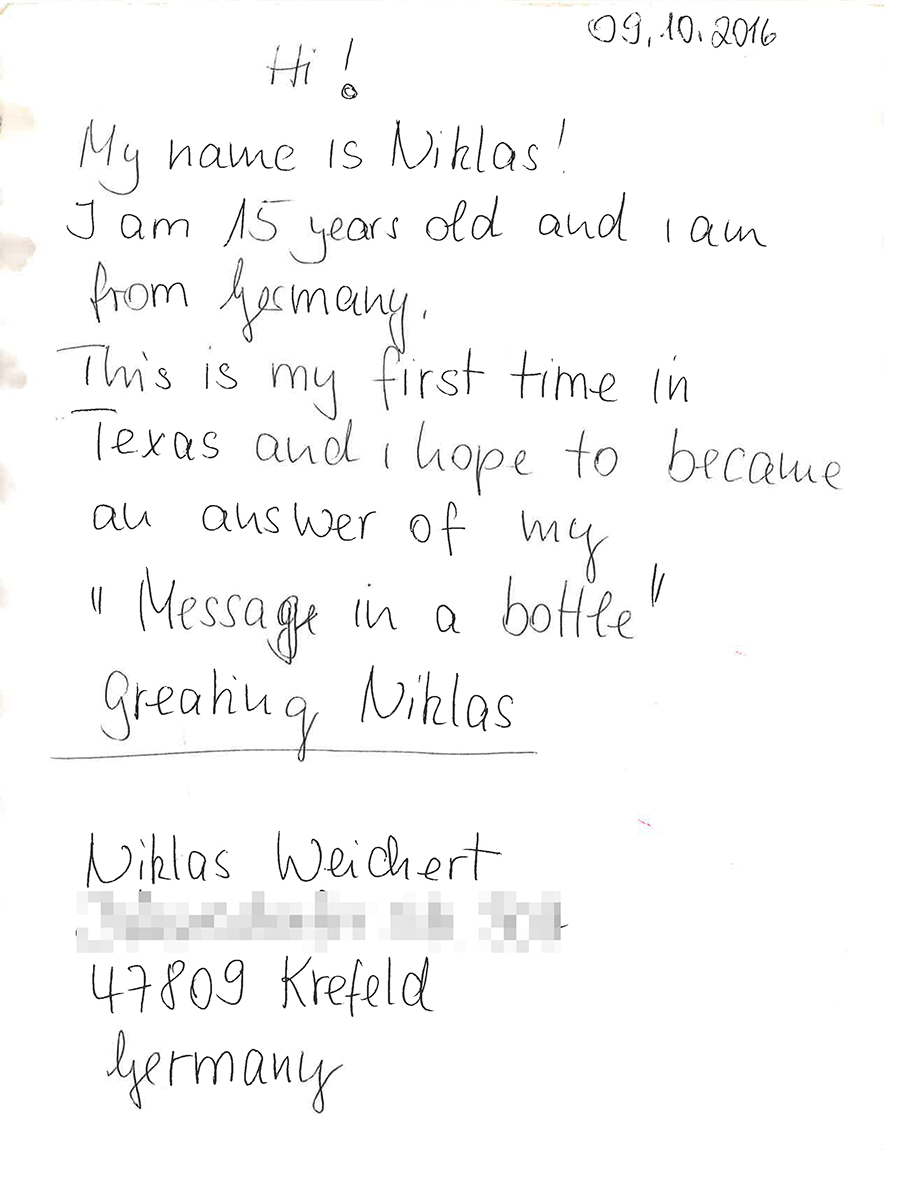 The message read:
09.10.2016
Hi! My name is Niklas! I am 15 years old and I am from Germany.
This is my first time in Texas and I hope to became an answer of my "Message in a bottle"
Greating Niklas
The message was found one month after Niklas Weichert of Germany released the bottle. Fifteen-year old Weichert was visiting Texas with his parents, Gerd Mueller and Ruth Weichert, and, according to his father, he thought it would be fun to see if someone would find the bottle and respond.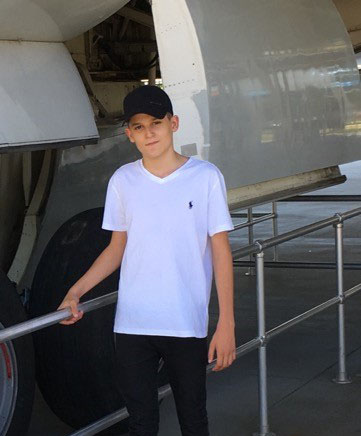 The family had been vacationing in Texas, traveling across the state from Dallas to Houston and into Louisiana. "We had a house in Galveston, and our son threw the bottle into the Gulf of Mexico," wrote Mueller in an email to EIH.
Although the message didn't travel very far, Niklas was happy to receive a response from Morris.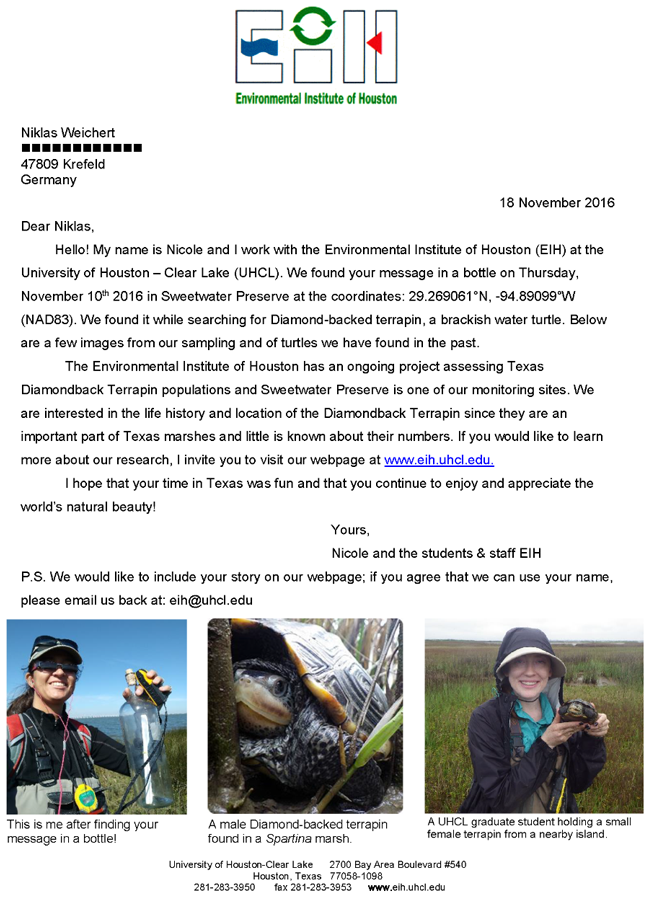 EIH is conducting a long-term study to assess Texas diamond-backed terrapin populations. We are interested in the life history and range of these unique turtles because they are an important part of Texas marshes, and little is known about their numbers. The team found two diamond-backed terrapins that day.