Institute Creates Wetlands at UH-Clear Lake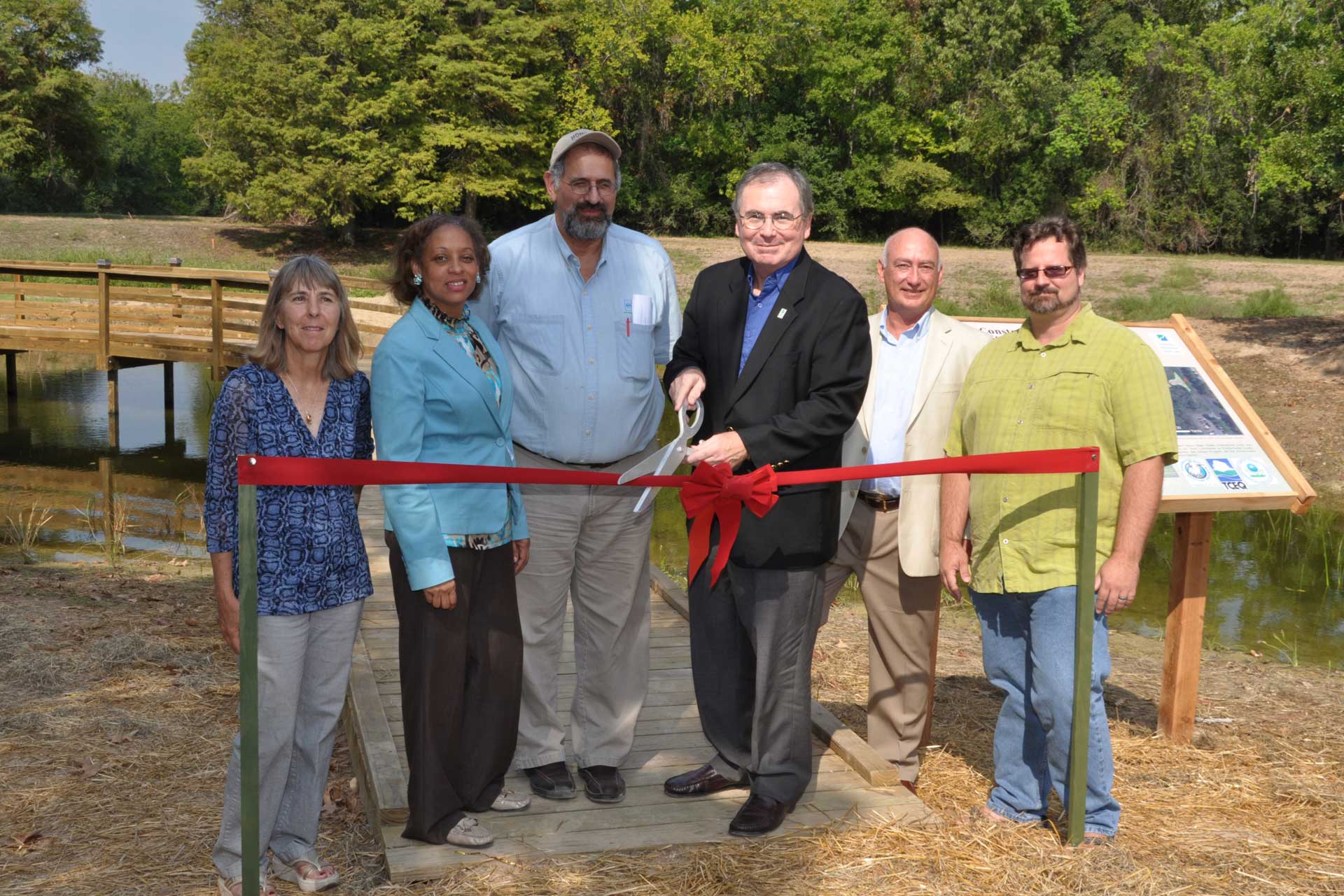 November 1, 2011 | Diana North
University of Houston-Clear Lake's Environmental Institute of Houston, working in partnership with and through funding from the Galveston Bay Estuary Program, created wetlands at UH-Clear Lake to help control flooding and improve water quality before the water enters Horsepen Bayou. A ribbon-cutting ceremony was held in late September to celebrate the new wetlands.
"Wetlands are important for a number of reasons," said Executive Director of the Environmental Institute of Houston and Associate Professor of Biology and Environmental Science George Guillen. "In addition to controlling flooding and improving water quality, wetlands will provide a habitat for fish and wildlife, provide teaching and learning opportunities and provide research opportunities, which help us meet our mission as a community-minded, partnership-oriented university."
During the special ceremony, UH-Clear Lake President William A. Staples reiterated Guillen's remarks about the importance of partnerships, including those with the Galveston Bay Estuary Program and its parent organization, the Texas Commission on Environmental Quality. University Senior Vice President for Academic Affairs and Provost Carl A. Stockton also spoke about the university's commitment to the environment and the wetlands project.
"UH-Clear Lake, through our Environmental Institute of Houston, is truly privileged to partner with the Galveston Bay Estuary Program in the creation of this wetlands project at the university," said Staples.
Other speakers included Galveston Bay Estuary Program Director and UH-Clear Lake alumna Helen Drummond and Margaret Forbes, a lead contractor on the project with KBA EnviroScience Ltd., who spoke about the project design and its progress.
"Creating, restoring and protecting wetlands in and around Galveston Bay are integral elements to preserving the health of Galveston Bay," said Drummond. "Partnership projects like this one are critical to collective efforts being made through the Estuary Program to build more resilient communities, preserve the basis of a healthy nature tourism industry, and sustain a quality of life for future generations.
"This project is special to me. Not only did I attend graduate school here, but I personally love this campus. It was built with nature in mind. So much has been conserved and ongoing efforts by the University to sustain the environment are notable. This project is going to be a tangible example of what others — campuses, business, local governments — can do to join in on collective efforts to preserve Galveston Bay for future generations to enjoy."
"The wetlands are designed to provide a habitat to indigenous animals and plants and to remove nutrients and sediment from storm waters. What we end up with is a polished discharge to Horsepen Bayou," said Forbes.
All speakers thanked the many volunteers from the university, the Galveston Bay Estuary Program and the Texas Commission on Environmental Quality who gave their time to create the wetlands, which includes a wooded walkway over the water and a water lock at the end of the walkway.
"Special thanks to all the companies, offices and individuals who brought this project from the concept stage to reality," said Staples.