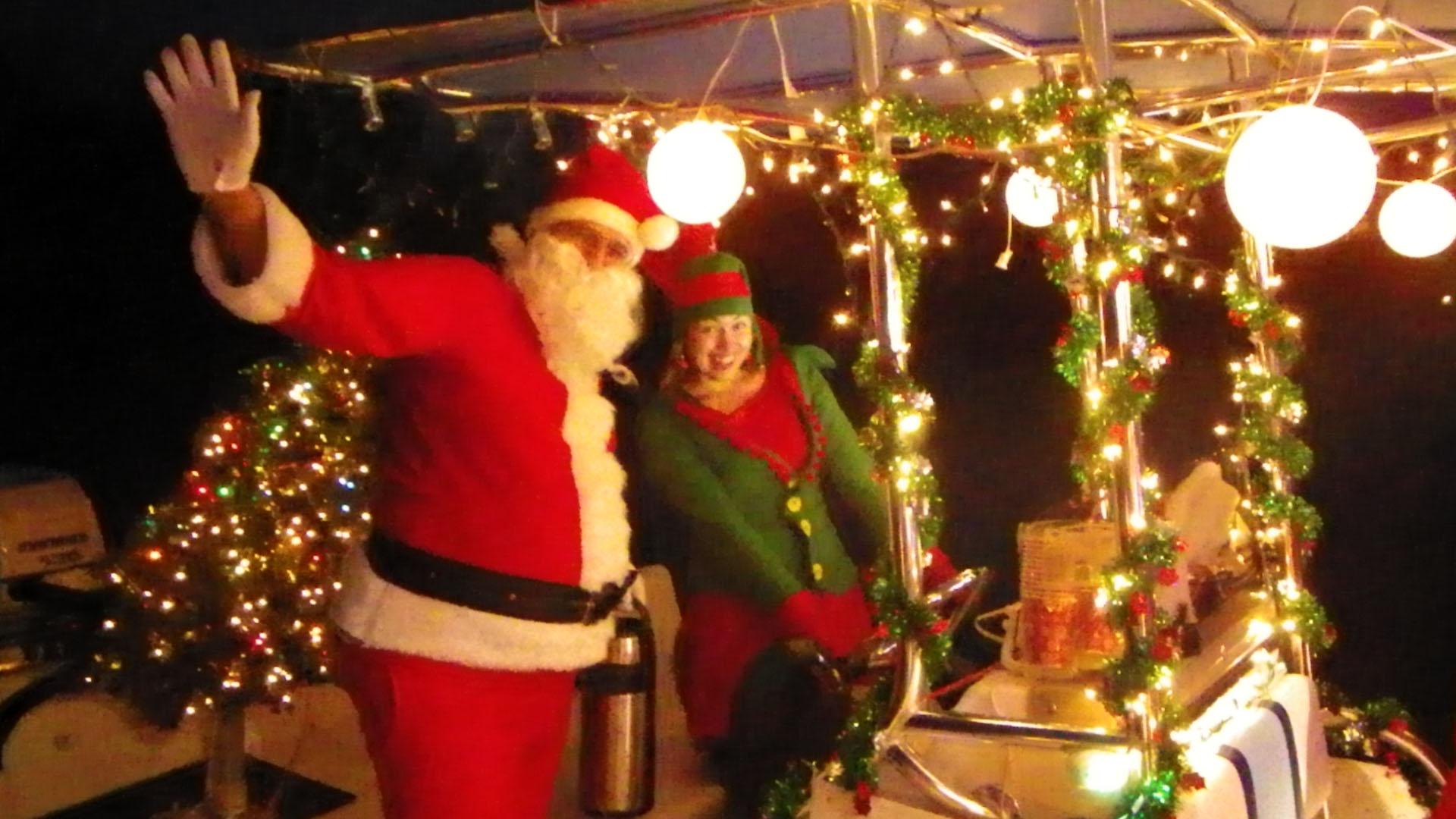 December 10, 2011—The University of Houston-Clear Lake was represented by EIH, as staff and students participated in the local Clear Lake community celebration marking the gold anniversary of the Clear Lake Boat Lane Parade. Two of EIH's research vessels, the Twin Vee and Boston Whaler, joined approximately 100 boats of all shapes and sizes, decorated in their finest Christmas decor, as they paraded through Clear Lake and out into Galveston Bay.
Thousands of spectators gathered along the shoreline of Clear Lake and the Kemah Boardwalk to watch the festival of boat lights parading unique and beautiful decorations including Dancing Elvises and the infamous Christmas Story "Leg Lamp". Although there was a chill in the air, the hot cocoa and chicken salad sandwiches provided by Ms. Santa and Senior Elf Kristen Vale provided sufficient nourishment and energy to survive the elements.
On Sunday morning, EIH staff and affiliated UHCL graduate students joined other parade participants as they gathered at South Shore Harbor for the awards ceremony. Awards in six divisions and several length categories were presented to participating boaters. To their amazement, the EIH Twin Vee crew and boat won 3rd prize in the sponsored power boat 23 ft and under category! Accepting the award for UHCL and EIH were EIH Director George Guillen, his wife Chatta Guillen, and UHCL graduate students Emma Clarkson (captain of the Twin Vee boat), and Alex Miller (see Wiredin photos below).
The entire boat parade was thoroughly enjoyed by all and provided a great opportunity to take UHCL out into the community, while giving graduate students and staff an opportunity to express their artistic and maritime skills. EIH hopes to attend and represent UHCL next holiday season.
Participation in this event was made possible by the generous donations of lights and decorations and time by EIH employees and UHCL students. Crewing the Boston Whaler were Colby Lawrence, Captain and Head Elf; Kristen Vale, Senior Elf; UHCL SCE graduate student Khem Paudel, EFC (Elf First Class); and Minkayla Hansen, honorary guest EFC. The Twin Vee was crewed by UHCL SCE graduate student Emma Clarkson, Boat Captain and Sergeant Elf; UHCL SCE graduate student Alex Miller, EFC; George Guillen aka Santa in training; Chatta Guillen aka Ms. Santa; and the Guillen's grandson Maddox Guillen, EIT (Elf in Training). And last, but not least, the Amazing Boat Decorator Elves—part artist, part mechanic, part miracle worker—these are the guys who made it all possible: Colby Lawrence, Laila Melendez, Alex Miller, and Kristen Vale.