CErT Mental Health Awareness Training
The CErT Mental Health Awareness Training equips new CErTified Mental Health Allies with four key aspects: connect, empower, refer, and thrive. Participants learn empathic active listening to establish connections, identify signs of mental health concerns and crises, access various resources, and promote personal and community well-being. Ultimately, CErTified Mental Health Allies gain the ability to recognize, support, and empower individuals facing mental health challenges.
Upcoming CErT Program Mental Health Awareness Training Information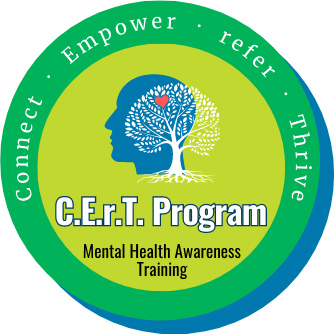 ---
For UHCL Faculty, Staff and Students
2023 Mental Health First Aid training opportunities for UHCL students, faculty and staff:
Thursday, Aug. 17
Friday, Sept. 22
Friday, Oct. 20
Monday, Nov. 13
Monday, Dec 11
---
Questions?
For more info about registration:
Email your name and contact information to cert@uhcl.edu
For more info about the training:
Dr. Cindy Cook, UHCL Counseling and Mental Health Center
281-283-2595
cookc@uhcl.edu