Mascot Program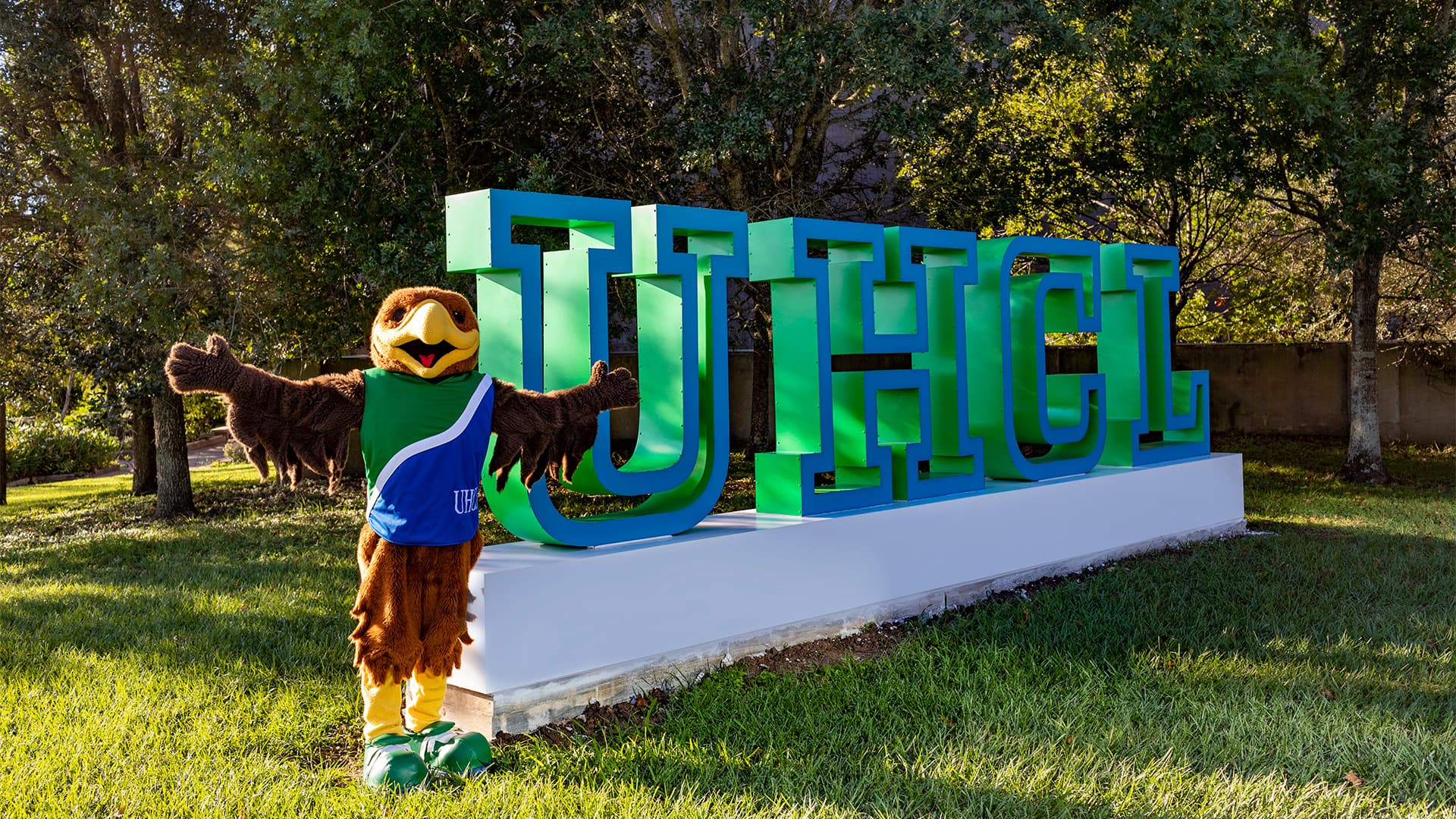 ---
UHCL's Mascot Program exists to foster campus pride and spirit. It consists of two main areas, Hunter the Hawk and their Flight Crew.
Hunter the Hawk: Our costumed mascot talent, Hunter the Hawk, serves as the official ambassador of university spirit and pride. The hawk conveys University of Houston-Clear Lake's principle of soaring to new heights and striving for excellence to all students, faculty, staff and alumni.


The Flight Crew: The Flight Crew acts as Hunter's handlers. Crew members help direct Hunter and help Hunter pose for pictures. The Flight Crew is Hunter's hype crew and should always display positivity and school spirit.
Want to get involved? We are recruiting for our new Hunter for 2022-2023. If interested, please email hunterthehawk@uhcl.edu.
Learn more about the Mascot Program at UHCL GetInvolved.
If you would like to have Hunter the Hawk present at one of your events or meetings, please complete the request form below. We will do our best to accommodate your request, but cannot guarantee their availability.
Hunter the Hawk Appearance Request Form
Support the Mascot Program
Enthusiasm surrounding the Mascot Program has encouraged an initiative to take flight with the university's annual fund program, which gives university family members the chance to support the university through financial contributions. And, it only makes sense that those who attend classes or work at the university feel a natural affinity to the nature surrounding UHCL, not to mention a six-foot-tall hawk. Everyone feels a sense of ownership of the university environment, and apparently, of the mascot, too. Go Hawks!
If you would like to support the Mascot Program, contact:
University Advancement
Phone: (281) 283-2021
Fax: (281) 283-2017
Email: gifts@uhcl.edu
Bayou Building B2508
2700 Bay Area Blvd, Box 318
Houston, TX 77058-1002



For inquiries and requests about the mascot, contact HuntertheHawk@uhcl.edu.
Mascot History
Hunter the Hawk's history dates back to the '80s, when discussions of a mascot first began. These discussions eventually led to a mascot selection contest in the '90s. After decades in the making, UHCL proudly introduced this symbol as the face of the university in 2013.