About Us
Mission Statement
The Department of Campus Recreation and Wellness creates educationally purposeful experiences through outstanding facilities, programs and services that inspire University of Houston-Clear Lake students and community towards lifelong healthy habits to improve their overall wellbeing.
Vision Statement
Engaged Hawks soaring in health and happiness.
Service Value Statement
We create an inclusive and safe community through engagement, education and empowerment.
Departmental Core Values
Promote safety through good stewardship and sound risk management practices
Embrace diversity through inclusion and respect
Foster leadership development through experiential opportunities and transformative learning
Encourage excellence through high standards and personal accountability
Instill integrity through teamwork and building trust
Build community through meaningful relationships and positivity
Encourage holistic wellbeing through education and engagement
Campus Impact
Largest Student Employer at UHCL
Our department employees 45+ student employees who gain valuable experience operating the RWC and expand their marketable skills for their future careers.
Join Our Team
The Recreation and Wellness Center is run on a daily basis by UHCL student staff. Our department takes great pride in our student staff and their ability to foster a safe and welcoming environment for all Hawks.
All enrolled UHCL students and anyone who will be attending UHCL in the next semester are welcome to apply for any posted student positions. Many positions do not require experience, as we provide training and development.
Jobs include: operations assistant, fitness assistant, member services assistant, marketing assistant, intramural sports officials, group fitness instructor (certification required) and personal trainer (certification required). We host job fairs each semester and accept applications through Jobs4Hawks.
If you are a currently certified personal trainer or group fitness instructor, please email us at campusrecreation@uhcl.edu about possible job opportunities.
Responsibilities include:
Leading group fitness classes
Managing recreational sports
Conducting personal training sessions
Engaging our patrons through special events
Designing marketing materials
Developing internal and external marketing campaigns
Serving in leadership positions for the department as voices for UHCL students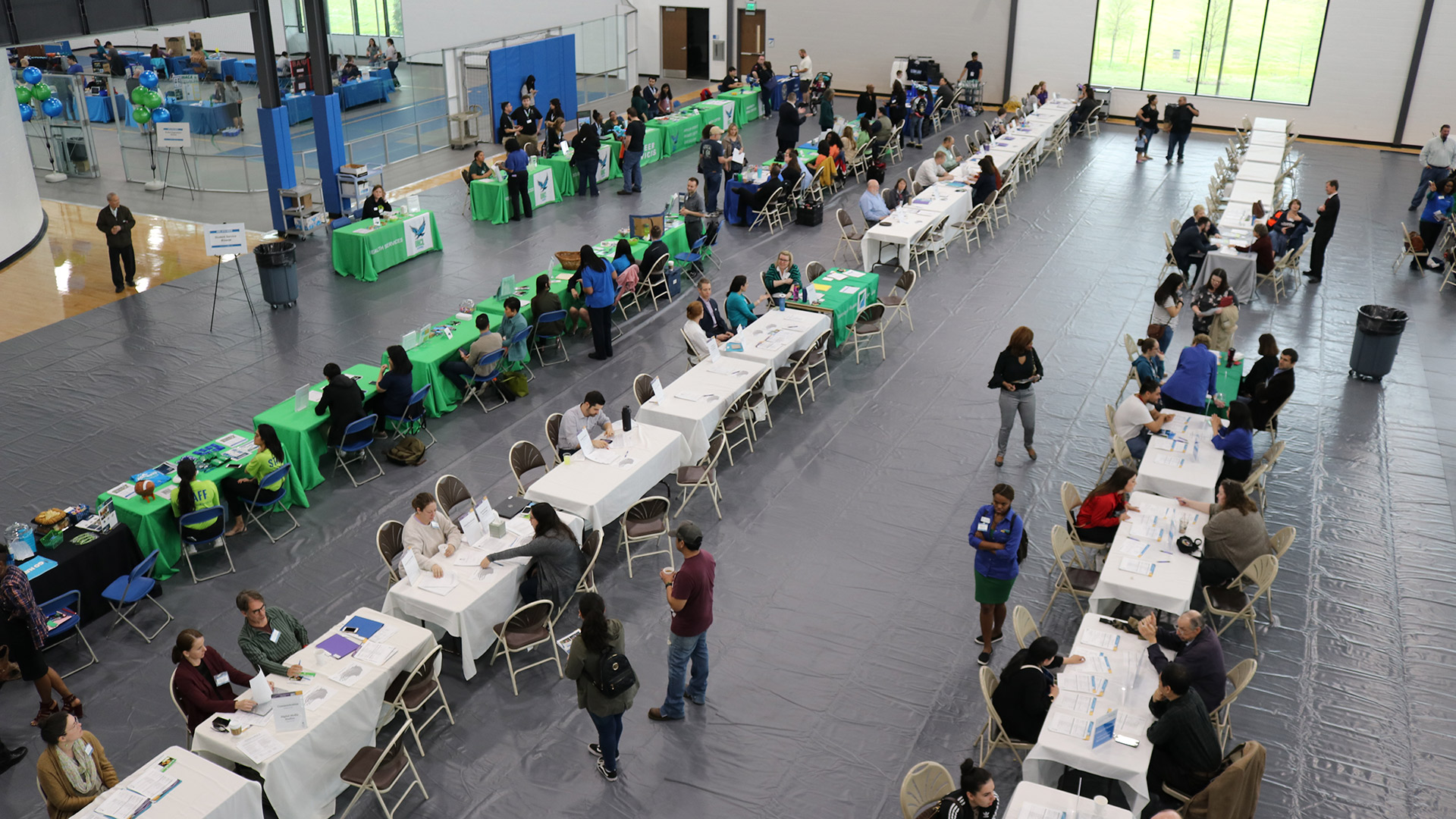 Our Story
History of UHCL Campus Recreation
The Department of Campus Recreation and Wellness was established in October 2016 by student referendum. The referendum was a student-driven initiative to create a dedicated student fee to support the creation and construction of a new Campus Recreation and Wellness Center. The fee also funded new positions to lead the department and provide programming and experiential opportunities for the UHCL community.
Construction of the new facility began April 2017 and was completed August 2018.
The Recreation and Wellness Center (RWC) opened on August 25, 2018 and has quickly become the hub of student activity and engagement on campus. Providing spaces beyond just fitness and recreation, students utilize the study rooms, lobby area, classrooms and balconies for studying, meeting up with friends, or just taking some time for themselves.
The RWC has won multiple awards for design and functionality, including being named one of the Athletic Business's 2019 Facilities of Merit and one of the National Intramural Recreational Sports Association 2019 Outstanding Facilities.
Upcoming Construction Projects and Renovations
Rec Field Complex
Located behind the Recreation and Wellness Center and STEM Classroom Building.
Amenities:
~140 x 60 yard natural grass playable surface suitable for soccer, flag football, softball, ultimate frisbee, and other sports
Sand volleyball court
Lights
Wi-Fi access
Water fountains
Seating areas
Irrigation
Timeline:
Construction slated to begin April 2022 and finish November 2022.
Grass growing period from July 2022 through November 2022.
Expected to come online Spring 2023.
Campus Recreation Advisory Board
The Advisory Board serves as a sounding board for new ideas or initiatives. The board helps drive the mission and vision of the department. The board consists of up to 13 students (eight undergraduate and five graduate students), one faculty, one staff, and one alumni member. See CRAB Constitution and By-Laws (PDF, 160KB).
Meeting Schedule Fall 2021
All meetings will be held virtually. Any UHCL student or RWC member may request to participate in the meeting. Email campusrecreation@uhcl.edu to make the request.
Advisory Board Members 2021-2022
Student Members
CRAB Student Members 21-22

| Member | Classification | Major |
| --- | --- | --- |
| Lance Berrones | Senior | History |
| Jeff Schmitz | Masters | Exercise Physiology |
| Emre Tichelaar - Chair | Masters | MBA |
| Karmen Wood | Junior | Marketing |
| Julie Baker | Senior | Fitness and Human Performance |
| Anahi Aguirre | Junior | Fitness and Human Performance/Physical Therapy |
| Shubham Rana | Masters | Exercise Physiology |
| Swetha Deena Dayalan - Chair | Masters | Biotechnology |
| Suhail Arfaath | Masters | Data Science |
| Sivanand Chandra | Masters | Computer Science |
| Sunny Rodrigues | Junior | Mechanical Engineering |
Non-Student Members