In the News
2023 Faculty Books Published
December 2023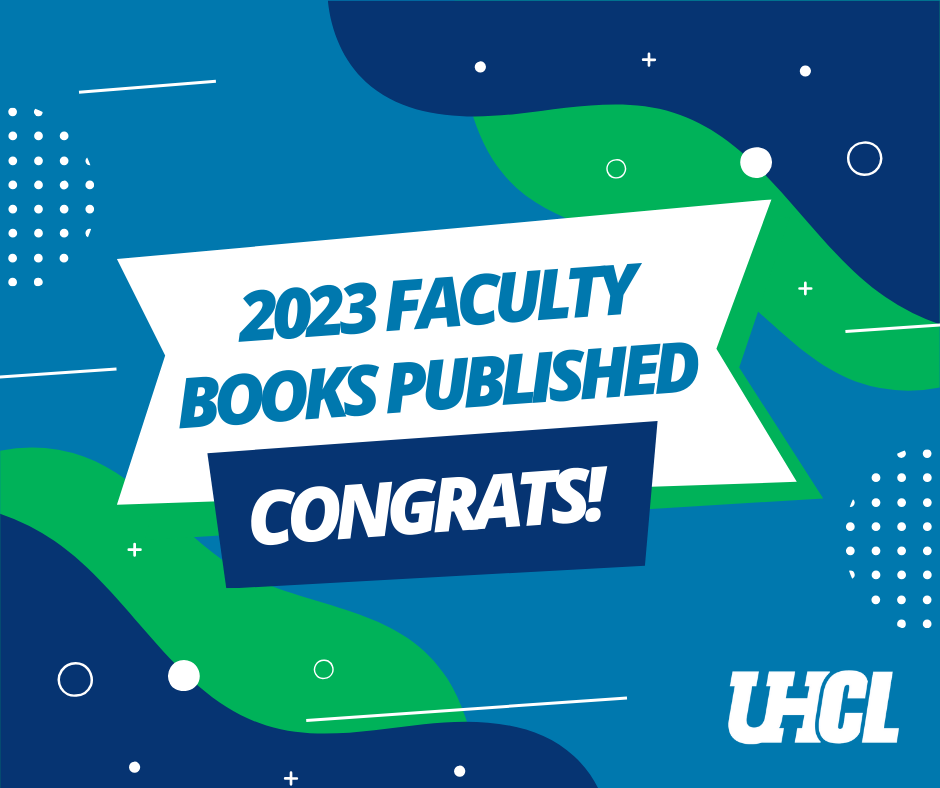 Read More
Dorothea Lerman, Ph.D.
Professor of Psychology and Director, Center for Autism and Developmental Disabilities (HSH)
Neurodevelopmental Disabilities and Employment: Helping Learners Prepare for Social Demands in the Workplace
Jennifer Maritza McCauley, M.F.A., Ph.D.
Assistant Professor of Literature and Creative Writing (HSH)
When Trying to Return Home: Stories
Thaís R. S. de Sant'Ana, Ph.D.
Assistant Professor of History (HSH)
Claims on the City: Situated Narratives of the Urban
Shreerekha Subramanian (Pillai), Ph.D.
Associate Dean and Professor of Humanities (HSH)
Carceral Liberalism: Feminist Voices Against State Violence
Diana Wandix-White, Ph.D.
Assistant Professor of Multicultural Education (COE)
Relational Realms: Helping Educators Navigate and Cultivate Healthy Schoolhouse Relationships
Daniel Zerong Wang, Ph.D.
Professor of Chemistry (CSE)
Amino Acids (Vol. 4)
The Chemistry & Biology of Beta-Lactams
---
UHCL Faculty Building Bridges through Intercultural Knowledge and Competency
November 2023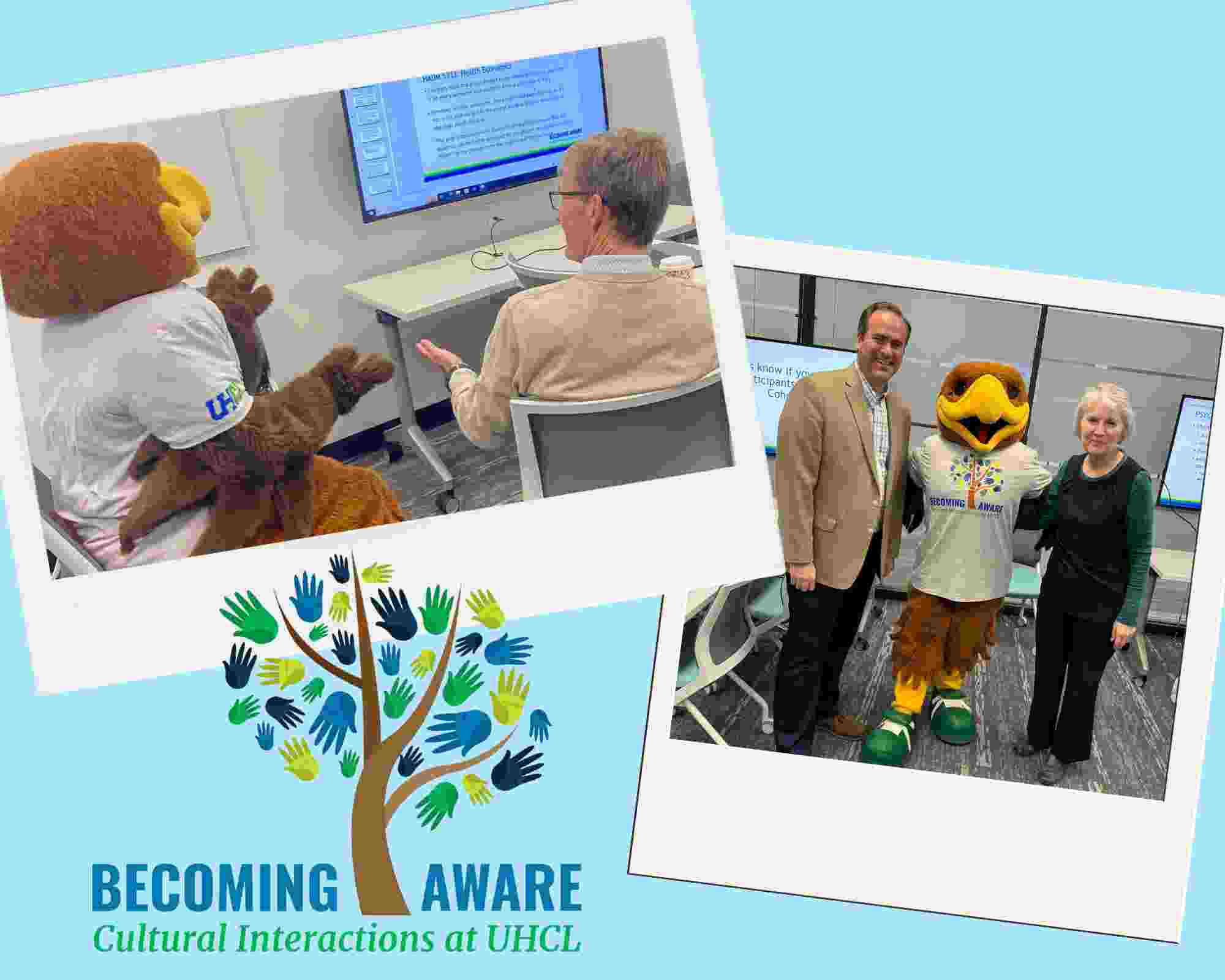 On Friday, November 10, UHCL's Office of Planning and Assessment hosted the Quality Enhancement Plan (QEP) Fall 2023 Faculty Showcase. The event brought together Cohort 2, an impressive group of 13 faculty members representing each college, who shared how they are intentionally incorporating intercultural knowledge and competency into a specific course. The main focus of the showcase is for students and the UHCL community to see the classroom impact of the QEP.
Read More
Some of this impressive work includes:
Dr. Gene Shan's (CSE) engineering course for master's students has implemented a new approach to team projects. Students are now incorporating cultural adjustments based on different global markets into their product designs. Additionally, they write a reflection on the project, promoting critical thinking and self-reflection.
In an upper-level undergraduate psychology course taught by Dr. Angela Kelling (HSH), students write an autobiography that explores their identity and culture. This exercise prepares students to apply intercultural humility in their later assignments, where they will examine components of identity, societal views, and how identity shapes behavior and interactions. By examining their backgrounds, students gain a deeper understanding of the importance of cultural sensitivity and awareness.
Dr. Silvana Chambers (COB), has implemented a new approach to her class discussions, team case studies, and personal portfolios into two graduate and one undergraduate course on organizational behaviors. Adding focus on cultural humility and intercultural knowledge has resulted in more focused learning outcomes for students. Additionally, the Global Mindset assessment rubric is utilized to assess students' progress and provide feedback.
In an early education course led by Dr. Laurie Weaver (COE), the focus is on bilingual education. The course covers Language Subsystems, Language Acquisition Theories, Types of Bilingualism, Relationship between Language and Culture, and Language Proficiency/Assessment. By completing a language biography, students build connections between lived experiences and application to classroom practice.
UHCL's Quality Enhancement Plan "Becoming Aware: Cultural Interactions at UHCL," is a university-wide, five-year commitment to equipping students with the required knowledge, attitudes, and skills to effectively interact with diverse cultures in a positive way.
With an open-house style setup, faculty, administrators, students, and even Hunter the Hawk, were able to engage in conversations about how UHCL is actively working towards this goal.
The showcase also served as a platform to recruit faculty participants for the Spring 2024 and Fall 2024 cohorts. If you are interested in participating, email becomingaware@uhcl.edu.
Members of the Fall 2023 QEP Cohort 2 are:
COB: Femi Ayadi, Ph.D.; Silvana Chambers, Ph.D.
COE: Janice Newsum, Ph.D.; Laurie Weaver, Ed.D.
CSE: Xiaojun "Gene" Shan, Ph.D.
HSH: Sarah Costello, Ph.D.; Giazú Enciso Domínguez, Ph.D.; Angela Kelling, Ph.D.; Anna Klyueva, Ph.D.; Isabelle Kusters, Ph.D., MPH; Mike McMullen, Ph.D.; Christine Walther, Ph.D.; Maria Wilson, Ed.D., LMSW, LVN
---
A Day of Discovery at UHCL
November 2023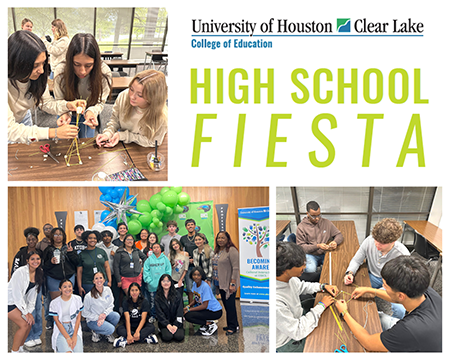 On October 27, students from four different local school districts - Alvin, Dickinson, La Porte, and Channelview ISDs - had the wonderful opportunity to visit UHCL for the High School Fiesta. This recruitment day was hosted by the College of Education, with Dr. Michelle Peters and Dr. Jana Willis as the event's coordinators. The day was filled with an array of faculty-led educational activities, tours, and info booths aimed at giving the students a better understanding of the resources and experiences that UHCL can offer. Special thank you to the faculty members who led the interactive sessions and made the day a success for these potential future Hawks!
Read More
It's Alive
Dr. Larry Rohde, Associate Professor of Biology and Biotechnology, along with Lecturer Luke Choate, led the "It's Alive" session, where they demonstrated how to freeze human cells in liquid nitrogen and view human cells growing on a tissue culture plate using a microscope. The students were amazed to learn how cultured cells are being used to explore cell activity and how the tissue culture technology on display could be used to grow various human tissues/organs for medical treatments.
Are You Up for a Challenge?
In another exciting session, students were up for a challenge led by Dr. Carol Waters, Assistant Professor of STEM Education and Lecturer Dr. Takisha Gastile. They collaborated in an engineering design challenge that allowed them to experience failure and redesign as necessary learning components. The students compared their results with kindergarten students' results, which opened the door for robust conversations about having a growth mindset and persevering through complications. Students concluded by relating the engineering design process to teaching and how all students can learn and be successful through experiencing failure and knowing what adjustments need to be made to succeed.
Exploring XR
The students had a delightful experience in the XR Lab with Emerging Technologies Librarian Beth Fridrick, with the majority of them never having had the opportunity to experience virtual reality before. During their time together, Fridick conveyed the significance of the XR Lab's presence in the library, supporting students across academic subjects. Additionally, they delved into the various applications of virtual reality, including its use in training medical professionals. The students then engaged with two featured apps: the Human Anatomy app, which offers 3D, interactive models of over a dozen body systems and Beat Saber, a VR game that enables players to slice through boxes to the beat.
Fun with Physiology
In Biology Lecturer Dr. Stephen Gruber's session, students used electrophysiological (Biopac) recording devices to measure different aspects of their body, such as determining their vital capacity, the total volume of air that can be inhaled and exhaled in a single breath. They also recorded the effects of the Dive Reflex on their heart rate and pulse amplitude, and, finally, determined their total grip force. Through these tests, the students learned more about their physical abilities and how their body functions.
The next High School Fiesta will take place in the spring of 2024.
---
Dr. Mary Short honored with 2023 Outstanding Professor Award by UHCL Alumni Association
October 2023
At the UHCL Alumni Celebration on Oct. 28, Dr. Mary Short, Professor of Clinical Psychology and Director of Clinical Training for the College of Human Sciences and Humanities, was recognized with the Outstanding Professor Award.
Read More
Created in 2006, the Outstanding Professor Award honors professors who are innovative in their teaching methods, inspire their students, and build a sense of community among them.
Dr. Short is a deserving recipient of this award, and we are proud to have her as a member of our UHCL faculty. Please join us in congratulating Dr. Short!
---
Inaugural Transfer Student Celebration shines as transfer students find community at UHCL
October 2023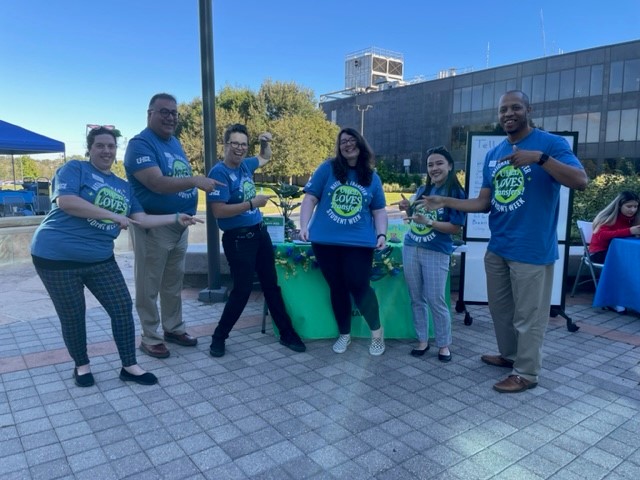 National Transfer Student Week (NTSW) was celebrated at UHCL from October 16-20. This is an annual celebration for transfer students across the country. At UHCL, transfer students make up a significant portion of our Fall enrollment, at 55.9%. To celebrate this, the Transfer Advising & Student Transitions team, led by Kristi Rickman, held the inaugural Transfer Student Celebration on Wednesday, October 18.
Pictured: Academic Transfer Advising Team and student Katelynne Hall (center). The Academic Transfer Advising Team is comprised of Kelly Molinario, Guillermo Rodriguez, Kristi Rickman, Jess Sunga, and Malcolm Jamal.
Read More
The event was a success, with 18 UHCL departments contributing to make it a memorable experience for the more than 100 students who participated. The event giveaway was a t-shirt designed by Katelynne Hall, an Art and Design major and transfer student at UHCL.
During the event, students were asked to share advice for other transfer students. Key themes emerged, such as getting involved, utilizing the Success Center, and not being afraid to ask questions. The Transfer Student Celebration was a great way to recognize the contributions and achievements of transfer students at UHCL, and encourage their continued success.
Thank you to all faculty and staff at UHCL for your amazing support of all students, not just transfer students. It is your dedication that helps students succeed and feel a sense of community at UHCL.
---
UHCL students partner with Center for Educational Programs to inspire young minds through teaching
October 2023
Two University of Houston-Clear Lake (UHCL) students, Zach Jernigan and Zachary Sheriff, are taking their knowledge and skills into real-world teaching environments, making an impact on the education of young students.
Read More
This year, they are partnering with UHCL's Center for Educational Programs (CEP) to teach courses to students grades 4 – 6 from Dickinson ISD and La Porte ISD. Through this program, Gifted & Talented (GT) students from these districts visit UHCL to participate in a course of their choosing on alternating Fridays, totaling in 10 classes. These courses are taught by UHCL faculty, community members, and in this case, UHCL students Jernigan and Sheriff.
Learn more about these two students and the work they are doing in the classroom:
Zach Jernigan
Expected graduation: Spring 2024
College of Human Science and Humanities
Communications B.A. focusing on visual communication and graphic design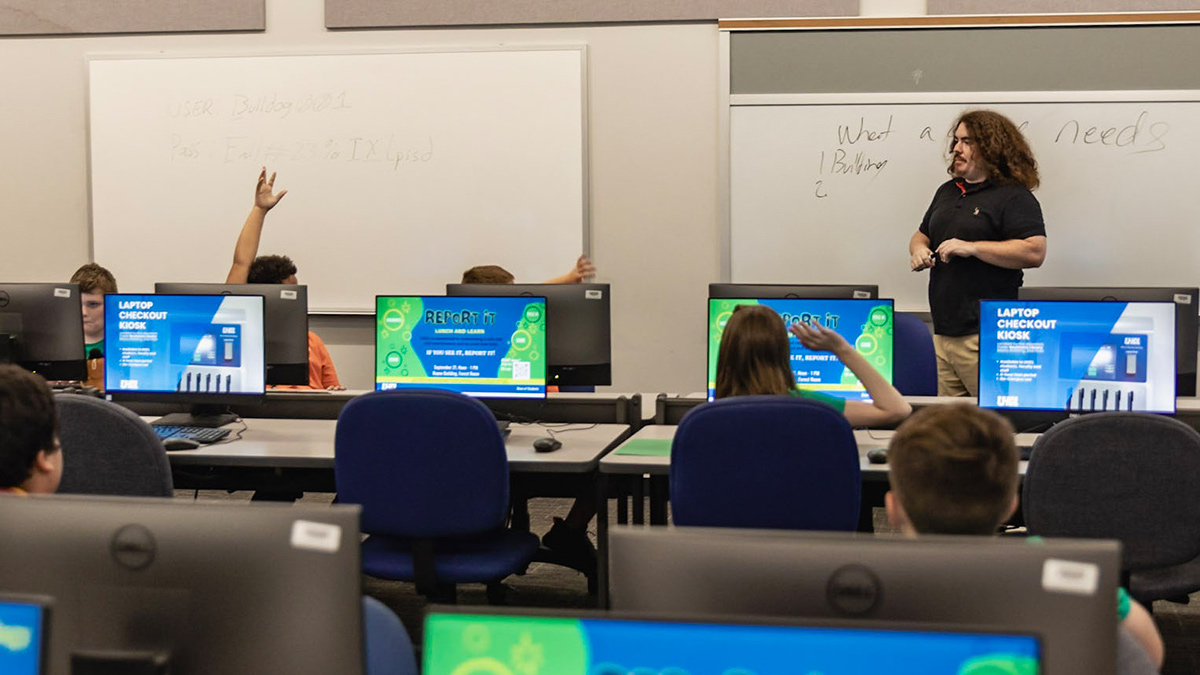 Each Friday, Jernigan teaches Game Design Explorations to an alternating group of approximately 25 students. During the classes, students learn how to make 2-D games using Game Maker Studio.
Jernigan also teaches them about game mechanics, programming, design, and GUI interfaces. After the course, students have the opportunity to continue customizing their games using the knowledge gained.
What is your favorite part about teaching this course to younger students? Biggest challenge?
"My favorite thing about teaching this is that the younger students come in with very few preconceptions about how game design is supposed to work. They are very enthusiastic to learn how to make video games, and it's rewarding to be able to open up that world to them. The biggest challenge? Probably the time frame. I never feel like I have an adequate amount of time to teach them everything I know. I wish I could give them an hour a day for 15 weeks, but we do our best with the time we have."
Tell us about your process to develop the course curriculum.
"This is a class that I have taught many times at Kids U Summer Camps, so I have the benefit of refining my teaching style for people who are just beginning to learn games by going over the fundamentals of computer program design. When it comes to making your first game, or even your first program, there are new vocabulary words, organizational philosophies, and even algebraic concepts that a student must understand to really appreciate how to put projects like this together, and so, the curriculum is very organic. Every time we have to implement a new fundamental element of a program, I take a moment to explain it."
Do you have a UHCL professor who has helped you prepare for this opportunity?
"Dr. Jana Willis's influence on my work as a technology educator cannot be overstated. I have been working with her for almost a decade on every technical instruction program I've ever done for UHCL, including this one!"
What is your goal once you graduate?
"Honestly, I would like to use my formal training as a photographer and graphic designer to secure a position at UHCL. None of this is set in stone, but I do think that I would find a graduate program fulfilling, and staying close to the UHCL system while seeking a master's degree and advancing my career seems like an obvious step right now. The game design program operates through the CEP in the Arbor building at UHCL, and I have met so many great people there that I would love to work with them in a more permanent capacity."
---
Zachary Sheriff
Expected graduation: Fall 2025
College of Education
Education B.S. with a minor in Instructional Technology
At the CEP, Sheriff is teaching Graphic Novels for the second year. Weekly, he has approximately 10 students who participate in the course, learning the world of graphic novel creation and the basic components of graphic novels and comics.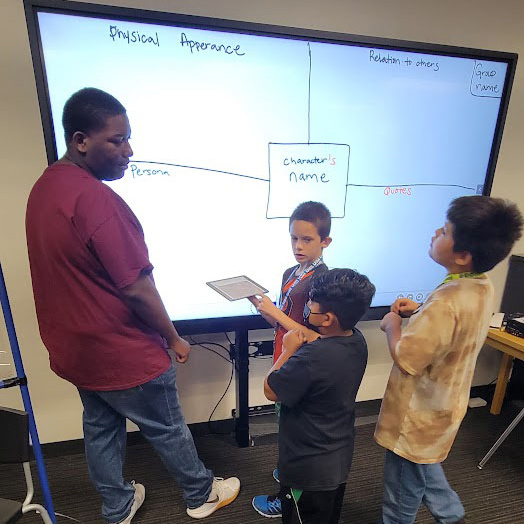 Throughout the course, students explore the world of graphic literature and learn how to use words and pictures to engage readers. Using the digital software Pixton, by the end of the course they will have completed their own comic.
What is your favorite part about teaching this course to younger students? Biggest challenge?
"My favorite part about teaching younger children is seeing the light that goes off in their heads and on their faces when I teach them something new. It makes all the lesson planning worth it. The biggest challenge is having to send them back to school."
Tell us about your process to develop the course curriculum.
"Building my curriculum is always based on what works best for my students. I always start with a group project to help better understand the lesson before I give them independent time with their own novels."
Do you have a UHCL professor who has helped you prepare for this opportunity?
"I have so many professors to thank but one in particular is Dr. Jana Willis. Thank you so much for this opportunity and helping me get a great start to my career!"
What is your goal once you graduate?
"My goal is to be a 5th or 6th-grade teacher and eventually move up the education ladder to help make the system better for all students."
Samantha Pulse, CEP director, has been impressed with Sheriff and Jernigan's ability to lead their respective courses. "The hands-on experience and support they have received at UHCL has given them the tools needed to be effective teachers," says Pulse. "It's been incredibly rewarding to see their efforts pay off in the classroom."
The CEP, part of UHCL's College of Education, offers academic and outreach services to students, schools, school districts and members of the community. The CEP also coordinates several community programs and collaborates with area school districts, educators and professors to determine how it can meet the community's needs.
To learn more about the CEP ways both faculty and students can get involved, visit the Center for Educational Programs.
---
UHCL faculty member, Chemistry students have research published in Royal Society of Chemistry
September 2023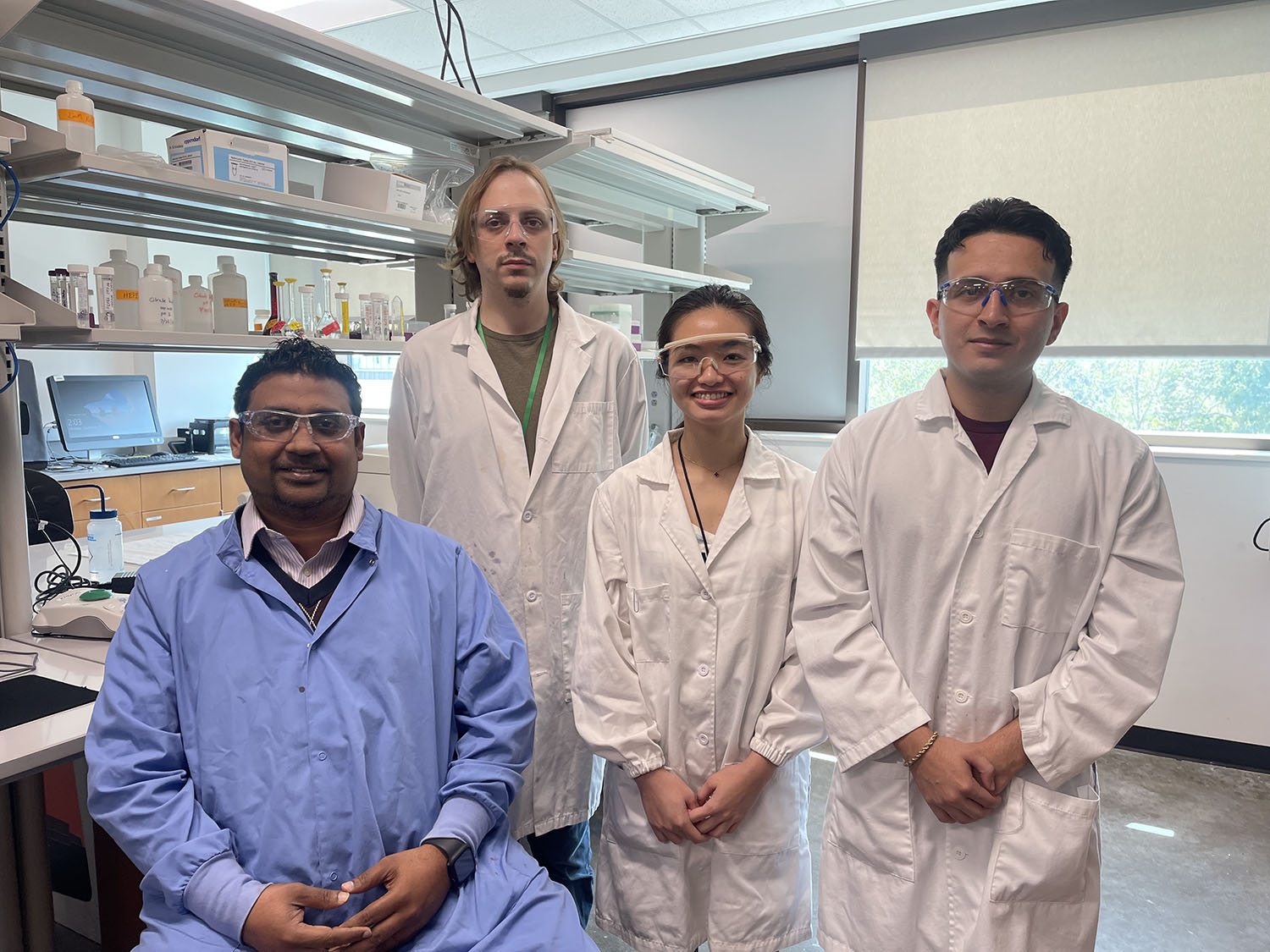 Congratulations to Dr. Charuksha Walgama, Assistant Professor of Chemistry, whose article was recently published in the esteemed Royal Society of Chemistry journal. The research highlighted in this article was further enhanced by the work of Chemistry B.S. students Trang Bui and Marco Cardenas, as well as Chemistry M.S. student Daniel Adrian.
Pictured Left to Right: Dr. Charuksha Walgama, Daniel Adrian, Trang Bui and Marco Cardenas
Read More
Titled "Silver nanoparticles in electrochemical immunosensing and the emergence of silver-gold galvanic exchange detection," the article was highlighted on the front cover of the latest issue, underscoring its importance. This feature article primarily focuses on the recent advancements in utilization of silver nanoparticles in diagnostic applications.
Pathways to STEM Careers, a grant-funded program for UHCL students aimed at developing and enhancing support services and strategies to increase undergraduate student success among Hispanic and other low-income students in STEM fields, is also recognized in the publication for the invaluable support it provides to the students involved in this research.
"I appreciate Dr. Walgama providing UHCL students with valuable opportunities to conduct research and to publish papers in research journals. These opportunities deepen students' understanding of their content area and better prepares them for their future careers," said Vice Provost Dr. Kathy Matthew.
---
Doctor of Psychology (Psy.D.) program receives full accreditation from the American Psychological Association
September 2023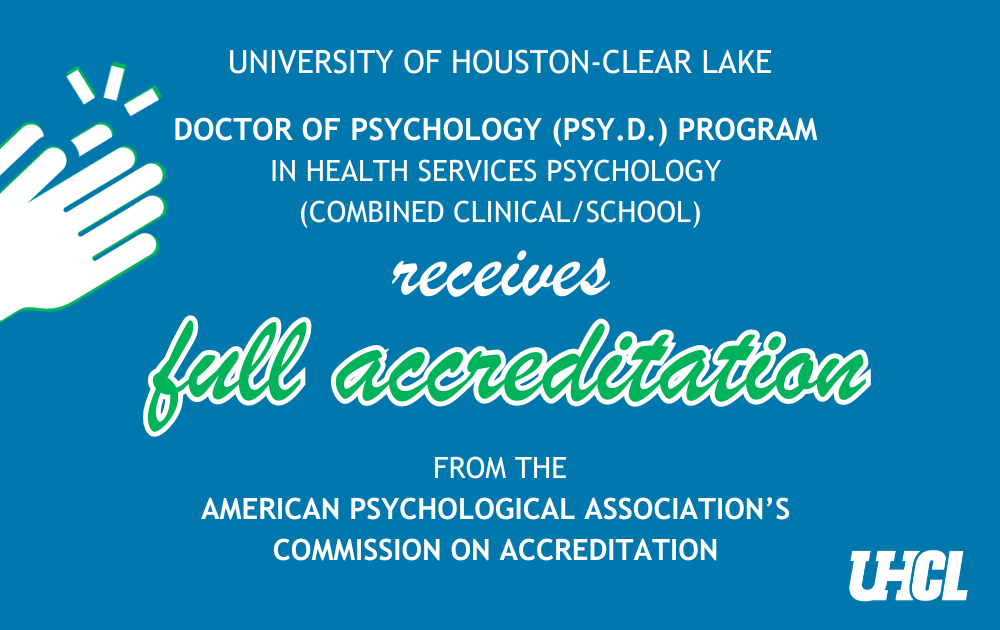 We are thrilled to share that the University of Houston-Clear Lake (UHCL) has received full accreditation from the American Psychological Association's Commission on Accreditation for our
Doctor of Psychology (Psy.D.)
program in Health Services Psychology (Combined Clinical/School).
Read More
The accreditation is a testament to the program's unwavering commitment to the Standards of Accreditation for Health Service Psychology (SoA) and was awarded following a rigorous review process. The CoA recognized the program's quality of training and compliance with the Standards of Accreditation. The program provides extensive practitioner-scientist training with an emphasis on clinical practice as health service psychologists in clinical and school settings, and has a strong foundation with respect to faculty and leadership.
The program has a current enrollment of 38 students, with a Fall '23 cohort of 10 students, and it has already produced 21 graduates. The program boasts a 90% match rate for internships and 100% passage of licensure rate, a testament to the quality of training offered. Looking ahead, the PsyD program is committed to maintaining its rigor and commitment to the standards of accreditation, ensuring that it maintains the highest standards for graduate education in psychology. We congratulate the faculty for their dedication and hard work in achieving this remarkable milestone!
---
UHS Board of Regents hears presentation on UHCL's Student Development Partnership
August 2023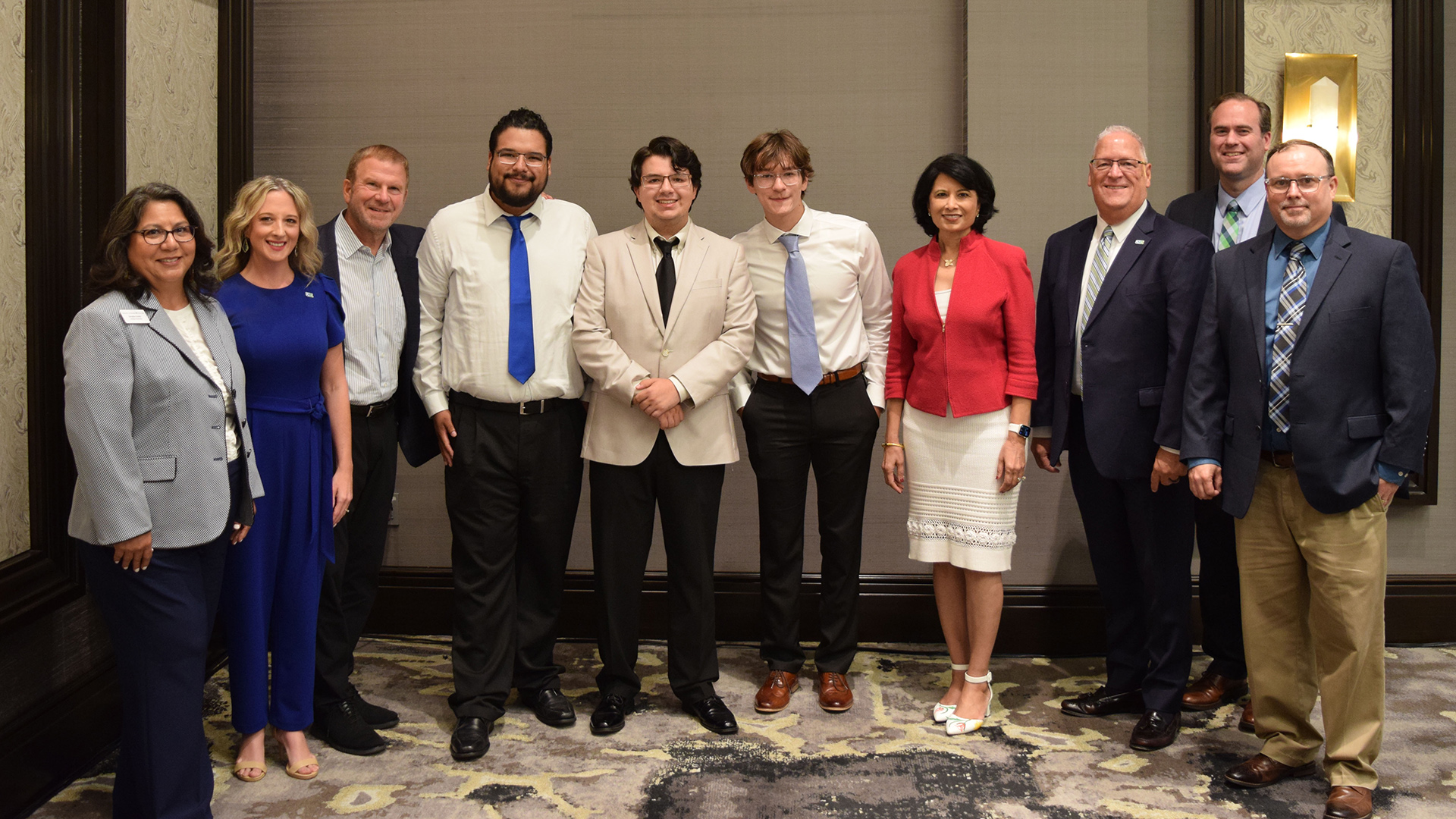 On Wednesday, August 23, the University of Houston System (UHS) Board of Regents invited UHCL to give a presentation on the ongoing Student Development Partnership (SDP) with Boeing.
Pictured Left to Right: Bernadina Streeter, Strategic Partnerships Program Manager; Dr. Natalie Pecknold, Executive Director of Strategic Partnerships; Tilman Fertitta, UHS Board of Regents Chairman; Jose Ramirez, Jacob Howard, Walker Sharpe, Dr. Renu Khator, UH System Chancellor; Dr. Richard Walker, UHCL President; Dr. Christopher Maynard, UHCL Senior Vice President for Academic Affairs and Provost; Dr. Robert Phalen, UHCL Interim Dean for the College of Science & Engineering
Read More
During the presentation, led by President Richard Walker and Executive Director of Strategic Partnerships Dr. Natalie Pecknold, regents were given an overview of the program, how it is impacting students, and benefiting Boeing.
Formed in 2022, the SDP is a unique opportunity that integrates valuable real-world experience by providing College of Science & Engineering students with experiential learning opportunities throughout their academic program on a variety of critical NASA aircraft and space systems projects.