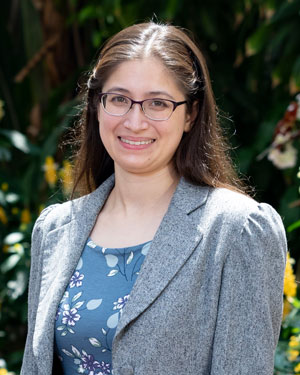 Pearl Young, Ph.D., M.A., B.S.
Assistant Professor of History,
College of Human Sciences and Humanities
Contact number: 281-283-3317
Email: youngp@uhcl.edu
Office: Bayou 2233.09
Biography
Pearl Young received her doctorate in American history from The University of North Carolina at Chapel Hill and is a historian of 19th century America. Her research focuses on the intersections between religion, culture and politics, particularly the ways in which core beliefs influence political actions, social identity and family structures. Her current projects explore the leverage of secession as a moral choice and the complicated roles of religious women in advocating secession.

Dr. Young teaches courses on 19th century America, Civil War and Reconstruction, the American South, and women's and gender history. In her free time, she enjoys playing the piano and quilting.
---
Areas of Expertise
American South and the Civil War
Religious history
Women's history
Intellectual history
Nineteenth-century America
---
Publications
"'Genius uncultivated is like a meteor of the night': Motives & Experiences of Methodist Female College Life in the Confederate States of America," Methodist History, 47, no. 3 (April 2009): 179-191.
Review of Elizabeth L. Jemison. Christian Citizens: Reading the Bible in Black and White in the Postemancipation South. (2020). In Journal of the Civil War Era (December 2021), forthcoming.
Review of Grant Brodrecht. Our Country: Northern Evangelicals and the Union during the Civil War Era. (2018). In H-Nationalism.
Review of Christopher C. Moore. Apostle of the Lost Cause: J. William Jones, Baptists, and the Development of Confederate Memory. (2019). In Register of the Kentucky Historical Society, 118:3+4 (Summer/Autumn 2020), forthcoming.
Review of Catherine Brekus, ed. Sarah Osborn's Collected Writings. (2017). In Fídes et Historía, 50:2 (Summer/Fall 2018), 186-188.
Review of April E. Holm. A Kingdom Divided: Evangelicals, Loyalty, and Sectionalism in the Civil War Era. (2017). In Traces, 6 (Spring 2018), 140-142.
Review of Heather Williams. Help Me to Find My People: The African American Search for Family Lost in Slavery. (2012). In Essays in History, 55 (Fall 2013).
---
Awards and Accomplishments
James Z. Rabun prize for American History, Emory University (2010)
Women in United Methodist History Writing Award, United Methodist Church (2008)
John Emory Scholar, Emory University (2006-2010)
The Congressional Award, Gold Medal, U.S. Congress (2006)
---