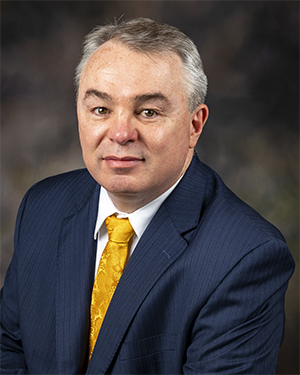 Glenn M. Sanford, J.D., Ph.D.
Dean,
College of Human Sciences and Humanities
Contact number: 281-283-3301
Email: sanford@uhcl.edu

Biography
Glenn M. Sanford, J.D., Ph.D., is a first-generation college graduate who serves as Dean of the College of Human Sciences and Humanities at University of Houston-Clear Lake. His research interests range from equity in educational outcomes to the intersection of law and public policy.

He has spent his entire professional career at regional comprehensive universities and is firmly committed to their mission of providing educational access and community engagement via innovative programs designed to address regional needs. Beyond his teaching and research, he has led numerous institutional programs and initiatives as well as assuming leadership roles in state, regional, and national organizations.

He recognizes that he and his brother had their lives transformed by their higher education experiences. Further, he is now witnessing the intergenerational effects of that education as the two of them help guide the next generation of his family through their own college experiences. Seeing that they both achieved things that they could not have imagined when they were growing up, Dr. Sanford continuously strives to provide prospective community members the opportunity to pursue a college education that expands their view of the world and provides them with tools they need to create futures beyond their current imaginations—futures that will affect their families and communities for generations to come.

Dr. Sanford holds a bachelor's degree in philosophy from The College of Wooster, a Ph.D. in philosophy from Duke University, and a J.D. from the University of Houston. Additionally, he is licensed to practice law in the state of Texas.
---