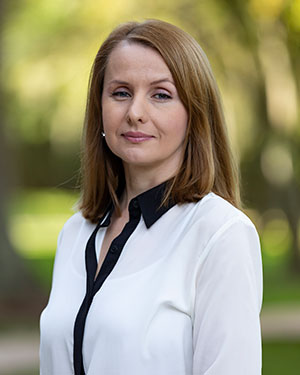 Anna Klyueva, Ph.D.
Associate Professor of Communication/Public Relations,
College of Human Sciences and Humanities
Contact number: 281-283-3442
Email: klyueva@uhcl.edu
Office: Bayou 2529.12
Biography
Anna Klyueva, associate professor of communication and public relations, teaches in the Communication and Digital Media Studies programs. Her research interests include:

International and global strategic communication.
Public relations and social media.
Public diplomacy.
Her professional experience includes broadcast journalism, strategic communication, and management in the airline industry and nonprofit organizations such as Mercy Corps, HIV Alliance and ITServe in Russia, Central Asia, and the United States.
---
Areas of Expertise
Strategic communication
Global public relations
Public diplomacy
Media transparency
---
Publications
Selected Publications:
Klyueva, A. (2021). Journalism ethics and the political economy of Zakazukha, Smear Campaigns, and Kompromat. In L. Price, W. Wyatt, & K. Sanders (Eds.), Routledge companion to journalism ethics (pp. 254-262). London, UK: Routledge.
Ngondo, P., & Klyueva, A. (2020). Exploratory study of public relations roles in Zimbabwe. Public Relations Review, 46 (5), https://doi.org/10.1016/j.pubrev.2020.101961
Ngondo, P., & Klyueva, A. (2019). Fear appeals in road safety advertising: An analysis of the controversial social marketing campaign in Russia. Russian Journal of Communication, 11(2), 167-183. https://doi.org/10.1080/19409419.2018.1555772
Klyueva, A. (2019). Social media risks and the paracrisis: Managing crisis in public. In S. Kelly (Ed.), Computer-mediated communication in business: Theory to practice (pp. 149-161). Cambridge, UK: Cambridge Scholars Publishing.
Klyueva, A. (2019). Trolls, bots, and whatnots: Deceptive content and challenges of online engagement. In I. Chiluwa & S. Samoilenko (Eds), Social media and the production and spread of spurious deceptive contents (pp. 18-32). Hershey, PA: IGI Global. doi:10.4018/978-1-5225-8535-0.ch002
Klyueva, A., & Mikhaylova, A. (2017). Building the Russian World: Cultural diplomacy of the Russian language and cultural identity. JOMEC Journal: Journalism, Media and Cultural Studies, 11, 127-143. doi: http://doi.org/10.18573/j.2017.10143
Klyueva, A. (2016). Taming online political engagement in Russia: Disempowered publics, empowered state and challenges of the Fully Functioning Society. International Journal of Communication, 10, 4661-4680.
Klyueva, A., & Tsetsura, K. (2015). Economic foundations of morality: Questions of transparency and ethics in Russian journalism. Central European Journal of Communication, 1 (14), 21-36.
Klyueva, A., & Tsetsura, K. (2015). Strategic aspects of Russia's cultural diplomacy in Europe: Challenges and opportunities of the 21st Century. In A. Catellani, R. Trench, & A. Zerfass (Eds.), Communication ethics in a connected world (pp. 175 - 198). Brussels: P.I.E. Peter Lang.
Yang, A., Klyueva, A., & Taylor, M. (2012). Beyond a dyadic approach to public diplomacy: Understanding relationships in the multipolar world. Public Relations Review, 38(5), 652-664.
---
Courses (Current Academic Year)
Principles of Public Relations
Public Relations Writing
Public Relations Campaigns
Crisis Communication
Social Media
Communication Research Methods
---
Awards and Accomplishments
2019: Instructional Innovation Award, "Learning Through Simulation: Professional Socialization of Communication Students," UHCL Center for Faculty Development.
2014: Top Faculty Paper in Public Relations, "The Presence of the Past in Public Diplomacy: Problematizing the Use of Soft Power in Public Diplomacy Conceptualizations," National Communication Association, Public Relations Division.
2011: Literati Network Award for Excellence/Top Highly Commended Article 2011, "George Washington Hill and the 'Reach for a Lucky…' Campaign," Journal of Historical Research in Marketing.
---