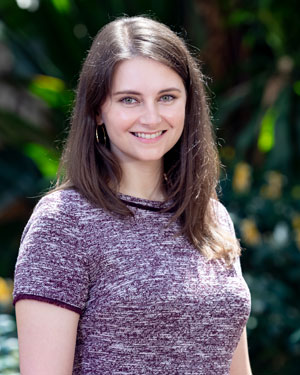 Sarah Griffin, Ph.D.
Assistant Professor of Health Service Psychology & Clinical Psychology,
College of Human Sciences and Humanities
Contact number: 281-283-3355
Email: griffins@uhcl.edu
Office: B1508.03
Biography
Dr. Sarah Griffin is an assistant professor in Health Service Psychology and Clinical Psychology. She earned her doctorate in clinical psychology from Purdue University. She completed her doctoral internship at the Yale University School of Medicine/Yale-New Haven Hospital and her postdoctoral fellowship at the University of Missouri.

Dr. Griffin's program of research focuses on the role of personality in maladaptive behaviors, particularly substance use. She uses Ecological Momentary Assessment methods to better understand individuals' daily life behavior as a function of individual differences (like personality) and daily life factors and contexts. Specific topics of interest include: impulsivity, substance use, emotion regulation, self-injurious behavior, and assessment/psychometrics.

In her clinical work, Dr. Griffin has expertise in evidence-based interventions including CBT, DBT, motivational interviewing, therapeutic assessment, and behavioral parent training. Her clinical specialty areas include treatment of adolescents and adults with substance use, personality pathology, impulse-control difficulties and/or chronic suicidality.

Dr. Griffin is committed to mentoring students in the Clinical Psychology master's and Health Service Psychology doctoral programs. As a new faculty member, she is building an active research lab and will be accepting doctoral students for the 2022-2023 academic year.
---
Areas of Expertise
Personality and personality pathology
Impulsivity
Ecological Momentary Assessment
Substance use
Cognitive Behavior Therapy
Dialectical Behavior Therapy
---