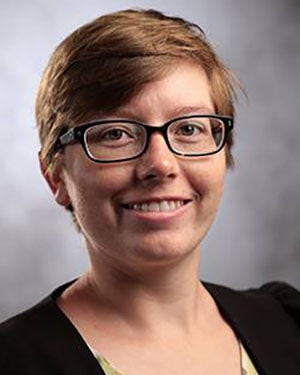 Anne Gessler, Ph.D.
Coordinator of UHCL Common Reader Program, Clinical Associate Professor of First-Year Seminar and Humanities,
College of Human Sciences and Humanities
Contact number: 281-283-3471
Email: gessler@uhcl.edu
Office: Arbor Central 1307.02
Biography
Anne Gessler is a clinical assistant professor in the First Year Seminar and Humanities programs. She teaches across these disciplines as well as Women's and Gender Studies and History, and she is the Chair of the Common Reader Program. She received her doctorate in American Studies at The University of Texas at Austin in 2015. Her teaching interests include social movement history, women's and gender studies, media studies, animal studies, food studies, and Utopian studies.

Gessler's book, "Cooperatives in New Orleans: Collective Action and Urban Development (University Press of Mississippi, June 2020)," is a cultural history of the cooperatives driving New Orleans's urban development. Drawing on archives and interviews with grassroots activists from the 1890s to today, it contends that sustained socializing among laborers, women, immigrants, and people of color propelled a neighborhood-focused, globally inspired cooperative movement that has democratized New Orleans's economic and political institutions.

Engaging with women's and gender studies, social movement history, consumer activism, and media studies, Gessler's next book project will examine women's innovative use of amateur radio to claim technical and civic authority in Cold War-era America. She has also published in Utopian Studies, American Studies in Scandinavia, Radio Journal, and Journal of Southern History.
---