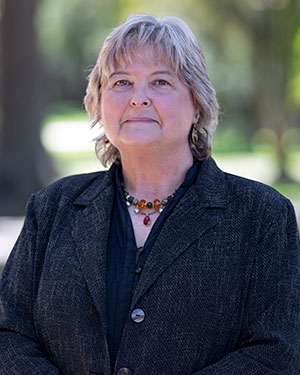 Chloé Diepenbrock, Ph.D.
Department Chair of Communication and Studio Arts and Associate Professor of Writing,
College of Human Sciences and Humanities
Contact number: 281-283-3356
Email: Diepenbrock@uhcl.edu
Office: Student Services Building 2109.04
Biography
Dr. Chloé Diepenbrock earned her Ph.D. in Rhetoric, Linguistics, and Literature from the University of Southern California in 1995. She is the founding Director of UHCL's Writing Center, which she directed from 1993 through 2014. She is also the founding Director of the UHCL Writing Program, which she has served as Program Director since 1992.
Her areas of specialization include Composition Theory and Pedagogy, Rhetorical Studies, Writing Program Administration, and Writing Center Studies. Her research interests include virtual tutoring, writing center assessment, writing program administration, multi-modal composition, and rhetorical criticism. Her most recent publication appeared in Kairos: A Journal of Rhetoric, Technology, and Pedagogy:
Diepenbrock, Chloé and Katie Hart. "Introducing Susie: How to create your own Virtual Writing Center Tutor." 20.1. August 2015.
---