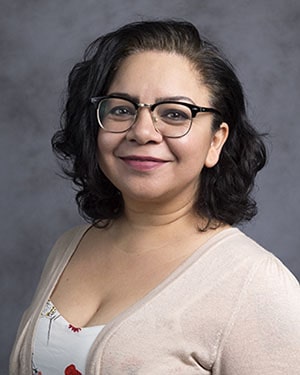 Christina Cedillo, Ph.D.
Associate Professor of Writing and Rhetoric,
College of Human Sciences and Humanities
Contact number: 281-283-3483
Email: cedilloc@uhcl.edu
Office: Bayou 1508.12
Biography
Christina V. Cedillo (she/they) is an associate professor of writing and rhetoric whose research lies at the intersections of race, gender, and disability and draws on critical race theory, disability studies, and decolonial rhetorics. Her/their work examines how legal, scientific, and popular discourses affect the lives of marginalized populations (rhetorics of embodiment), and how they, in turn, deploy re-humanizing practices (embodied rhetorics) using multimodality and digital technologies. In addition, Christina uses this research to develop critical pedagogy approaches that advance "access for all" as an intersectional framework.

Christina is a co-founder and the lead editor of the Journal of Multimodal Rhetorics, a digital, open-access venue dedicated to the study of multimodality in everyday life, particularly among marginalized communities and in commonplace contexts. In addition, Christina is on the editorial board of constellations: A Cultural Rhetorics Publishing Space; Peitho, Journal of the Coalition of Feminist Scholars in the History of Rhetoric & Composition; and Kairos: A Journal of Rhetoric, Technology, and Pedagogy, and serves on the advisory board for the University of South Carolina Press book series, "Movement Rhetoric / Rhetoric's Movements."

Christina is also a past co-chair of the Conference on College Composition and Communication (CCCC) Latinx Caucus, past co-chair of the CCCC Committee on Disability Issues, and a past member of the CCCC Executive Committee.
---
Areas of Expertise
Multimodality
Digital rhetorics and technology
Digital humanities
Race studies
Disability studies
Gender studies
Histories of legal and scientific rhetorics (eugenics)
Embodiment
Digital publishing
Cultural rhetorics
Critical pedagogies
---
Publications
Forthcoming: "Not-So-Universal Design: Accounting for Race and Racism in Disability Writing Pedagogy." Disability, Access, & the Teaching of Writing, Dev Bose and Molly Ubbesen, et al., eds., NCTE/SWR. (Legal and scientific rhetorics; critical pedagogy)
"#DisabilityTooWhite: On Erasure's Material and Physical Dimensions." Spark: A 4C4Equality Journal, vol. 4, 2022. (Social media research)
"Smoke and Mirrors: Re-creating Material Relation(ship)s through Mexica Story." Decolonial Conversations in Posthuman & New Material Rhetorics, D. M. Grant and J. Clary-Lemon, eds., Ohio State Press, 2022. (Environmental rhetorics)
"#cripthevote: Disability Activism, Social Media, and the Campaign for Communal Visibility." Reflections: A Journal of Community-Engaged Writing and Rhetoric, Summer 2021 Special Issue. (Social media research)
"The Perils of the Public Professoriate: On Surveillance, Academic Freedom, and Identity-Avoidant Frameworks." Privacy Matters: Conversations about Surveillance Within and Beyond the Classroom, E. Beck and L. Hutchinson, eds., Utah State UP, 2021. (Social media research)
"Unruly Borders, Bodies, and Blood: Mexican 'Mongrels' and the Eugenics of Empire." Journal for the History of Rhetoric, vol. 24, no. 1, 2021. (Legal and scientific rhetorics)
"Disabled and Undocumented: In/visibility at the Borders of Presence, Disclosure, and Nation." RSQ, vol. 50, no. 3, 2020, pp. 203-211. (Legal and scientific rhetorics)
Cedillo, Christina V., and Phil Bratta. "Relating Our Experiences: The Practice of Positionality Stories in Student-Centered Pedagogy." College Composition and Communication, vol. 71, no. 2, 2019, pp. 215-240. (Embodiment; critical pedagogy)
"What Does It Mean to Move?: Race, Disability, and Critical Embodiment Pedagogy." Composition Forum, vol. 39, 2018. (Legal and scientific rhetorics; critical pedagogy)
"Diversity, Technology, and Composition: Honoring Students' Multimodal Home Places." Present Tense: A Journal of Rhetoric in Society, vol. 6, no. 2, 2017. (Multimodality; digital rhetorics and technology)
---
Courses (Current Academic Year)
Fall 2023-Summer 2024


WGST 1301: Gender Matters: Introduction to Women's and Gender Studies (Theme: Gender in a Global Context)
WRIT 3304: Writing for Education (Theme: Professional Workplace Genres)
WRIT 3305 - Advanced Writing for Humanities (Theme: Narrating Ethnic Houston [Digital Humanities course incorporating a variety of textual analysis, delivery, and archival tools])
WRIT 3312 - Written Communications in Business (Theme: Ethics in Communication)
WRIT 3315: Advanced Technical Writing (Themes include: Critical Embodiment; Writing for the Web)
---
Research Projects
With Ada Hubrig and Marilee Brooks-Gillies, eds. Rhetorical Approaches to Critical Embodiment: Diverse Perspectives on Academia, Activism, and Everyday Life. Writing in diverse genres and across subfields, multiply marginalized authors discuss the many reasons why we must deconstruct whitestream notions of "the body" to center real people in academic and everyday spaces. (Essay collection, in progress)

Embodying the Struggle: The Multimodal Rhetorics of Women of Color Activists. Drawing on critical race studies, women of color feminisms, and multimodal rhetorics, this monograph examines how Black, Native, and Latinx women activists of the 20th and 21st centuries have engaged multimodal rhetorics and technologies to secure public platforms and promote social justice. (Monograph project, in progress)
---
Awards and Accomplishments
Digital Ethnic Futures Consortium (DEFCon) Teaching Fellow, 2022-2023.
NCTE Leadership Award for People with Disabilities, National Council of Teachers of English, 2021.
Texas Research & Scholarship Award winner, UHCL Center for Faculty Development, 2021.
Scholarship to Improve Higher Education Award winner, UHCL Center for Faculty Development, 2019.
The Smitherman/Villanueva Scholarly Writing Retreat, Stanford University, July 31-August 4, 2017. Invited participant.
---