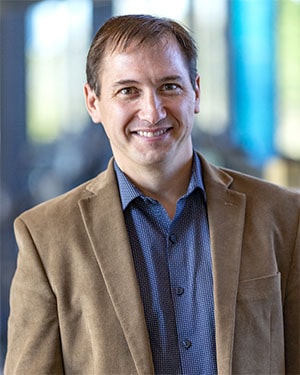 Jason Bentley, Ph.D., CSCS
Assistant Professor of Exercise and Health Sciences,
College of Human Sciences and Humanities
Contact number: 281-283-3461
Email: bentley@uhcl.edu
Office: RWC 249.11
Biography
Jason Bentley, Ph.D., CSCS is an assistant professor in the Department of Clinical, Health and Applied Sciences. He earned his Ph.D. in Rehabilitation Sciences from the Graduate School of Biomedical Sciences at the University of Texas Medical Branch in Galveston, Texas, in 2021. His doctoral dissertation explored physical activity motivation among breast cancer survivors; his goal is to identify targets for physical activity interventions aiming to improve long-term physical activity behavior.

Prior to earning his Ph.D., Dr. Bentley received an M.S. in Physiology from the Medical College of Wisconsin in 2001 and a B.S. in Biomedical Engineering at the Milwaukee School of Engineering in 1996.

Dr. Bentley previously served the program as an adjunct instructor in 2013, a visiting lecturer from 2014-2016, a lecturer from 2017-2021, and a senior lecturer from 2021-2022. Prior to his academic appointment, he worked onsite at the National Aeronautics and Space Administration as a scientist in the Exercise Physiology Laboratory investigating exercise countermeasures to mitigate spaceflight induced muscle and bone loss.

Dr. Bentley enjoys teaching a wide variety of courses in the Fitness and Human Performance program, including biomechanics, applied kinesiology, and exercise physiology. His research interests also expand across multiple disciplines as he enjoys investigating and collaborating on studies involving behavioral aspects of physical activity, biomechanics, and the physiological effects of resistive and aerobic exercise.

Curriculum Vitae
---
Areas of Expertise
Physical Activity Motivation
Cancer Survivorship
Exercise Behavioral Assessments
Resistive and Aerobic Training
Exercise Physiology
Data Analysis
Computer Programming (SAS, LabVIEW)
Electromyography
---
Publications
Bentley JR, Yu X, Karmarkar AM, Downer B, Prochaska J, Lyons EJ. Feasibility and thematic analysis of narrative visualization materials with physical activity monitoring among breast cancer survivors. BMC Cancer. 2022 May 16;22(1):553.
Robertson MC, Swartz MC, Christopherson U, Bentley JR, Basen-Engquist KM, Thompson D, Volpi E, Lyons EJ. A Photography-based, Social Media Walking Intervention Targeting Autonomous Motivations for Physical Activity: Semistructured Interviews With Older Women. JMIR Serious Games. 2022 Apr 14;10(2):e35511.
Bentley JR, Schroeder A, Baumbach L, Lyons EJ. (2019). Acceptability of Narrative Visualization Techniques Along with Monitoring Physical Activity Data Among Breast Cancer Survivors. Presented virtually at the 2020 Society of Behavioral Medicine Annual Meeting, San Francisco, CA.
Bentley JR, Amonette WE, English KL, Hansen A, Patrick R, Keener K, Fullmer P, Barrera J, Arcemant D, Perera J. (2017). Feasibility of an intense daily treadmill protocol to assess a virtual environment software application. Presented at the 2017 National Strength and Conditioning Association Annual Meeting, Las Vegas, NV.
Spiering BA, Lee SMC, Mulavara AP, Bentley JR, Buxton RE, Lawrence EL, Sinka J, Guilliams ME, Ploutz-Snyder LL, Bloomberg JJ. Test battery designed to quickly and safely assess diverse indices of neuromuscular function after unweighting. J Strength Cond Res. 2011 Feb;25(2):545-55.
Bentley JR, Amonette WE, De Witt JK, Hagan RD. Effects of different lifting cadences on ground reaction forces during the squat exercise. J Strength Cond Res. 2010 May;24(5):1414-20.
Schneider SM, Amonette WE, Blazine K, Bentley J, Lee SM, Loehr JA, Moore AD Jr, Rapley M, Mulder ER, Smith SM. Training with the International Space Station interim resistive exercise device. Med Sci Sports Exerc. 2003 Nov;35(11):1935-45.
Bentley J, Rickaby D, Haworth ST, Hanger CC, Dawson CA. Pulmonary arterial dilation by inhaled NO: arterial diameter, NO concentration relationship. J Appl Physiol. 2001 Nov;91(5):1948-54.
---
Courses (Current Academic Year)
HLTH-3304 Principles of Physical Fitness
HLTH-3315 Health Promotion Programs
HLTH-3316 Applied Kinesiology
HLTH-4301 Physiology of Exercise
HLTH-4302 Biomechanics
EXHS-5135 Social and Behavioral Aspects of Public Health
EXHS-5335 Exercise in Chronic Disease
---
Awards and Accomplishments
Bohdan Nechay Endowment, University of Texas Medical Branch, 2020
Ann and John Hamilton Endowed Scholarship, University of Texas Medical Branch, 2019
Charles F. Otis Clinical Research Award, University of Texas Medical Branch, 2017, 2019
Granted U.S. patent for a horizontal exercise apparatus (number 7125370), 2006
Outstanding Achievement Award, Wyle Laboratories, 2004
Space flight Special Achievement Team Award, NASA-Johnson Space Center, 2002
Space flight Special Achievement Individual Award, NASA-Johnson Space Center, 2000
---