Current Issue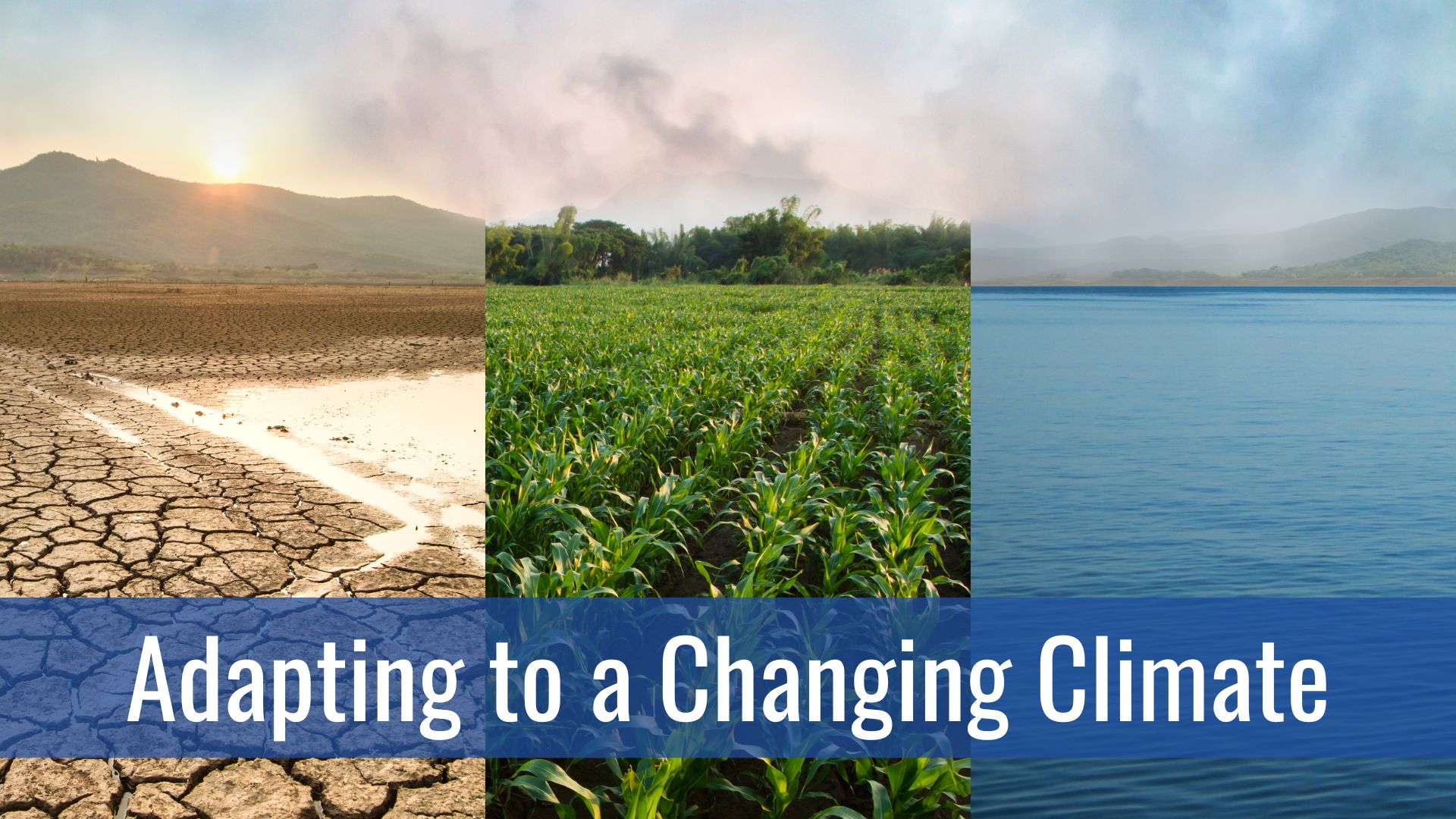 Adapting to a Changing Climate
The earth's climate is constantly changing and has been doing so for billions of years. Although long-term fluctuations in temperature are normal and greenhouse gasses are emitted to the atmosphere from both natural and human-generated sources, the vast majority of climate scientists agree that the global warming observed since the mid-20th century (1950s) is cause for immediate concern. Human-induced emissions of greenhouse gasses are being released at a quicker rate than natural processes can remove them¹. Not only do climate models project an increase in temperature, but the models also predict increases in the frequency of hot days above 30⁰C (86⁰F) as well as changes in precipitation, extreme weather events, sea level rise, water stress, and ocean acidification. As a result, disruptive changes to ecosystems, the economy, and society are expected to occur on both local and global scales.
The changing climate is one of the most complex issues facing the world today. It spans many disciplines and aspects of everyday life: science, socio-economics, environment, health, politics, as well as moral and ethical values.
Students will learn about factors contributing to a changing climate, the effects of these changes on the environment and natural resources, and the unique challenges facing natural resource dependent communities. As they explore the impacts on human social and economic systems, they will learn about management strategies for mitigating and adapting to a changing climate, and the roles of innovative technologies and programs in responding to local and global changes.
NCF 2023 Current Issue Study Guide
Key Topics & Learning Objectives
Key Topic 1: Factors Contributing to a Changing Climate


Describe climate change and the process through which it occurs.
Outline the factors, both anthropogenic and natural, which influence climate and climate change.
Describe the major economic sectors that contribute to greenhouse gas (GHG) emissions.
Describe major energy sources and explain how each contributes to climate change.
Outline indicators of climate change.

Key Topic 2: Measuring and Monitoring a Changing Climate

Describe the history of international collaboration on climate change and analyze the successes and shortcomings.
Describe the various sources of scientific data which are used as evidence of climate change and explain how we know this data to be reliable.
Evaluate climate data and draw conclusions based on that data.
Explain the use of modelling in forecasting climate and the sources of uncertainty in climate projections.

Key Topic 3: Risks and Impacts to Natural Resources and Society from a Changing Climate

Explain the consequences of climate changes on aquatic, forest, wildlife and soil ecosystems.
Describe the social and economic impacts of climate change.

Key Topic 4: Policies and Programs for Adapting to a Changing Climate

Explain how various levels of government, non-governmental organizations, and individuals are involved in mitigating and adapting to climate change at the local, national, and international levels.
Describe innovative technologies and programs designed to combat climate change.
Explain the importance of primary resource sectors (forestry, agriculture, fisheries) to the economy of New Brunswick.
Describe the unique challenges faced by regions largely dependent on primary resources, and how climate change influences these challenges
Explain how to best apply climate change risk assessment and adaptation measures in regions with primary resource dependent economies.
Teacher Workshop Materials
Presentation
Download

WATCH:

Welcome to Envirothon


Rowena McDermid, EE Assistant, and Wendy Reistle, Texas Envirothon Coordinator, UHCL Environmental Institute of Houston

WATCH:

Evidence for Small-scale Living Shoreline Viability in Galveston Bay, Texas


Dr. Cynthia Howard, Professor of Biology and Environmental Science, UHCL

WATCH: Climate: Food and Energy Systems and the Built Environment
Dr. Kathleen Garland, Senior Lecturer, College of Business, UHCL

PDF

WATCH: Climate Change, Water, and Environmental Justice
Mashal Awais, Community Science Manager, Bayou City Waterkeeper

Videos included in the presentation:

PDF

WATCH: Hurricanes, Barriers and Climate Change: Galveston Bay Case Study
Dr. George Guillen, Executive Director, UHCL-EIH

PDF

WATCH: Climate Change Impacts on Wildlife, Plants, and Microbes
Jeffrey Fato, UHCL Graduate Student, Environmental Science
Jordan Lucas, UHCL Graduate Student, Environmental Science
Daniel Adams, UHCL Student, Environmental Science

PDF
---
Oral Presentation
Teams are provided all materials needed to prepare their oral presentation.
New for 2023
The presentation format is changing for 2023. Information will be provided to registered teams.
Sample Oral Presentation Question (2014)