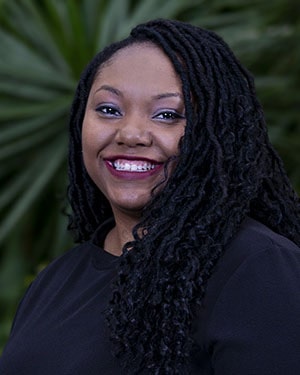 Jennifer Grace, Ph.D.
Administration and Supervision Program Director and Assistant Professor of Educational Leadership,
College of Education
Contact number: 281-283-3523
Email: grace@uhcl.edu
Office: Bayou Suite 1111-8
Biography
Dr. Jennifer Grace is an assistant professor and program director in the Department of Leadership and Policy Analysis. Guided by the belief that equity in education is a civil and human right, she focuses substantively on preparing future school leaders. Serving as the program director for the master's degree in educational management, she coordinates program logistics and acts as both an academic advisor and a mentor to graduate students.

Dr. Grace has experience leading schools in curriculum, instruction and assessment, district and school strategic planning, community outreach, and program evaluation. Throughout her career, she has demonstrated excellence in teaching and research while contributing to an environment of professionalism, collaboration, and collegial engagement.

Her research areas include the school-to-prison pipeline, race and racism in education, and equity-focused leadership. Primarily utilizing Critical Race Theory, Dr. Grace investigates how educational leaders can disrupt systemic racism and create school environments that help historically underserved students reach their full potential. Growing up in a low-income community in New Orleans and being expelled from high school are just a few personal experiences that drive her pursuit to advance equity, access, and opportunity for students in disenfranchised communities.

Thus, as a licensed intercultural development inventory administrator, she has worked with school leaders on diversity, equity, and inclusion initiatives. With student achievement, leader effectiveness, and educational equity at the core of her work, she has helped develop education programs designed to improve educational outcomes in public schools.

Her publications have been featured in the Journal of Contemporary Issues in Education, Education, Citizenship, and Social Justice, Leadership and Policy in Schools, and more. Over the last five years, she has contributed to a number of conferences addressing racial issues, including the International Council of Professors of Educational Leadership, University Council of Educational Administration, American Educational Research Association, and Critical Race Studies in Education Association.


In recognition of the merits of her research in the field of diversity, equity, and inclusion, Dr. Grace was awarded an American Association of Blacks in Higher Education Dissertation Award. She also received the NAACP NOLA- Jessie B. Vickman Special Teacher Award.

Curriculum Vitae
---
Areas of Expertise
School to Prison Pipeline
Race, Racism, and Anti-racism in Education
Equity Focused Leadership
---
Publications
Grace, J., (2023). "Not Looking to Blame, Shame or Horrify People": Texas Educational Leaders Reflect on Employing Anti-Racism in Everyday School Leadership. International Journal of Qualitative Studies in Education. DOI: 10.1080/09518398.2023.2178688
Grace, J. (2023). When They See Us: Implications for Anti-Racist School Leadership through Examining the Experiences of Black Boys. In Belinda Alexander-Ashley (Ed.) Practical Strategies to Reduce Childhood Trauma and Mitigate Exposure to the School to Prison Pipeline. IGI Global.
Grace, J., Simieou III, F., Lastrapes, R. E., & Decman, J. (2022). Confronting the racism boogeyman: Educational leaders make meaning of the impact of George Floyd. Education, Citizenship and Social Justice, https://doi.org/10.1177/17461979221123014
Simieou III, F., Grace, J., Decman, J., & Cothern, T. (2021). "Let's Stay Together": Examining a Grow Your Own Program in an Urban District. International Journal of Educational Leadership Preparation, 137.
Grace, J. (2020). "They are Scared of Me": Black Male Perceptions of Sense of Belonging in US Public Schools. Journal of Contemporary Issues in Education, 15(2), 36-49.
Grace, J. E., & Nelson, S. L. (2019). "Tryin'to Survive": Black Male Students' Understandings of the Role of Race and Racism in the School-to-Prison Pipeline. Leadership and Policy in Schools, 18(4), 664-680.
Nelson, S.L., & Grace, J. E., (2016). The Right to Remain Silent in New Orleans: The Role of Self-Selected Charter School Boards on the School-to-Prison Pipeline Nova Law Review, 40, 447 – 492.
---
Courses (Current Academic Year)
ADSU 6132 Curriculum
ADSU 6233 Principalship
ADSU 6638 School Community Relations
---
Research Projects
Disproportionate Discipline
Pre-Service Teachers of Color Educational Experiences
Anti-Racist School Leadership
---
Awards and Accomplishments
2023

Early Career Faculty Award- UHCL Center for Faculty Development
2023
Faculty Advisor of the Year- Texas Council of Professors of Education Administration
2021
Jessie B. Vickman Special Teacher Award -NAACP NOLA
2016
American Association of Blacks in Higher Education Dissertation Award
---