Teaching, Research, and Service Activities Reporting
Digital Measures organizes and builds reports on teaching, research and service activities. It enables you to keep track of your activity information just once so you can prepare other reports, such as annual activity reports, promotion and tenure documents, accreditation reports, your CV, your profile on your campus website, and more. Beginning in 2019, it is the system through which faculty complete and department chairs access annual review reports.
Entering Faculty Information
Activity Insight is the navigation interface used inside Digital Measures. You can find additional help and support for working in Activity Insight in the Faculty/Staff Guide.
Here is a quick overview of the screens you will access most often: Screen Summary Reference Guide (provided by OIE). This guide also explains which information is updated by the university and which data you will need to complete each year. Additionally, we have created the COE Annual Report Input Guide to help you find where information required in the COE annual faculty report should be added to Digital Measures. Please note that you may add information to any section of Digital Measure. This guide only shows what will be pull for the college annual activity report. There are additional areas that the university will want included for accreditation and accountability reports.
Digital Measures Screen Reference Guide

COE Annual Report Input Guide
The Office of Institutional Effectiveness (OIE) has several other help links on their Digital Measures website.
Note: If you want to write your comment information in Word and then paste into Digital Measures, especially for creating bulleted lists, use the Paste Board feature in the upper right corner of the screen.

The PasteBoard window will appear in the bottom right corner and you can paste your text from Word in to this window and then copy/paste into the text box in Digital Measures. To use the drag-and-drop feature, highlight the pasted text and then drag the text to the comment box. You can move the PasteBoard box anywhere you want on the screen to make working with it more convenient.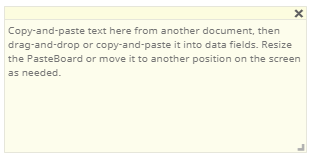 Additional Help and Support
In addition to these support documents, OIE provides annual, introductory training sessions for Digital Measures, as well as open time workshops every January when faculty can come work on their annual reports and get one-on-one direction and support. Please visit the OIE Digital Measures site for these training and workshop dates.
For any questions with Digital Measures you can contact this office, or OIE.