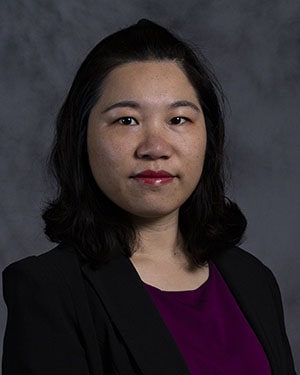 Lifei Sheng
Assistant Professor,
College of Business
Contact number: 281-283-3137
Email: sheng@uhcl.edu
Office: B3121
Biography
Lifei (Fay) Sheng is an assistant professor of decision sciences who teaches statistics and management science. Before joining UHCL, she received a Ph.D. in management science from the Sauder School of Business at the University of British Columbia in 2017 and a Bachelor of Science in applied mathematics from Shanghai Jiao Tong University in 2012.
Sheng's current research interests include operations management in the digital economy (mobile games and apps in particular), contract theory, mechanism design, pricing and revenue management. Her work has been published in journals such as Operations Research Letters. She is a member of the Institute for Operations Research and the Management Sciences (INFORMS).
---
Publications
L. Sheng, H. Zheng, Y. Rong, W.T. Huh (2015). "Flexible System Design: A Perspective from Service Levels." Operations Research Letters, 43(3), 219–225

L. Sheng, D. Granot, W.T. Huh, M. Nagarajan (2016). "A Dynamic Price-Only Contract: Exact and Asymptotic Results." Operations Research Letters, 45(6), 620-624
---
Research Projects
Interests:
Operations management in the digital economy
Contract theory
Game theory
Pricing and revenue management
In Progress:
L. Guang, L. Sheng, D. Zhan. "How Free is Free Shipping? The Implications of Topping-up Behavior on E-Commerce Shipping Policies" (Preparing manuscript)
L. Sheng, C.T. Ryan. "Allocating 'Free' in Social Networks with Externalities"
L. Sheng, C.T. Ryan. "Designing Services in the Phase of Churn"
---
Awards and Accomplishments
Killam Graduate Teaching Award, 2017
Dean Earle D. MacPhee Memorial Fellowship, 2012-2015
Edward and Miriam Silber Memorial Graduate Scholarship, 2012
Sauder School of Business Graduate Award, 2012
China National Scholarship (one of two winners among 78 students), 2010-2012
China Undergraduate Mathematical Contest in Modeling, first prize in Shanghai (19,490 teams participated), 2011
Shanghai Educational Development Foundation's Suntory Corporation Scholarship (only winner among 100 students), 2009
---