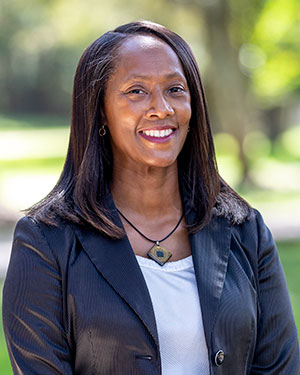 Vanessa Johnson, MBA, JD, LLM
Associate Professor of Legal Studies ,
College of Business
Contact number: 281-283-3161
Email: Johnsonv@uhcl.edu
Office: ST2224
Biography
In addition to being an associate professor of legal studies, Vanessa L. Johnson is a licensed attorney, real estate broker, insurance agent and multi-certified human resources professional in the state of Texas. Her extremely diverse employment history includes over 20 years of experience. She is also the coordinator of the Legal Studies Program.

Ms. Johnson earned a Master of Laws in Health Law, a Master of Laws in Tax Law, and a Juris Doctorate from the University of Houston Law Center. She is also a Master of Business Administration graduate of New York University's Stern School of Business, and she earned a Bachelor of Science in Management from Tulane University's Freeman School of Business. Her scholarship has been published in the Houston Business and Tax Law Journal, Corporate Counsel Review, the Notre Dame Journal of Legislation, and UC Davis Business Law Journal.

A native of Dickinson, TX, she is also a graduate of Leadership Houston's Class XXIX and the United Way of Greater Houston's Project Blueprint Class XXVII. She has served on the Boards of Builders of Hope CDC, Avenue CDC, Fifth Ward Enrichment Program, the Bridge Builder Charity Foundation, the Diversity Research Institute Journal, the Galveston County Health District, and Unlimited Visions Aftercare.
---
Areas of Expertise
Employment law
Health law
---
Publications
Gita Sharma and Vanessa L. Johnson, The Disconnect Between State Laws Regarding Cannabis Legalization and Employee Protections, Quinnipiac Law Review, Volume 20, Fall 2021.
James E. Holloway, D. Tevis Noetling, Aaron Pennington, and Vanessa L. Johnson, Law and Business as a School of Thought: A Pedagogy to Teach the Theory and Practice of the School. UC Davis Business Law Journal, July 6, 2018. Available at: https://blj.ucdavis.edu/archives/vol-18-no-2/holloway.html
Alix Valenti & Vanessa L. Johnson, The Impact of King v. Burwell on Judicial Review of Administrative Action: An Exception to Chevron, A Move from Textualism, or Something Else? 18 HOUS. BUS. & TAX L.J. 1 (2018).
Alix Valenti & Vanessa L. Johnson, The Real Impact of EEOC v. ABERCROMBIE & FITCH STORES, INC.: "Look Policies" - Effective Business Strategies or Legal Liabilities? Corporate Counsel Review (May 2017).
Vanessa L. Johnson, Marisa Finley & J. James Rohack, King v. Burwell: The Supreme Court's Missed Opportunity to Cure What Ails Chevron, 42 J. LEGIS. 101 (2016). Available at: http://scholarship.law.nd.edu/jleg/vol42/iss1/2
Vanessa L. Johnson, If There's Mold in Your Workplace Making You Ill, Who Can You Call? Shockingly, Not OSHA! Health Law Perspectives, University of Houston Law Center Health Law & Policy Institute (October 9, 2015). Available at: https://www.law.uh.edu/healthlaw/perspectives/
---
Courses (Current Academic Year)
LEGL 3301 Business Law
HADM 6132 Legal Aspects of Healthcare Systems
---