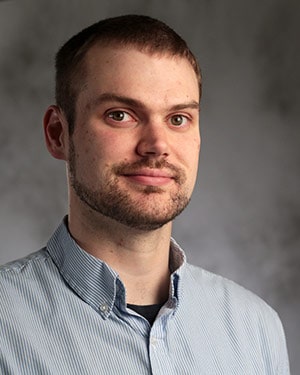 Stephen Cotten, Ph.D.
Associate Professor of Economics,
College of Business
Contact number: 281-283-3207
Email: Cotten@UHCL.edu
Office: B3121
Biography
Dr. Cotten received his Ph.D. in Economics from University of Tennessee in 2009. He has been an associate professor at UHCL since 2015, after working as an assistant professor from 2009-2015. He has written over a dozen publications, book chapters, and working papers, and has delivered various presentations. Dr. Cotten has also contributed content to four textbooks and served as a consultant for Space Center Houston, regional hospitals and local government.

Curriculum Vitae
---
Areas of Expertise
Energy policy
Environmental and natural resource policy
Experimental economics
Industrial organization
Law and economics
Public economics
Corporate governance
---
Publications
"Social Preferences and Collusion: A Laboratory Experiment" with Youping Li and Rudy Santore. Journal of Institutional and Theoretical Economics. Published "Online First", pp. 1-18, November 17, 2020. DOI: 10.1628/jite-2020-0049
"Does peer group size influence social preferences and risk-taking?" with Justin Roush and Rudy Santore. Bulletin of Economic Research 71(4): 573-584. 2019.
"Population Shifts and Discrete Public Services: Rationing Rules and the Support for Public Goods" with Todd L. Cherry and Michael McKee. Public Finance Review 47(3): 585-602. 2019.
"Reining in the Ruble: A Story of Oil, Sanctions and the Bank of Russia" with Anne Anders and Ivelina Pavlova. Journal of Finance Case Research 19(1) 2018.
"Common Resource Bargaining: A Collective Action Game" with Robert Hodgin. Journal of Economics and Finance Education 15(1): 84-95. 2016.
"Using Newton's Method to Compute Bond Yields in ExamView," with Jeff Whitworth. The Journal of the American Academy of Business 21(2): 222-228. 2016.
"Colluding with a Conscience" with Rudy Santore and Youping Li. Journal of Economics 114: 255-269. 2015.
"Reverse Convertible Notes: Determinants of Secondary Market Prices" with Timothy Michael, Ivelina Pavlova and Jeffrey Whitworth. Business Studies Journal 5 (2). 2014.
Book Chapters
"Coasean Bargaining" with Todd Cherry and Jason Shogren, in Encyclopedia of Energy, Natural Resources and Environmental Economics, edited by Jason Shogren. Oxford, Elsevier. Vol. 3. 5-9. 2013.
"Can Public Goods Experiments Inform Policy? Reducing Confusion among Experiment Participants" with Paul J. Ferraro and Christian A. Vossler, in Experimental Methods: Environmental Economics, edited by Todd L. Cherry, Jason F. Shogren, and S. Kroll. Routledge, London, 2008.
---
Courses (Current Academic Year)
Energy Markets
Environmental Economics
Money and Banking
Public Finance
Principles of Macroeconomics
Financial Literacy
---
Awards and Accomplishments
Excellence in Service to Students Award from the National Society of Leadership and Success, May 2014
Best Educational Pedagogy Paper, "Retirement Under Uncertainty: Using Excel to Enhance Financial Planning Instruction" from the Financial Education Association Conference, Charleston, SC, September 2012.
Honorable Mention for Best Paper, "The Effect of Contingent Fee Caps on the Quality of Legal Services" from the General Business Conference, Huntsville, TX, April 2010
Selected as a U.S. delegate to the 2nd Lindau Meeting of the Winners of the Bank of Sweden Prize in Economic Sciences in Memory of Alfred Nobel – Lindau, Germany, 2006
---