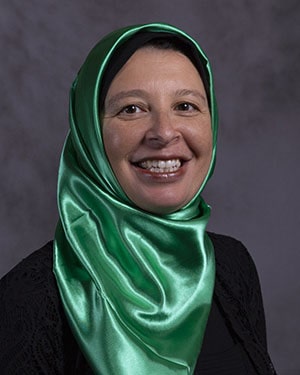 Dina Abdelzaher, Ph.D.
Associate Professor of Management,
College of Business
Contact number: 281-283-3248
Email: abdelzaher@uhcl.edu
Office: B3321
Biography
Dr. Abdelzaher is an associate professor of management in the College of Business at University of Houston-Clear Lake. Former positions held include senior account manager/business consultant for TNS, the world's largest custom market research specialists, and assistant brand manager for Proctor and Gamble. Her research is mainly in the area of international business with specific interests in corporate social/environmental issues and global entrepreneurship. She has served as an academic consultant on multiple projects and is currently the faculty advisor for Green Hawks. Her work has been published in leading journals like Journal of Management, Journal of Business Ethics, International Business Review, International Journal of Conflict Management, The Academy of Management Perspectives, and Journal of international Management.
---
Areas of Expertise
Management
International business
Sustainability
Arab Middle East
---
Publications
1. Elbanna, S; Abdelzaher, D., Ramadan, N. (2020). "Management research in the Arab World: What is Now and what is Next?" Journal of International Management, 26(2):100734.
2. Abdelzaher, D. M., Martynov, A., & Zaher, A. M. A. (2020). Vulnerability to climate change: Are innovative countries in a better position?. Research in International Business and Finance, 51, 101098.
3. Abdelzaher, D. & Schneper, W., & Douglas-Fernandez, W. (2019)" Legal Rights, National Culture and Social Networks: Exploring the Uneven Adoption of United Nations Global Compact: International Business Review. 28 (1), 12-24.
4. Abdelzaher, D; Kotb, A; Helfayas, A (2017). Understanding the Whys and Hows of Eco-Islam. Journal of Business Ethics. doi:10.1007/s10551-017-3518-2
5. Abdelzaher, D., Latheef, Z., Abdelzaher, A. (2017). Stressed Employees amidst the Arab Spring and How A Locally Embedded Framework Can Enhance Work Values. International Journal of Conflict Management, 28 (2),
6. Martynov, A., & Abdelzaher, D. (2016). Iterative problem solving in teams: insights from an agent-based simulation. Team Performance Management, 22(1/2), 2-21.
7. Abdelzaher, D., Abdelzaher, D., Newburry, W., & Newburry, W. (2016). Do green policies build green reputations? Journal of Global Responsibility, 7(2), 226-246.
8. Abdelzaher, D., Newburry, W., & Kundu, S. (2013). The Hidden Costs to Offshoring: Exploring the Mediating Effects of Social Responsibility and Employee Layoffs. International Business: Research, Teaching and Practice, 7(1), 75.
9. Abdelzaher, D. M., & Abdelzaher, A. (2015). Beyond environmental regulations: Exploring the potential of "eco-Islam" in boosting environmental ethics within SMEs in Arab markets. Journal of Business Ethics, 1-15.
10. Bullough, A., Renko, M., & Abdelzaher, D. (2014). Women's business ownership operating within the context of institutional and in-group collectivism. Journal of Management, 0149206314561302
---
Courses (Current Academic Year)
BAPA 5131 Global Environment of Business
MGMT 3301 Management and Organizations
MGMT 4312 Strategic Management (Capstone)
MGMT 6334 Sustainability and Global Competitive Advantage
---
Research Projects
Dr. Abdelzaher's latest research combines strategic management and international business to understand issues related to climate change adaptation, innovation and women entrepreneurship
---
Awards and Accomplishments
Highly Commended paper" (2017) awarded by Emerald Publishing
"Best Paper on the Conference Theme Award" /2014) sponsored by Savannah State University
at the Academy of International Business Southeast
"Best Paper in Global Strategy & Competitiveness Track" (2014) sponsored by Savannah State University at the Academy of International Business Southeast
"Kauffman Doctoral Student" Award (2011) awarded from Global Entrepreneurship Center at Florida International University
"Runner Up Paper Award" (2011) at Academy of International Business Southwest
"William J. Ziegler Award" (2009) at the Academy of International Business Southeast
---