Share Your Story
UHCL Oral History Project
University of Houston-Clear Lake is turning 50 in 2024, and in true UH-Clear Lake fashion, we want to highlight the people who helped us reach this milestone: our alumni. To do this, we've established the UHCL Oral History Project.
This project gives you and the thousands of other alumni the opportunity to share your memories of your time as a UHCL student as well as where your life has taken you since your time on campus. From your trials to your triumphs, to your favorite friendships and experiences, we want to hear about them.
The UHCL Oral History Project Kicks Off 08/04/2023
Be on the look out for emails and a yellow postcard from our partner, PCI, with more information!
---
How to Share Your Story
First, you will receive a yellow postcard in the mail as well as an email from a publishing company that UHCL has partnered with called Publishing Concepts, Inc. (PCI).
Follow the steps on the card to update your contact information and share your story. Stories will be collected via a phone call with a trained member of the PCI team. If you did not receive a postcard or email, you may call in your response via this telephone number: 866-501-6817.
After sharing your story, you will be asked if you would like to purchase a commemorative publication package. Purchase is completely optional, and there is no purchase necessary to share your story.
---
Postcard and Email Details
Your postcard and email should arrive in your mailbox around August 4, 2023. If you do not receive them by this date, and you would like to share your story, call (800) 735-5993. The email header will look like one of the following:



The postcard will look like the following: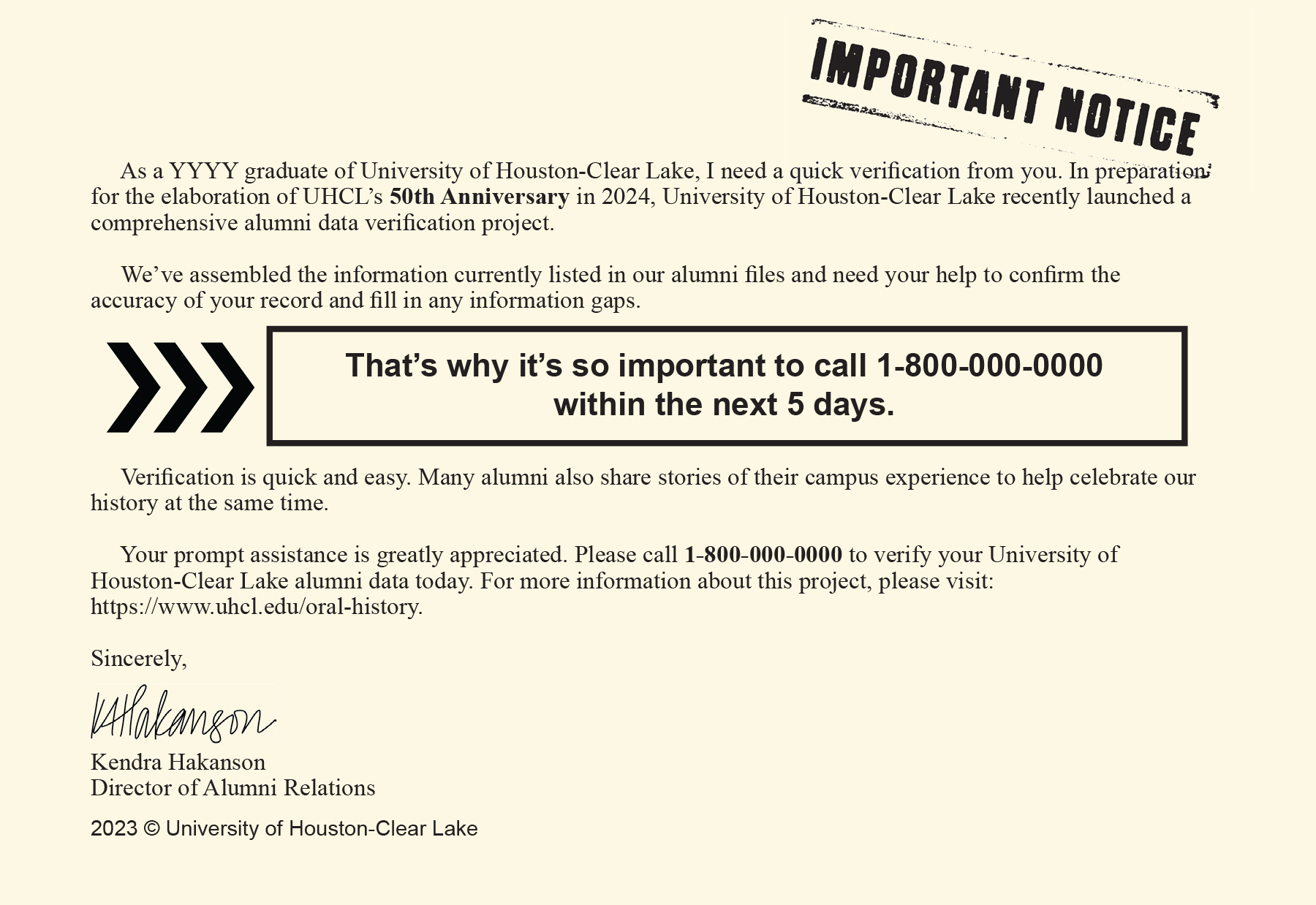 ---
Frequently Asked Questions
Do I need to send a photo to accompany my story?
Although not required, we strongly encourage all alumni to submit a photo to accompany their story. You will receive an email with a link to upload one photo (black and white or color), plus a caption.
If you purchased a book but do not have an email address on file, you will be sent a photo mailer to send a physical photo in to be printed. The photo will be returned if you include a self-addressed, stamped envelope.
What happens after I share my story?
Your story will be recorded, transcribed, and edited for use in printed and digital publications. A sound clip of your story will also be provided to UHCL at the conclusion of the project. This clip may also be used in UHCL audio, visual or print marketing material, including the 50th anniversary promotions.
Will my information be shared outside of this project?
PCI is committed to protecting your information. The names, addresses and information provided to PCI for the publication of the UHCL Oral History Project will be held confidential by PCI, except to the extent that they are utilized in, or in the preparation of, the Oral History Project and except as required by court order or law.
How much of my information will be included in the publication?
The only information that is included in the publication is your name, class year and degree, along with your story and photo. No contact information is printed. When you call to update your contact information, it will only be used to update your alumni record for the school/alumni association. You may revoke consent for your story and/or photo to appear any time before February 2, 2024, by contacting PCI at (800) 982-1590 or customerservice@publishingconcepts.com.
Does UHCL benefit from this at all?
Yes, in a few different ways:
Updated Information: Allows us to effectively communicate with and engage alumni.
Legacy: Sharing and collecting stories preserves the history of UHCL.
Revenue: Generates donation revenue for alumni programs.