Process and Policies
Enrolling in an education abroad program can be a very rewarding educational experience. However, it also involves a significant amount of planning and preparation, especially regarding timeline, eligibility and course approvals.
The first step is to attend an Education Abroad 101 Information Session through the Office of Education Abroad and Scholar Services at University of Houston-Clear Lake. Students may also contact us via email at educationabroad@uhcl.edu. Please indicate your interest in an education abroad program and we will assist you with the process and answer your questions.
Depending on your desired program, it could take up to a year to appropriately coordinate all the steps involved in studying abroad. Because the length of preparation depends upon situations unique to individual students, we recommend students begin the planning process two semesters before the desired start of the program. For example, if you are planning to study abroad during the summer semester, you should start planning the fall semester of the previous year.
Choosing an Education Abroad Program
Before choosing an education abroad program, students must first attend an Education Abroad 101 Information Session. Education Abroad advisors can guide you based on the area of study, cost and location.
Exciting study-abroad opportunities located all over the world are available to UHCL students. Students can participate in shorter programs or spend a full semester abroad. Programs range from language and cultural studies to service-learning projects that help local people and communities.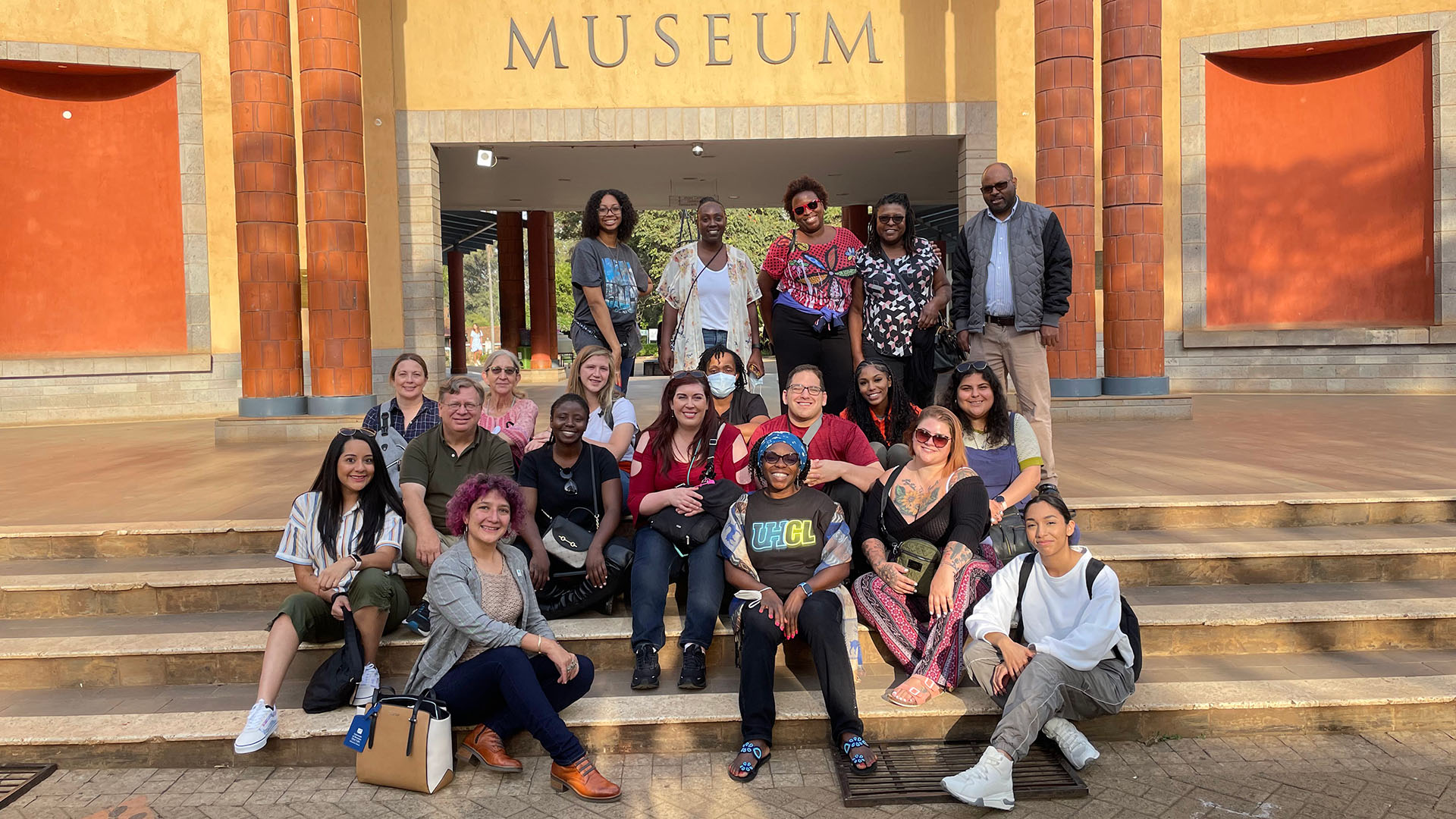 Know Your Programs and Destination
After attending an Education Abroad 101 Information Session, students can select the program and the destination that most fits their interests and career goals. Our offices will assist in completing the education abroad application.
BEFORE committing to an education abroad program, the courses must be evaluated by your college Advisor and Dean to assure all credits received during time abroad will transfer back to UHCL. Participating students must complete an Education Abroad Course Approval Form and must receive approval from the college and department responsible for their degree program before participating in any education abroad program. Approved courses should match your current degree plan, and a copy of both your degree plan and the finished Education Abroad Course Approval Form must be forwarded and on file in the Education Abroad Office before the program begins. Students will be unable to continue the application process until the Education Abroad Course Approval Form is approved and signed by the respective college.
Accident and Sickness Medical Insurance
As part of a student's education abroad process, students are required to purchase the required international travel accident and sickness insurance from CISI. The fee covers the cost of student travel accidents, sickness insurance, and travel services while on an approved UHCL education abroad program.
Students are advised to maintain their primary healthcare coverage while abroad. Students must have the UHCL approved education abroad insurance policy regardless of any other insurance they may have, including personal/private insurance, insurance required by partner-party providers, or a foreign government. Waivers are not permissible. Education Abroad program types may include, but are not limited to:
Internships
Service-learning Programs
Volunteering/Humanitarian Outreach Activities
Research Missions
Academic-related Meetings or Programs
Professional Association Conferences/Meetings
Student Organization Events
Find more information at Cultural Insurance Services International.
Cancel for Any Reason and Interruption for Any Reason (CFAR/IFAR) Insurance
Due to unanticipated circumstances that may arise during the program planning, UHCL strongly urges students to purchase Cancel for Any Reason and/or Interruption for Any Reason (CFAR/IFAR) insurance for domestic and international travel to protect your education abroad investment. As you consider purchasing CFAR/IFAR insurance coverage, make sure you know the following:
What is and is not covered – specifically in relation to the coronavirus and pandemics since not all CFAR/IFAR insurance policies cover pandemic diseases;
Airline's flight cancellation refund policy;
Education Abroad program cancellation and refund policies;
Payment terms for all elements of the education abroad program, including items such as housing, deposits, and expenses owed;
UHCL will not be financially liable for unrecoverable program fees, return travel costs, or other personal expenditures lost due to personal cancellation or a program's cancellation.
For many insurance policies, students must enroll in the plan within 10-21 days of their initial education abroad program deposit. Education Abroad and Scholar Services recommend that students who plan to travel before or after their education abroad program have insurance coverage for the additional personal travel.
---
For More Information
Please email educationabroad@uhcl.edu