Congratulations, Hawks.
In spite of the challenges we have faced this semester, you have all made sacrifices and put in the hard work to achieve the important milestone of graduating with your degree from UH-Clear Lake.
We commend you on your commitment and perseverance. As you know, the COVID-19 pandemic prevents us from gathering in the traditional way to celebrate spring 2020 commencement. While we will not be gathering this May, we want to assure you that we will be celebrating your accomplishments and ushering you in as alumni. Check out how you can still celebrate virtually.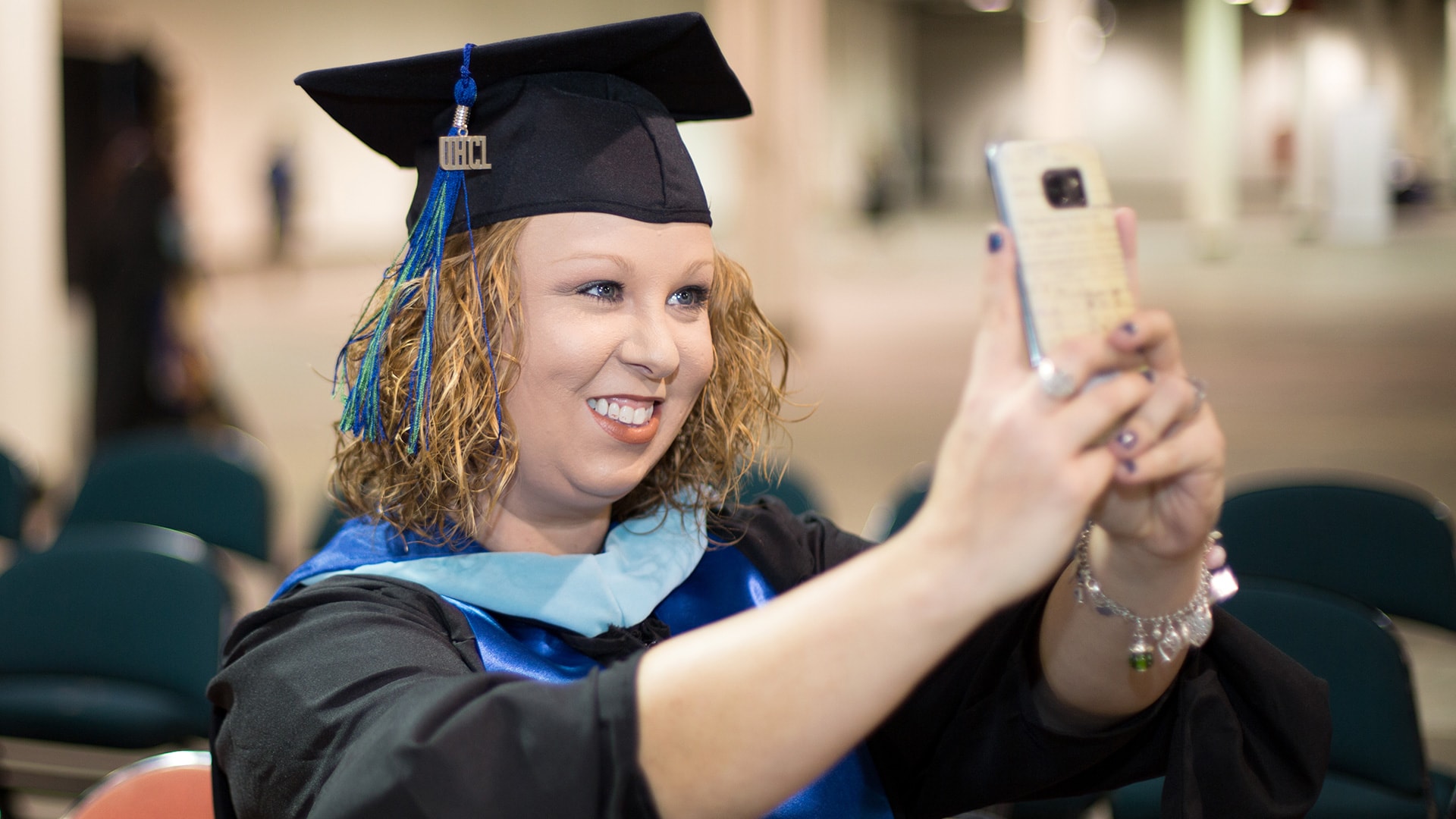 Ways to Celebrate Graduation Virtually
Share on social media
No matter where you are celebrating, you will always be a UHCL graduate. Are you planning a walk across your living room, or putting up some balloons in your bedroom? We want to see it. Share your moments on social media using #UHCLGRAD.
Facebook Frames
Show everyone your pride as a UHCL graduate with Facebook Frames for bachelor's, master's and doctoral graduates and other custom designs. Tell mom, dad and family there are options for them too! Change your frame or search "UHCL" when updating your profile image with a frame to check out the options.
Cover Photos
Update your Facebook and Twitter cover photos to celebrate your success as part of the UHCL Class of 2020. Save these images to your desktop or mobile device and use them to update your cover photo. Get the templates.
Instagram Templates
Check off a UHCL bucket list and share your favorite moments from your time at UHCL with custom Instagram Templates. Head to our Instagram account and check out our "IG Templates" highlight. Take a screen shot the template, fill it out and share with us in your story by tagging us @uhclearlake to be featured in our Instagram story.
Instagram GIPHY Stickers
Add some #UHCLGRAD spirit to your Instagram photos and stories with custom GIPHY stickers. When creating your Instagram story, choose to add a GIF and search "UHCL" to view the stickers for graduates. Add them to your photos and share with us @uhclearlake. Head to our Instagram account and check out our "GIPHY Stickers" highlight to see the stickers in action, or add them directly from GIPHY.
LinkedIn Education Section

Let potential employers and connections know about your education from UHCL. Update your LinkedIn profile to add University of Houston-Clear Lake to your Education section.
Virtual Commencement Ceremony
Save the date! We are celebrating spring 2020 graduates with a virtual commencement ceremony on July 17, 2020 at 6:30 p.m. Join us to celebrate your accomplishments. More details will come as we get closer so visit the UHCL Commencement web page and monitor your UHCL email regularly for details.
Student Survey
We encourage all graduates to fill out this survey before commencement.