University of Houston-Clear Lake President Ira K. Blake will confer degrees via the
Fall 2020 Virtual Commencement
Saturday, December 12, 2020 at 4 p.m. Central Time
A link to the virtual commencement ceremony will soon be shared here as well as sent to each graduate. Graduates are encouraged to share the link with family and friends. Anyone who can watch a video online, can view the ceremony. After the 4 p.m. broadcast, the ceremony will be available to watch at your convenience.
After the conferral of degrees, individual graduate slides will be presented by college. The order will be alphabetical by college and degree.
Info on Individual Graduate Recognition
Graduates will be able to create graduation slides via Name Coach, a vendor that UHCL has contracted with to produce slides for each graduate. Spring 2020 Virtual Commencement is a good idea of what to expect.
Graduates can record their name to be read when their slide is presented. Students can also submit a photo to be used in the slide.
The photo must be of the actual student, clothed in appropriate dress for commencement. We encourage regalia if you have it, otherwise, business attire is appropriate
Photos cannot include animals, other people, nor digital backgrounds of any kind.
Photos including offensive language, inappropriate attire, animals, political statements, and suggestive symbols, or logos will not be included.
A photo is not required, if you choose not to include a photo, you may still record your name to be announced.
Please keep in mind that a photo should not include any information that you do not want the public to have about you or your family. The video will be published publicly.
Slides will be presented during the individual recognition portion of the virtual commencement ceremony.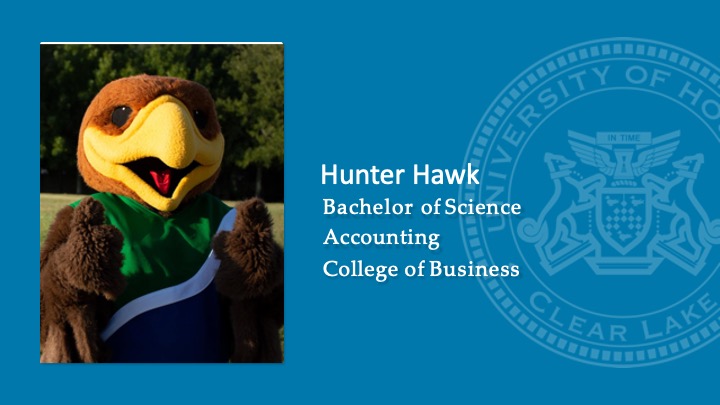 ---
Soaring Hawks Car Parade
Join your fellow graduates for a UHCL Soaring Hawks Car Parade
Sunday, December 13th at 4 p.m.
---
Receiving your Diplomas
Graduates who have completed all the necessary coursework, and have been approved for graduation, should expect to receive their diplomas by mail 6-8 weeks after the official closing of the semester.
Regalia
Don't hesitate to contact us if you have questions.