Spring 2023 Academic Coaching, Tutoring and More!
Sign up now for tutoring or stop in to see one of our Academic Coaches in the Student Classroom Building (Room 3102) to improve your classroom experience.
Important COVID-19 Update
The Student Success Center's Success Coaches and Tutors are available for face-to-face appointments. Under current conditions, the Student Success Center (SSC) will also offer support to students through a hybrid service delivery system. Our staff and services are accessible face-to-face, online, by phone and email.
If you are on campus and need immediate assistance, please visit the third floor of the Student Services Classroom Building (SSCB), Room 3102 Monday-Friday, 8 a.m. – 5 p.m.
Appointments can be made at the SSC and online through the Tutoring website or through the Navigate App. You can also contact us by phone at 281-283-2450 and someone will answer your call during normal business operations. You can also email us at studentsuccesscenter@uhcl.edu or sscappointments@uhcl.edu.
Online office hours:
Monday-Friday, 8 a.m. – 5 p.m.
For university and health alert updates related to Coronavirus (COVID-19), please visit the UHCL Health Alert webpage.

---
Academic Skills Workshops
Time/Task Management
Reading Strategies
Note Taking
Apps & Sites
Organization Skills
Test Strategy
Public Speaking
Communicating with Faculty
Going Beyond Surviving to Thriving in Online Courses
Learn effective academic strategies that can be applied to face-to-face or online learning.
---
We Help You Achieve Academic Success
The Student Success Center at University of Houston-Clear Lake is a comprehensive academic support department that offers:
Tutoring
Tutoring covers many classes from all four Colleges at UHCL and offers students one-on-one appointments, drop-in tutoring, or online sessions. Tutoring is designed to help students improve their learning of course content as well as develop course specific skills necessary for their success.
Embedded Tutoring
Embedded Tutoring is an intense academic support structure for specific courses. Course-embedded tutors work closely with faculty to design weekly activities and/or tasks to interact with students during the class. Students who work with the embedded tutors will have the opportunity to meet with the tutor(s) before the class starts or after the class ends. The embedded tutor may also hold study sessions for students outside of the designated class time.
Success Coaching
Success Coaching provides students with one-on-one, personalized skill building in areas like reading strategies, time and task management, note taking strategies, public speaking, test strategies and organization. Students are matched with a coach based on their schedule and needs and meet for weekly 50-minute coaching sessions. Students may decide to participate for multiple semesters or just a few weeks.
Academic Skills Workshops
Academic Skills Workshops are an interactive 50-minute overview of topics like public speaking, apps and sites for student success, test strategy, note taking, organization, time and task management, and reading strategies. Workshops are open to all UHCL students and staff.
CRLA ITTPC Tutoring Program Certification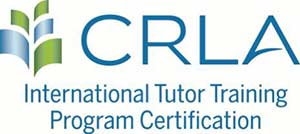 The tutors... were encouraging, friendly, knowledgeable, and very patient.

Rachel, Psychology major