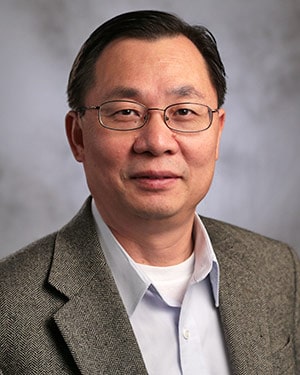 Chunlong (Carl) Zhang, Ph.D.
Program Chair of Environmental Science and Professor of Environmental Science, Environmental Chemistry,
College of Science and Engineering
Contact number: 281-283-3746
Email: zhang@uhcl.edu
Office: B3531
Biography
Dr. Zhang is a Professor of Environmental Science and Environmental Chemistry at the University of Houston-Clear Lake where he is also the Program Chair of the Environmental Science Program. He received his B.S. in Environmental Science and M.S. in Environmental Chemistry from Zhejiang University, his Ph.D. in Environmental Engineering from Louisiana State University, and postdoctoral training at Rice University. He is a registered P.E. in Environmental Engineering. Dr. Zhang is the author of the textbook entitled "Fundamentals of Environmental Sampling and Analysis" published by John Wiley & Sons, which has been adopted by many universities as the textbook. He has published over 70 peer-reviewed papers, 6 books and book chapters, and 90 conference presentations, and was the recipient of President's Distinguished Research award. Dr. Zhang is the member of American Chemical Society (ACS), Society of Environmental Toxicology and Chemistry (SETAC), Association of Environmental Engineering and Science Professors (AEESP), and National Society of Professional Engineers (NSPE). He is also actively involved in professional services, including Editorial Board member, peer reviewer for over 35 journals, proposal reviewer panels for National Science Foundation (NSF), NSF/USDA, the U.S. Geological Survey (USGS), Strategic Environmental Research and Development Program (SERDP, a consortium of U.S. EPA-DoD-DoE), LSU BP Gulf Research Initiative (GRI), Mississippi-Alabama Sea Grant, Israeli Ministry of Science, Technology and Space, Singapore National Research Foundation, and session chair for numerous conference sessions.
---
Areas of Expertise
Dr. Zhang's General Research Interests include Environmental sampling and analysis; Environmental chemistry; Environmental remediation; Fate, transport, and remediation of organic chemicals and heavy metals in soil, groundwater, and sediment. Some past and on-going research projects include: Sustainable remediation; Analysis of emerging contaminants (endocrine disrupting chemicals; bromate); Biodegradation of surfactants, explosives chemicals, pharmaceutical and endocrine disrupting compounds; Sorption of polycyclic aromatic hydrocarbons, explosives and endocrine disrupting compounds in soil and sediment; Effects of surfactants on air-water partition of chlorinated solvents; Zero-valent iron for the remediation of chromium contaminated soil and sediment.
---
Publications
Zhang C, Hughes JB (2003), Biodegradation Pathways of Hexahydro-1,3,5-Trinitro-1,3,5-Triazine (RDX) by Clostridium acetobutylicum Cell-free Extract, Chemosphere, 50(5):665-671.
Zhang C, Hughes, JB (2004), Bacterial Energetics, Stoichiometry and Kinetic Modeling of 2,4-Dinitrotoluene Biodegradation in a Batch Respirometer, Environmental Toxicology and Chemistry, 23(12):2799-2806.
Zhang C, Zheng G, Nichols CM (2006), Micellar Partitioning and Its Effects on Henry's Law Constants of Chlorinated Solvents in Anionic and Nonionic Surfactant Solutions, Environmental Science and Technology, 40(1):208-214.
Lawal W, Gandhi J, Zhang C (2010), Direct Injection, Simple and Robust Analysis of Trace-level Bromate and Bromide in Drinking Water by IC with Suppressed Conductivity Detection, Journal of Chromatographic Science, 48(7):537-43.
Wilson, B, Gandhi, J., Zhang, C. (2011), Analysis of Inorganic Nitrogen and Related Anions in High Salinity Water Using Ion Chromatography with Tandem UV and Conductivity Detectors, Journal of Chromatographic Science, 49:596-602.
Thompson, K., Zhang, J., Zhang, C. (2011), Use of Fugacity Model to Analyze Temperature-Dependant Removal of Micro-contaminants in Sewage Treatment Plants, Chemosphere, 84(8):1066-1071.
Yang H, Zhuo S, Xue B, Zhang C, Liu W (2012), Distribution, Historical Trends and Inventories of Polychlorinated Biphenyls in Sediments from Yangtze River Estuary and Adjacent East China Sea, Environmental Pollution, 169:20-26.
Zhang, C (2013), Incorporation of Green Remediation into Soil and Groundwater Cleanups, International Journal of Sustainable Human Development, 1(3):128-137.
Tang M, Zhao M, Zhou S, Chen K, Zhang C, Liu W (2014), Assessing the Underlying Breast Cancer Risk of Chinese Females Contributed by Dietary Intake of Residual DDT from Agricultural Soils, Environment International, 73: 208–215.
Zhuang S, Zhang C, Liu W (2014), Atomic Insights into Distinct Hormonal Activities of Bisphenol A Analogues toward PPARγ and ERα Receptors, Chemical Research in Toxicology, 27 (10):1769–1779.
---
Courses (Current Academic Year)
Undergraduate Courses
Environmental Chemistry (CHEM 3333)
Lab for Environmental Analysis (CHEM 4251)
Water Chemistry and Water Pollution (CHEM 4352)
Environmental Sampling and Monitoring (CHEM 4355)
Soil and Groundwater Remediation (CHEM 4356 / GEOL 4356)
Graduate Courses
Environmental Remediation (CHEM 5536)
Contaminant Fate and Transport (CHEM 5431)
Environmental Chemodynamics (CHEM 5631)
Environmental Organic Chemistry (CHEM 5731)
Fundamentals of Environmental Engineering (ENSC 5333)
Sampling and Analysis of Environmental Contaminants (CHEM 5535)
Research Methods in Environmental Sciences (ENSC 5530)
Research Project and Seminar (ENSC 6838)
---
Research Projects
Dr. Zhang's research interests are in the areas of fate, transport, analysis and remediation of legacy and emerging contaminants. Research from his group and collaborators has filled the data gaps of the large-scale spatial and temporal distributions for several groups of legacy contaminants (DDT, PCB, and HCH), which are crucial for assessing the risk and human health effects of these persistent organic compounds (POPs). A significant component of his recent research has geared toward the endocrine disrupting compounds (EDCs), such as in the wastewater treatment plants and under the advanced oxidation condition, and in vitro and in silico study on structural-activity relationship of ECDs (MTBE, bisphenol A, flame retardant, phthalate esters, and pharmaceutical and personal care products). These studies are important to help industries modify their operating conditions for optimized removal from the sources, as well as better design safe and environmentally benign green chemicals as a preventive measures. Dr. Zhang's group also keeps abreast of the newest instrumental technologies in partnership with industries to develop new methods for the analysis of trace environmental chemicals in a faster and more reliable way.
---
Awards and Accomplishments
President's Distinguished Research award, University of Houston-Clear Lake, 2013.
University Faculty Fellowship, University of Houston-Clear Lake, 2011-2012.
Fifteen Years Service Award, University of Houston – Clear Lake, 2016.
Excellence in Reviewing Award, Water, Air & Soil Pollution (WATE) Top 25 Reviewers, 2016.
Exceptional Leadership and Commitment in Teaching Environmental Science, Texas Commission on Environmental Quality (TCEQ), 2004.
Outstanding Dissertation in the Field of Engineering and Physical Sciences, The Universities Council on Water Resources (UCOWR), Inc., 1997.
Keynote Speaker: 36th International Symposium on Environmental and Analytical Chemistry, Rome, Italy, October 05–09, 2010.
Advisory Board on the Scientific Committee, 5th, 6th, 7th International Conference on Environmental Pollution and Remediation (ICEPR), Rome, Italy (2015 - 2017)
Editorial Board: Water, Air, and Soil Pollution, 2010-present
Editorial Board: Environmental Toxicology and Chemistry, 2006-2008.
---