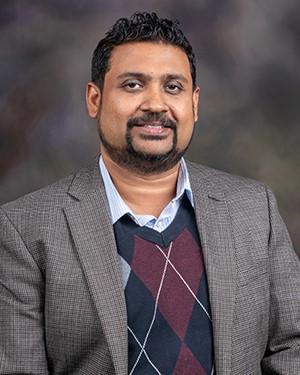 Charuksha Walgama, Ph.D., B.S.
Assistant Professor of Chemistry,
College of Science and Engineering
Contact number: 281-283-3785
Email: walgama@uhcl.edu
Office: STEM 2242
Biography
Dr. Walgama is a bioanalytical chemist. His research focuses on immobilizing biomolecules onto electrochemical platforms for biosensing/biofuel cell applications and developing inexpensive lab-on-a-chip type devices for biomedical applications.
---
Areas of Expertise
Electrochemistry
Biosensors
Biocatalysis
Point-of-care diagnostics
Microfluidics
Optical sensors
---
Publications
Peng, Y.; Rabin, C.; Walgama, C. .; Pollok, N. E.; Smith, L.; Richards, I.; Crooks, R. M., Silver Nanocubes as Electrochemical Labels for Bioassays. ACS Sensors 2021,6,3,1111-1119
Bwambok, D. K.; Siraj, N.; Macchi, S.; Larm, N. E.; Baker, G.; Pérez, R. L.; Ayala, C. E.; Walgama, C.; Pollard, D.; Rodriguez, J. D.; Banerjee, S.; Elzey, B.; Warner, I. M.; Fakayode, S. O., QCM Sensor Arrays, Electroanalytical Techniques and NIR Spectroscopy Coupled to Multivariate Analysis for Quality Assessment of Food Products, Raw Materials, Ingredients and Foodborne Pathogen Detection: Challenges and Breakthroughs. Sensors 2020, 20 (23), 6982.
Walgama, C.; Nguyen, M.; Boatner L.; Richards, I.; Crooks, R., A hybrid paper and 3D printed microfluidic device for electrochemical detection of Ag-labeled magnetic particles, Lab Chip 2020, 20(9), 1648-1657.
Pollok, N.; Questel, C.; Walgama, C.; Richards, I.; Crooks, R., Electrochemical Detection of NT-proBNP Using a Metalloimmunoassay on a Paper Electrode Platform, ACS Sensors 2020, 5 (3), 853-860.
Walgama, C.; Pathiranage, A.; Akinwale, M.; Montealegre, R.; Niroula, J.; Echeverria, E.; McIlroy, D. N.; Harriman, T. A.; Lucca, D. A.; Krishnan, S., Buckypaper–Bilirubin Oxidase Biointerface for Electrocatalytic Applications: Buckypaper Thickness. ACS Applied Bio Materials 2019, 2 (5), 2229-2236.
Walgama, C.; Gallman, M.; Krishnan, S., Single drop electroanalysis and interfacial interactions: Sensitivity versus limit of detection, Electroanalysis 2016, 28, 2791
Walgama, C.; Al Mubarak, Z. H.; Zhang, B.; Akinwale, M.; Pathiranage, A.; Deng, J.; Berlin, K. D.; Benbrook, D. M.; Krishnan, S., Label-free real-time microarray imaging of cancer protein–protein interactions and their inhibition by small molecules., Analytical Chemistry 2016, 88 (6), 3130-3135
Lalaoui, N.; Means, N.; Walgama, C.; Le Goff, A.; Holzinger, M.; Krishnan, S.; Cosnier, S., Enzymatic versus electrocatalytic oxidation of NADH at carbon-nanotube electrodes modified with glucose dehydrogenase. Application to bucky-paper-based glucose enzymatic fuel cells. ChemElectroChem 2016, 3, 12, 2058-2062
Walgama C.; Nerimetla R.; Materer N.F; Schildkraut D.; Elman J.F.; Krishnan S.; A simple construction of electrochemical liver microsomal bioreactor for rapid drug metabolism and inhibition assays, Analytical Chemistry 2015, 87 (9), 4712-4718
Krishnan, S.; Walgama, C., Electrocatalytic features of a heme protein attached to polymer-functionalized magnetic nanoparticles, Analytical Chemistry 2013, 85 (23), 11420-11426
Full list of publications
---
Courses (Current Academic Year)
CHEM 4373 - Quantitative Chemical Analysis (Lecture)
CHEM 4274 - Quantitative Chemical Analysis (Lab)
CHEM 5636 - Advanced Analytical Chemistry (Lecture)
CHEM 4367 - Instrumental Analysis (Lecture)
CHEM 4268 - Instrumental Analysis (Lab)
CHEM 1311 - General Chemistry 1 (Lecture)
CHEM 1111 - General Chemistry 1 (Lab)
---
Research Projects
Nanostructured bio-electrode designs for sensors, catalytic systems, and fuel cells
Liver enzyme-based electrochemical drug metabolism and LC-MS screening assays
SPR based optical sensors
Paper-based diagnostics / Point of care devices
3D printed microfluidic sensing platforms
---
Awards and Accomplishments
Joseph W. Richards Summer Fellowship - Electrochemical Society (ECS) [2016]
Distinguished Graduate Fellow (DGF) - OSU Graduate College [2015-2017]
O. C. Dermer Outstanding Teaching Assistant Award - OSU Chemistry Department [2016]
Creativity, Innovation and Entrepreneurship (CIE) Scholar Award - OSU Spears School of Business [2015]
Henry P. Johnston Fellowship - OSU Chemistry Department [2014]
Skinner Fellowship - OSU Chemistry Department [2012/2013]
---