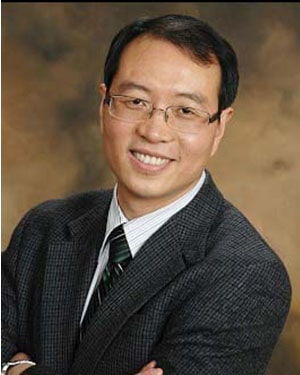 Kewei Sha, Ph.D.
Assistant Professor of Computer Science,
College of Science and Engineering
Contact number: 281-283-3874
Email: sha@uhcl.edu
Office: Delta 148
Biography
Dr. Kewei Sha is an Associate Director of Cyber Security Institute and Assistant Professor of Computer Science at University of Houston - Clear Lake (UHCL). Before he moved to UHCL, he was the Department Chair and Associate Professor in the Department of Software Engineering at Oklahoma City University. He received Ph.D. in Computer Science from Wayne State University in 2008 under the supervision of Prof. Weisong Shi. His research interests include Internet of Things, Cyber-Physical Systems, Edge Computing, and Security and Privacy. Dr. Sha has served as the secretary of Technical Committee on the Internet of the IEEE Computer Society (IEEE-CS TCI), a guest Editor at several prestigious international journals, and an organizing committee member of many conferences, including the TPC Chair of IEEE ICCCN 2015, the workshop general chair of IEEE ICCCN 2013, and the workshop founder and Chair of MobiPST and MedSPT. He is also a member of editorial board in several journals and a program committee member in numerous prestigious conferences. He is also a reviewer for numerous top journals including IEEE TPDS, IEEE TC, ACM TAAS, IEEE TDSC, IEEE TITS, IEEE TSC, IEEE TCC, Elsevier JPDC and so on. He is a Senior member of ACM and a Senior member of IEEE.


---
Areas of Expertise
Internet of Things, Cyber-Physical Systems, Edge Computing, Security and Privacy, and Big Data Analytics.
---
Publications
Aseel Basheer and Kewei Sha "Cluster-based Quality-Aware Adaptive Data Compression for Streaming Data", ACM Journal of Data and Information Quality (JDIQ), accepted, 2017.
Junzhao Du, Sicong Liu, Rui Li, Xue Yang, Hui Liu and Kewei Sha, "Energy-efficient Algorithm to Construct the Information Potential Field in WSNs", IEEE Sensors Journal, 17(12), 3822 - 3831, June 2017
Ranadheer Errabelly, Kewei Sha, Wei Wei, T. Andrew Yang, Zhiwei Wang, "EdgeSec: Design of an Edge Layer Security Service to Enhance Internet of Things Security", to in Proceedings of the 1st IEEE International Conference on Fog and Edge Computing (ICFEC 2017), May 2017, Madrid, Spain
Kewei Sha, Naif Alatrash and Zhiwei Wang, "A Secure Framework to Read Isolated Smart Grid Devices", IEEE Transaction of Smart Grid, PP(99), 1-13, February, 2016
Kewei Sha, Wei Wei, Andrew Yang and Weisong Shi, "Security in Internet of Things: Opportunities and Challenges", in Proceedings of the International Conference on Identification, Information & Knowledge in the Internet of Things (IIKI 2016), October 2016, Beijing, China
Kewei Sha and Sherali Zeadally, "Data Quality in Cyber-Physical Systems", ACM Journal on Data and Information Quality, 6(2-3), article No. 8, July 2015
Zhiwei Wang, Kewei Sha and Wei Lv, "Slight Homomorphic Signature for Access Controlling in Cloud Computing", Wireless Personal Communications (WIRE), 73 (1), 51-61, 2013
Kewei Sha, Shinan Wang and Weisong Shi, "RD4: Role-Differentiated Cooperative Deceptive Data Detection and Filtering in VANETs", IEEE Transactions on Vehicular Technology (TVT), Vol. 59, No. 3, pp. 1183-1190, March 2010
Kewei Sha and Weisong Shi, "Consistency-Driven Data Quality Management in Wireless Sensor Networks", Journal of Parallel and Distributed Computing (JPDC), Vol. 68, No. 9, pp. 1207-1221, September 2008.
Yong Xi, Kewei Sha, Weisong Shi, Loren Schwiebert, and Tao Zhang, "Probabilistic Adaptive Privacy-Preserving Authentication in Vehicular Networks", Journal of Computer Science and Technology (JCST) Vol. 23, No. 6, pp. 916-928, November 2008.
---
Courses (Current Academic Year)
CSCI 6838 Research Project And Seminar (Capstone)
CSCI 6530 Research Methods In Comp Science
CSCI 5833 Data Mining Tools and Techniques
CSCI 5931 Research Topics Comp Science (Internet of Things)
CSCI/CINF 6939 Master's Thesis Research
CSCI 5929/4389 Independent Study in CS
CSCI 3331 Comp Org & Assembly Language
CSCI 1370 Software Development With Java
---
Awards and Accomplishments
NSF Panelist, 2017
ACM Senior Member, 2017
IEEE Senior Member, 2016
IEEE Outstanding Leadership Award, 2015
IEEE Outstanding Leadership Award, 2014
Recognition of Workshop Co-Chair from ICCCN 2013
Distinguished Student Mentor of Meinders School of Business, Oklahoma City University, 2012
Fellow of the Faculty Teaching Academy at OCU, 2011
The 3rd Place in 2011 Oklahoma Governor's Business Plan Competition (as advisor), 2011
General Motor Corporations Academic Award, 2008
---