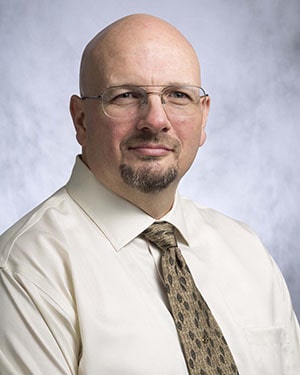 Larry Rohde, Ph.D.
Department Chair of Environmental Sciences and Associate Professor of Biology and Biotechnology,
College of Science and Engineering
Contact number: 281-283-3743
Email: rohde@uhcl.edu
Office: B3525-6
Publications
Research Papers:

Ye Zhang, Jade Clement, Daila S. Gridley, Larry Rohde and Honglu Wu. Protein expression profile changes in human fibroblasts induced by low dose energetic protons. Advances in Space Research:Life Sciences in Space, (2009) 44(12)1450-1456
Zhang Y, Rohde, LH., Emanmi, K., Hammond, D., Casey, R., Mehta, S., Jeevarajan, A., Pierson, D. and Wu, H. Suppressed Expression of Non-DSB Repair Genes Inhibits Gamma-radiation Induced Cytogenetic Repair And Cell Cycle Arrest. DNA Repair (Amst), (2008) 7(11):1835-45.
Rohde LH, Ao Y and Naumovski L. p53-Interacting Protein 53BP2 Inhibits Clonogenic Survival and Sensitizes Cells to Doxorubicin but not Paclitaxel-induced Apoptosis. Oncogene (2001) 20:2720-2725.
Lopez C, Ao Y, Rohde LH, Perez T., O'Conner D., Lu X., Ford J.M. and Naumovski L. Proapoptotic p53-Interacting Protein 53BP2 Is Induced by UV Irradiation but Suppressed by p53. Molecular and Cellular Biology, 2000; 20:8018-8025.
Rohde LH, Janatpour MJ, McMaster MT, Fisher SJ, Zhou Y, Lim K-H, French M, Hoke D. Julian J and Carson DD. Complimentary Expression of Heparin/Heparan Sulfate Interacting Protein and Perlecan at the Human Fetal-Maternal Interface. Biol. Reproduction 1998; 58:1075-1083.
Rohde LH, Julian J, Babaknia A and Carson DD. Cell surface expression of HIP, a novel heparin/heparan sulfate binding protein, of human uterine epithelial cells and cell lines. J. Biol. Chem. 1996; 271:11824-11830.
Liu S, Smith SE, Julian J, Rohde LH, Karin NJ, and Carson DD. cDNA cloning and expression of HIP, a novel cell surface heparan sulfate/heparin binding protein of human uterine epithelial cells and cell lines. J. Biol. Chem. 1996; 271:11817-11823.
Rohde LH, and Carson DD. Heparin-like glycosaminoglycans participate in binding of a human trophoblastic cell line (JAR) to a human uterine epithelial cell line (RL95). J. Cell. Physiol. 1993; 155:185-196.
Raboudi N, Julian J, Rohde LH, and Carson DD. Identification of cell-surface heparin/heparan sulfate- binding proteins of a human uterine epithelial cell line (RL95). J. Biol. Chem. 1992; 267:11930-11939.
Book Chapters:
Carson DD, Jacobs AL, Julian J and Rohde LH. Proteoglycan as modulators of embryo-uterine interactions. In In Vitro Fertilization and Embryo Transfer in Primates (Wolf, D.P., Stouffer, R.L., and Brenner, R.M., eds) 1993; pp 290-307, Springer-Verlag, New York.
---
Research Projects
Molecular and developmental biology
Regulation of apoptosis

protein-protein interaction
transcription control
protein modification
---
Awards and Accomplishments
UNIVERSITY OF HOUSTON-CLEAR LAKE
2009 Faculty Research and Support Funds, University of Houston-Clear Lake, BAC end sequencing of the Texas Cattle Tick Genome, Collaboration with Dr. Felix Guerrero, USDA Kerville, Texas (awarded on May, 2009).
2007 National Science Foundation, The Bay Area Houston Partnership for Innovation in Biotechnology and Life Sciences (PIBLS): Partnerships with San Jacinto Community College District and University of Texas Medical Branch, (awarded on March 1, 2007) Funding: $124,227 for three years. Completed
2006 ISSO-JSC joint award with Dr. Honglu Wu (NASA Investigator): Two-year award to fund a Postdoctoral fellow Position, Title of Award: Biological Effects of Shielding Parameters across the Bragg Curve of Energetic Protons and Fe Ions: Funding: $40,000 per year
2005 Li-COR Bioscience 2005 Genomics Education Matching Fund Program (awarded on March 15, 2005): Matching Funds ($44,899.50) for the LiCor 4300L with DNA Sequencing and AFLP Application Package
2004 National Institute of Health-National Cancer Institute, Academic Research Enhancement Award R15 (Activated July 1, 2004). Project Title: New Proteins Binding Apoptotic Stimulator of p53, ASPP2: Funding: $208,513 for three years. Activated: July 1, 2004
2003 Faculty Research and Support Funds (FRSF), University of Houston-Clear Lake
(awarded on December, 2003).
(awarded on May, 2003).
(awarded on October 23, 2002).
(awarded on December 20, 2001).
(awarded on July 17, 2000).
(awarded on December 1, 1999).
(awarded on August 9, 1999)
STANFORD MEDICAL CENTER
1996-1998: An F32 Individual National Research Service Award (NRSA) reference number: 1F32HL09552-01 (HHVJ); National Institute
of Health; National Heart, Lung, and Blood Institute.
GRADUATE SCHOOL OF BIOMEDICAL SCIENCE at UTHSC-HOUSTON
1991-1994: American Legion Auxiliary Predoctoral Fellowship (9/91 to 9/94)
---