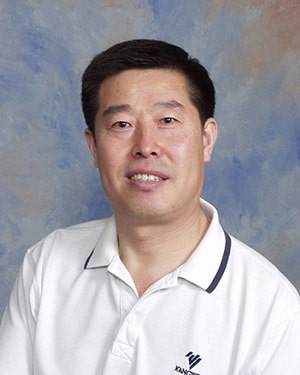 Jack Y. Lu, Ph.D.
Professor of Chemistry,
College of Science and Engineering
Contact number: 281-283-3780
Email: lu@uhcl.edu
Office: STEM 2202
Biography
Jack Y. Lu received his doctorate from Northwestern University in Inorganic Chemistry. His research activities are in the area of design and synthesis of new functional metal-organic polymers. For example, one of his research projects concerns rational approaches to new porous open-framework polymers with environmental significance in water purification, molecular separation, and catalysis.
---
Publications
Lu, J. Y. Coord. Chem. Reviews, 2003, 246, 345-365. "Crystal Engineering of Cu-Containing Metal-Organic Coordination Polymers Under Hydrothermal Conditions".
Lu, J. Y. and Babb, A. M. Chem. Commun. 2003, 1346. "A unique eclipsed 2-D coordination polymer with removable iodine molecules in the open-channel structure".
Lu, J. Y. and Babb, A. M. Chem. Commun. 2002, 1340. "An Extremely Stable Open-Framework Metal-Organic Polymer With Expandable Structure and Selective Adsorption Capability".
Lu, J. Y. and Babb, A. M. Inorg. Chem. 2002, 41, 1339. "A Simultaneous Reduction, Substitution and Self-Assembly Reaction Under Hydrothermal Conditions Afforded the First Diiodopyridine Copper(I) Coordination Polymer".
Lu, J. Y. and Schauss, V. Eur. J. Inorg. Chem. 2002, 1945. "A Novel Nanostructured Open-Channel Coordination Polymer With an Included Fused-Polyiodide Ring."
Lu, J. Y. and Babb, A. M. Chem. Commun. 2001, 821. "An Unprecedented Interpenetrating Structure With Two Covalent-Bonded Open-Framework of Different Dimensionality."
Lu, J. Y. and Runnels, K. A. Inorg. Chem. Commun . 2001 , 4, 678. "An Unprecedented Mixed-Valent-Copper Metal-Organic Polymer Displaying Graphite-Like Properties."
Lu, J. Y. and Babb A. M. Inorg. Chim. Acta, 2001 , 318, 186. "Self-Assembly of Two-Dimensional Coordination Polymers with Rigid and Flexible Building Blocks."
Lu, J. Y. and Babb, A. M. Inorg. Chem. 2001, 40, 3261. "The First Triple-Layer 2-D Coordination Polymer: [Cu3(bpen)(IN)6(H2O)2]".
---
Courses (Current Academic Year)
| Course Name | Course Number |
| --- | --- |
| Inorganic Chemistry | CHEM 4335 |
| Undergraduate Seminar | CHEM 4732 |
| Identification and Characterization of Chemical Compounds | CHEM 4931B |
| Advanced Inorganic Chemistry Lab | CHEM 4931C |
| Advanced Inorganic Chemistry | CHEM 5335 |
| Analytical Chemistry 1 | CHEM 4635 |
| Analytical Chemistry 2 | CHEM 4636 |
| Research Project and Seminar 1 | CHEM 6837 |
| Research Project and Seminar 2 | CHEM 6838 |
| Inorganic Polymers | CHEM 5931A |
| Advances in Coordination Polymers | CHEM 5931B |
---