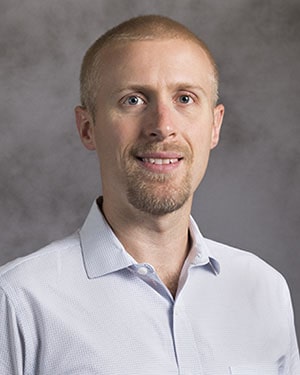 Daniel Imrecke, Ph.D.
Associate Professor of Geology and Environmental Science,
College of Science and Engineering
Contact number: 281-283-3766
Email: imrecke@uhcl.edu
Office: B3531-2
Biography
Dr. Imrecke received his B.S. in Geology at Stephen F. Austin State University and his M.S and Ph.D. in Geology from the University of Houston in 2013. In 2014, Dr. Imrecke joined the faculty at University of Houston-Clear Lake. Prior to his time at UHCL, Dr. Imrecke served as an adjunct instructor at Lone Star College, University of Houston, and Stephen F. Austin State University.
---
Areas of Expertise
Dr. Imrecke has a wide range of research interests, but his particular expertise is in structural geology, petrography, geochronology and geochemistry.
---
Publications
Imrecke, D. B., Robinson, A. C., Owen, L. A., Chen, J., Schoenbohm, L. M., Hedrick, K. A., Lapen, T. J., Li, W., and Yuan, Z., 2019, Mesozoic evolution of the eastern Pamir: Lithosphere.
Kathryn Hedrick, Lewis A. Owen, Jie Chen, Alex Robinson, Zhaode Yuan, Xiaodong Yang, Daniel B. Imrecke, Li Wenqiao, Marc W. Caffee, Lindsay M. Schoenbohm. 2017. Quaternary history and landscape evolution of a high-altitude intermountain basin, Waqia Valley, Chinese Pamir. Geomorphology, Volume 284, Pages 156-174
Robinson, A.C., Owen, L.A., Chen, J., Schoenbohm, L.M., Hedrick, K.A., Blisniuk, K., Sharp, W.D., Imrecke, D.B., Li, W., Yuan, Z. and Caffee, M.W. 2016. Response to comment on" No late Quaternary strike-slip motion along the northern Karakoram fault". Earth and Planetary Science Letters, Volume 443, Pages 220-223.
Imrecke, D.B., Robinson, A.C., Murphy, M.A. 2015. Kinematic evolution of the eastern Chalk Draw Fault during Basin and Range Extension: Evaluating the role of pre-existing structural fabrics in along-strike displacement patterns, Journal of Geology, Volume 123, Pages 385-403
Alexander C. Robinson, Lewis A. Owen, Jie Chen, Lindsay M. Schoenbohm, Kathryn A. Hedrick, Kimberly Blisniuk, Warren D. Sharp, Daniel B. Imrecke, Wenqiao Li, Zhaode Yuan, Marc W. Caffee, Regina Mertz-Kraus. 2015. No late Quaternary strike-slip motion along the northern Karakoram fault, Earth and Planetary Science Letters, Volume 409, Pages 290-298
Lewis A. Owen, Jie Chen, Kathyrn A. Hedrick, Marc W. Caffee, Alexander C. Robinson, Lindsay M. Schoenbohm, Zhaode Yuan, Wenqiao Li, Daniel B. Imrecke, Jinfeng Liu. 2012. Quaternary glaciation of the Tashkurgan Valley, Southeast Pamir, Quaternary Science Reviews, Volume 47, Pages 56-72
---
Courses (Current Academic Year)
GEOL 1303 / 1103 Physical Geology and Lab
GEOL 1304 / 1104 Historical Geology and Lab
GEOL 3317 / 3117 Mineralogy and Petrology and Lab
GEOL 3305 Fundamentals of Earth Science
GEOL 3240 Field Methods
GEOL 4327 Natural Disasters
GEOL 4345 / 4145 Structural Geology and Lab
Various special topics courses
---
Research Projects
Active Projects:
Age of the Little Hat Top Basin, southern New Mexico
Geochronology and Geochemistry of Igneous Rocks in NE Pamir.
Strain measurements within the Sandy Creek Shear Zone, Central Texas**
Review of coastal and inland natural hazards in southern Louisiana**
Characterization of Shergottite Meteorites*
**active undergraduate student project
*active graduate student project
---