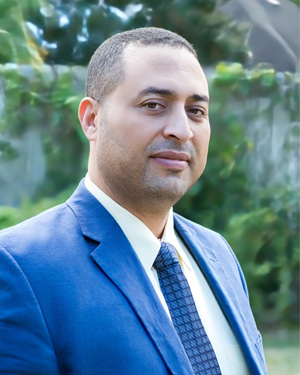 Youssef Hamidi, Ph.D.
Assistant Professor Mechanical Engineering,
College of Science and Engineering
Email: hamidi@uhcl.edu

Biography
Youssef Hamidi earned his Doctor of Philosophy in mechanical engineering in 2004 from University of Oklahoma and his Ingenieur D'Etat (combined MSc/BSc) in mechanical engineering from Ecole Mohammadia d'Ingenieurs from Mohammed V University in Morocco. He has more than 17 years of academic experience at three different universities, with positions ranging from research assistant to assistant professor to associate professor. Prior to joining the University of Houston-Clear Lake team, Hamidi worked as a senior research associate at the University of Oklahoma. He also has more than 20 years of industrial experience.
---
Publications
2008 - present
[J1] Hamidi YK and Altan MC, Process Induced Defects in Liquid Molding Processes of Composites. International Polymer Processing, 32(5): 1-18, 2017. DOI:10.3139/217.3444
[J2] Barraza HJ, Hamidi YK, Aktas L and Altan MC, Performance of Glass Woven Fabric Composites with Admicellar-Coated Thin Elastomeric Interphase. Composites Interfaces, 24(2): 125-148, 2017. DOI:10.1080/09276440.2016.1193345
[J3] Hamidi YK, Guloglu GE and Altan MC, Accurate Characterization of Moisture Absorption in Polymeric Materials. 006846, SPE Plastics Research Online, 2017. DOI:10.2417/spepro.006846
[J4] Guloglu GE, Hamidi YK and Altan MC, Fast Recovery of Non-Fickian Moisture Absorption Parameters for Polymers and Polymer Composites. Polymer Engineering and Science, 57 (9), 921-931, 2016. DOI:10.1002/pen.24469
[J5] Hamidi YK, Dharmavaram S, Aktas L and Altan MC, Effect of Fiber Content on Void Morphology in Resin Transfer Molded Composites. Journal of Engineering Materials and Technology, 131(2): 021014/1-031005/11, 2009. DOI:10.1002/pc.20132
[J6] Aktas L, Dharmavaram S, Hamidi YK and Altan MC, Filtration and Breakdown of Clay Clusters During Resin Transfer Molding of Nanoclay/Glass/Epoxy Composites. Journal of Composite Materials, 42(21):2209-2229, 2008. DOI:10.1177/0021998308094556
[J7] Hamidi YK, Aktas L and Altan MC, Effect of Nanoclay Content on Void Morphology in Resin Transfer Molded Composites. Journal of Thermoplastic Composite Materials, 21(2): 141-163, 2008. DOI:10.1177/0892705707083635
[J8] Aktas L, Hamidi YK and Altan MC, Dispersion Characterization of Nanoclay in Molded Epoxy Disks by Combined Image and Electron Microbeam Analysis. Journal of Engineering Materials and Technology, 130(3): 031005/1-031005/9, 2008. DOI:10.1115/IMECE2004-61702
---
Research Projects
Composites Manufacturing:
Processing and characterization of fiber reinforced composites fabricated by wet lay-up, autoclave, resin transfer molding (RTM), vacuum-assisted resin transfer molding (VARTM) and other composite manufacturing processes. Investigating effect of processing parameters on thermal and mechanical properties of manufactured parts under static and dynamic loadings. Fiber elastomeric sizing role in fiber wetting and adhesion.

Microstructural Analysis:
Morphological characterization of microstructural defects in composite materials by microscopic methods. Investigation of the effects of different process parameters on void morphology in composites, in order to better understand void formation mechanisms and develop effective void removal techniques.

Nanocomposites:
Characterization of dispersion of nanofillers (nanotubes and nanoclay) clusters in polymeric resins at multiple length scales. Effects of processing parameters on the quality of dispersion. Filtration of nanofiller clusters during resin transfer molding. Cluster breakdown due to flow kinematics during molding. Effects of nanofiller presence on the thermal and mechanical properties of molded epoxy parts.

Hygrothermal Characterization:
Effects of moisture uptake on the thermal and mechanical properties of composites and nanocomposites. Effects of thermomechanical history on moisture absorption kinetics. Development of methods for characterization of moisture absorption behavior of non-Fickian, anisotropic, three-dimensional materials. Hindered diffusion model for anomalous moisture absorption in polymers and polymer composites.
---
Awards and Accomplishments
1st Prize of the Grand Prix pour l'Invention et la Recherche en Science et Technologie, Morocco, 2007 Edition.
Two articles made the Top 10 Downloaded articles, Journal of Engineering Materials and Technology, 2008.
Article ranked 3rd Top Downloaded article, SAGE Publications, 2005.
Robberson Conference Presentation Travel Grant Award, Graduate College, OU, 2004.
Graduate Student Academic Achievement Award, AME, OU, 2004.
Phi Kappa Phi Honors, OU Chapter, 2004.
 Conference and Creative Exhibition Award, Graduate Student Senate, OU, 2003.
---