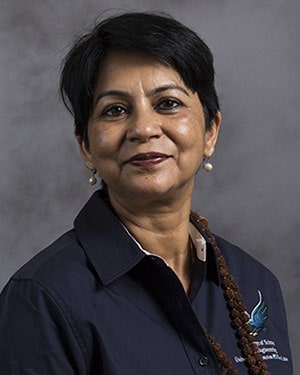 Soma Datta, Ph.D.
Program Chair of Pre-engineering and Assistant Professor of Software Engineering,
College of Science and Engineering
Contact number: 281-283-3838
Email: datta@uhcl.edu
Office: Delta 106
Biography
As an assistant professor and program chair, Dr. Soma Datta specializes in applying the agile framework in software development and in machine learning. She has developed models to identify rules for students' attrition in higher education, which has led to peer-reviewed publications. Dr. Datta actively trains graduate students in the agile framework, requirements collection, methodology and implementation of software development. She also teaches graduate software engineering students the skill of including data science components in software development.

Dr. Datta appreciates the importance of software engineering skills in developing successful software. Hence, she mentors and encourages students to present their research at student conferences and regional and international IEEE conferences. She has mentored high school students who wanted to become software engineers and has taught data science to sixth-graders internationally. Dr. Datta was one of two faculty leads for the Code for Girls Camp (11-14 age) at UHCL.

Currently, she is working with graduate students to develop a virtual laboratory to facilitate the generation of reproducible results within the MicroCURE network. The laboratory is also being developed to provide an online alternative to traditional biology teaching laboratories when university facilities are unavailable because of extreme weather events, pandemics and other disasters.
---
Publications
Arputharaj, A., Datta, S., Hasan, K. S. (2019). IMPACT OF DISTANCE MEASURES ON IMBALANCED CLASSES FOR RULE EXTRACTION. Balance, 76(50K), 23--93.
Mirza, M. S., Datta, S. (2019). Strengths and Weakness of Traditional and Agile Processes-A Systematic Review. JSW, 14(5), 192--199.
Datta, S., Mengel, S. (2018). Adaptable multi-phase rules over the infrequent class. Soft Computing, 22(18), 6067--6076.
Datta, S., McDonald, D. (2018). Integrating Games for Agile Software Development. Academic Exchange Quarterly.
Datta, S., Mengel, S. (2015). Multi-stage decision method to generate rules for student retention. Journal of Computing Sciences in Colleges, 31(2), 65--71.
Datta, S., Mirza, M. S. (2019). Software Engineers at Play. IEEE.
Datta, S., Arputharaj, A. (2018). An Analysis of Several Machine Learning Algorithms for Imbalanced Classes (pp. 22--27). 2018 IEEE 5th Intl. Conference on Soft Computing & Machine Intelligence.
Datta, S., Bhattacharyya, S. (2018). Simple Spirited Scalable E-Learning System (pp. 368--373). 2nd IEEE Conference on E-Learning and innovation in Education.
Datta, S. (2018). An Adapted Pedagogy in Learning Software Reuse and Re-Engineering (pp. 864-867). Hawaii International Conference on Education. http://hiceducation.org/wp-content/uploads/2018/02/EDU2018.pdf
Datta, S., Nagabandi, V. (2017). Integrating data science and R programming at an early stage (pp. 1--5).
Datta, S., Mengel, S. (2016). Elastic Multi-stage Decision Rules for Infrequent Class (pp. 110—114).
Hewett, R., Goksu, A., & Datta, S. (2006). From cancer gene expression data to simple vital rules. 2006 IEEE Region 5 Conference, (pp. 329-334).
---