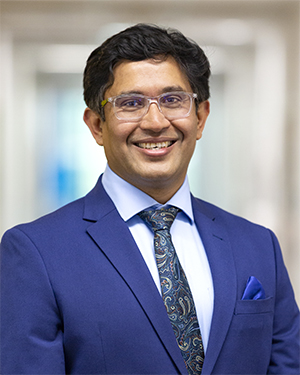 Ariful Bhuiyan, Ph.D.
Assistant Professor,
College of Science and Engineering
Contact number: 281-283-3871
Email: bhuiyan@uhcl.edu
Office: STEM 2234
Biography
Dr. Bhuiyan received his Ph.D. in Mechanical Engineering from Texas Tech University in 2013. His thesis was titled "Anterior Cruciate Ligament Response Due to Forces Resulting from Quadriceps Muscle and Ground Reaction." He received his M.Sc. in Mechanical Engineering from the National University of Singapore in 2005 and earned B.Sc. in Mechanical Engineering from Bangladesh University of Engineering and Technology in 2002. He has more than 10 years of industrial experience, playing different roles like lead project engineer, system engineer, principle mechanical engineer, and finite element analyst.
---
Areas of Expertise
Biomechanics
Finite element analysis
Instrumentation
Additive manufacturing driven biomedical device design
---
Publications
Bhuiyan A, Shamim N, and Ekwaro-Osire S, Magnetic Resonance Image-Based Computational Modeling for Anterior Cruciate Ligament Response at Low Knee Flexion Angle. Journal of Engineering and Science in Medical Diagnostics and Therapy, Feb 2021, 4(1): 011001. DOI: 10.1115/1.4048701
Moniruzzaman Md, O'Neal C, Bhuiyan A, and Egan P, Design and Mechanical Testing of 3D Printed Hierarchical Lattices Using Biocompatible Stereolithography. Designs 2020, 4 (22); doi:10.3390/designs4030022
---
Courses (Current Academic Year)
ENGR 2301 Statics
ENGR 2302 Dynamics
MENG 1204 Engineering Graphics
MENG 3314 Design Methodology
MENG 4305 Finite Element Analysis
MENG 4331 Design of Machine Elements
MENG 4340 Capstone Projects
---
Research Projects
Dr. Bhuiyan is currently working on an NIH-funded project. As a Co-PI, he evaluates the effect of a newly developed total knee replacement product with the help of animal and finite element studies. He is currently involved in another 3D printing-driven biomedical device design project to replace the ruptured intervascular disks, aiming to relieve back pain. In both cases, Dr. Bhuiyan uses ABAQUS/EXPLICIT, Analyze Direct, and Python software in designing, acquiring accurate geometric shapes, and analyzing purposes.

Dr. Bhuiyan is heavily involved in leading undergraduate students for NASA MINDS and NASA Robotic Mining Competition.
---
Awards and Accomplishments
2021, Barrios Technology Faculty Fellowship.
2020, Piper Teaching Award - shortlisted by University of Houston Clear Lake.
2020, Pathways to Stem Careers Sponsorship
2020, Faculty Research Support Funds Proposal, University of Houston Clear Lake.
2022-2019 HSI Pell Eligible Student Supports Scholarship
2014 Halliburton Invention Award
2012 Summer Dissertation/Thesis Research Award
2011 Helen Devitt Jones Excellence in Graduate Teaching Award
2011-2012 TTU Raymond Green FA Scholarship
2011-2012 TTU Match T Fuller Scholarship
2011-2012 TEACH Fellowship, Texas Tech University
2011- 1st prize in Graduate poster presentation, TTU
---