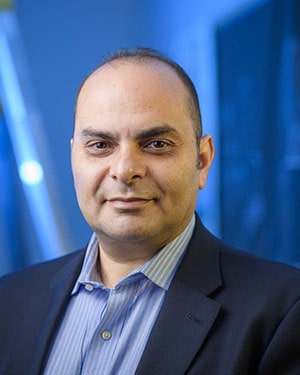 Magdy Akladios, Ph.D., PE, CSP, CPE, CSHM
Department Chair of Physical and Applied Sciences and Professor of Occupational Safety and Health with specializations in industrial hygiene or safety,
College of Science and Engineering
Contact number: 281-283-3744
Email: akladios@uhcl.edu
Office: STEM 2005
Biography
Dr. Akladios is a Tenured Professor at the University of Houston-Clear Lake (2011-present), before which, he was an Assistant Professor (2005-2011), then Associate Professor at UHCL (2011-2017). Prior to coming to UHCL, he was an Assistant Professor, then Associate Professor at West Virginia University (1996-2005). Dr. Akladios' education includes a PhD in Industrial Engineering, a Master's degree in Industrial Engineering, a Master's degree in Occupational Health & Safety (Industrial Hygiene), an MBA, and a BS degree in Mechanical Engineering. In addition, he is also a Board-Certified Safety Professional (CSP), a Professional Engineer (PE), a Certified Professional Ergonomist (CPE), a Certified Safety & Health Manager (CSHM), and a Certified Member of the Egyptian Syndicate for Mechanical Engineers. He is also a member of the Industrial Engineers' Honorary Society (Alpha-Pi-Mu), a member of the Human Factors & Ergonomics Society (HFES), and a Senior member of the Institute of Industrial Engineers (IIE).
Dr. Akladios is an experienced researcher, a capable educator, and an effective trainer with specific knowledge concerning a wide variety of programs, including occupational safety and health in general and construction industries, ergonomics, and human factors. He has acted as PI or Co-PI for a number of grants and projects. He has also been involved in curriculum development, authoring book chapters, professional journal articles, an editor on professional journals, and a variety of other publications. He served on PhD and Master's Thesis/Dissertation committees and advised students in the fields of his expertise. In addition, he has also served as an ABET-Program Evaluator (PEV), and Team Chair. He is fluent in Arabic and English.
Dr. Akladios is also involved with non-academic credit and continuing-Ed training centers such as College of the Mainland (COM), and has provided consultation services for a number local oil companies including ExxonMobil, ConocoPhillips, BHP Billiton, Humantech, TransCanada, etc., in ergonomics.
---
Courses (Current Academic Year)
ENSC 5931: Teaching Env. Science
ENSC 5530 (Research Methods) + ENSC 6838: Capstone
INDH 3332: Principles of Professional Safety
INDH 3333: Env. S&H
INDH 3340: Techniques of Safety Engineering & Analysis
INDH 4316: Hazard Analysis & Accident Investigation
INDH 4321: Ergonomics & Work Place Design
INDH 4333: OSHA Standards for Const. & General Industry
INDH 4341: Advanced Studies in IH/Safety
INDH 5131: Controls of Occ. Hazards
INDH 5334/SENG 5334: Human Factors Engineering
INDH 5335: HF/Ergo Methods & Analysis Techniques
INDH 5336-Env. Health & Safety
INDH 6332: Safety Engineering
---
Research Projects
Safety Engineering
Ergonomics
Business Economics
---
Awards and Accomplishments
Recipient of the UHCL 5-year service award (2011)
Recipient of the UH Cullen College of Engineering "Outstanding Lecturer Award" (2008-2009)
Recipient of the WVU Extension Service's 2004 Extension Performance Award for "Team Program Excellence"
Recipient of the WVU Extension Service's 2004 Extension Performance Award for "Outstanding Advanced Researcher"
Recipient of the Industrial Engineers' Honorary Society (Alpha-Pi-Mu).
Graduate Fellowship (Teaching Assistant). Management Information Systems class, College of Business & Economics, WVU (1994-1995).
Graduate Fellowship (Graduate Research Assistant). Institute for Safety & Health Training, WVU (1993-1995).
Scholarship recipient, National Institute for Occupational Safety & Health (NIOSH), (1992-1993).
Merit recipient as an outstanding WVU Employee for 7 consecutive years. I was rated "Excellent" in Research, Teaching, and Service from both the P&T committee and Center Director of WVU Extension
---