About the College of Science and Engineering
Traditions of Excellence
University of Houston-Clear Lake was founded to meet the higher education needs of those working at NASA Johnson Space Center during the early days of space exploration, and we continue that tradition of innovation and excellence in the College of Science and Engineering.
Meet Dean Miguel Gonzalez
Miguel Gonzalez, Ph.D., has been the dean of the College of Science and Engineering since July 2019. Born in Montemorelos, Nuevo Leon, Mexico, he received his bachelor's, master's and doctorate degrees in industrial engineering from University of Houston.
He has a long career in manufacturing-engineering education, with more than 20 years of experience in higher education. He also served as director of the Rio Grande Regional Center for Innovation and Commercialization. As the college dean, he aims to foster university partnerships with existing and developing industries.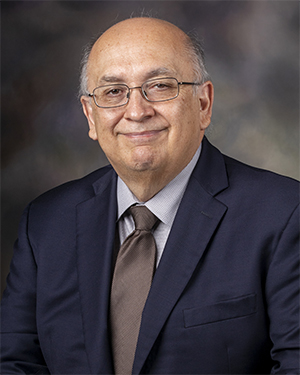 Connecting with Communities
Centers within the College of Science and Engineering connect our faculty, students and community. The Center for Robotics Software (CRS) serves as the focal point of collaborations between academia, the Johnson Space Center at NASA, industry, federal agencies and local business organizations in the greater Houston area.
Growth for the Future
As the fastest growing college at UHCL, we're launching more careers than ever. It helps that we're supported by $4 million in annual research funding from the National Science Foundation, U.S. Department of Agricultural, National Institute of Health, the Texas Commission on Environmental Quality and others. The STEM and Classroom Building provides 13 faculty research labs and 15 teaching labs for mechanical engineering, physics, chemistry, geology, industrial hygiene and environmental safety.
UHCL is one of only 10 U.S. universities with computing programs accredited under three different curriculum guidelines of ABET. The College of Science and Engineering's undergraduate degree program in computer engineering is accredited by the Engineering Accreditation Commission of ABET, while its computer science and computer information systems undergraduate programs are accredited by the Computing Accreditation Commission of ABET. The undergraduate occupational safety and health sub-plans for safety and industrial hygiene are accredited by the Applied and Natural Science Accreditation Commission of ABET. Our chemistry degree program is accredited by the American Chemical Society.