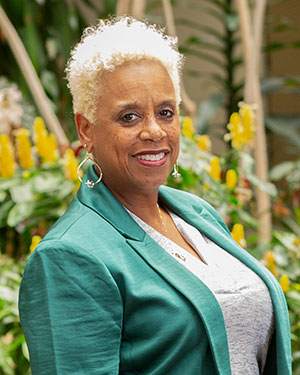 Lisa Jones, Ed.D.
Associate Professor of Multicultural Education,
College of Education
Contact number: 281-283-3551
Email: jonesl@uhcl.edu
Office: 1325-07
Areas of Expertise
Multicultural Education and Technology
Multicultural and Diversity Issues
Learning Styles of Minority Students
Racial Tolerance in Education
Educational Leadership and Administration
---
Publications
Johnson, D., Jones, L., Simieou, F., Matthew, K., & Morgan, B. (2013). The relationship between grade configuration and standardized science test scores of fifth grade students: What school administrators should know. Journal of At-Risk Issues, 17(2), 31 – 38.
Jones, L. (2012, Fall). National Association of African American Studies and Affiliates: How the organization redefines the dialogue about multicultural education. Twentieth Commemorative Edition of the Journal of Intercultural Disciplines, 11, 27-36.
Shodavaram, M., Jones, L., Weaver, L., Marquez, J., & Ensle, E. (2009, Spring). Education of non-European ancestry immigrant students in suburban high schools. Multicultural Education, 16(3), 29-36.
Penn, E., Pirtle, D., & Jones, L. (2007). Prevention and diversion of delinquency in Texas. In S. M. Cox, J. M. Allen, R. D. Hanser, & J. J. Conrad (Eds.). Juvenile Justice: A guide to theory, policy, and practice (6th ed.)(pp. 204 – 215). Thousand Oaks, CA: Sage Publications.
Jones, L. (2005, Summer). The multicultural education perspective on the cultural identity of students: What teachers should know about student diversity. Kappa Delta Pi Record, 41(4), 150-151.
Jones, L. (2005, January). Maintaining the curricular philosophies of a multicultural education course: From face-to-face to eLearning Environments. AACE Journal, 13(1), 91-99.
Wilson, M., Jones, L., Marquez, J., & Tanguma, J. (Winter, 2005). Black students' perceptions about academic achievement. Journal of Intercultural Disciplines, 5, 169-190.
Jones, L. (2004, Winter). Teaching citizenship through multicultural education. Kappa Delta Pi Record, 40(2), p. 60-61.
Jones, L. & Weaver, L. (2003, Winter). Attitudes and perceptions about race of preservice and inservice teachers. Texas Association of Bilingual Education Journal, 7(1), 63-72.
---
Awards and Accomplishments
Piper Award Nominee – Outstanding Teaching Award (2004)
National Association of African American Studies (NAAAS) Board of Directors (2003)
National WebCT Exemplary Course Project Nominee (2002)
People's Republic of China Academic Scholar Award (2001)
Piper Award Finalist (1999)
Who's Who Among American College Students
Kappa Delta Pi - Deborah P. Wolfe Laureate Scholarship (1997)
Kappa Delta Pi - Honor Society in Education Inductee (1997)
Educational Testing Service 1997 Summer Graduate Research Award.
---