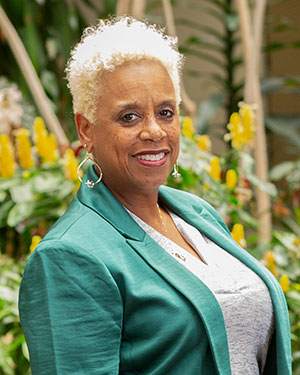 Lisa Jones, Ed.D.
Professor of Counseling, Special Education, and Diversity,
College of Education
Contact number: 281-283-3551
Email: jonesl@uhcl.edu
Office: Bayou Suite 1325
Areas of Expertise
Multicultural and diversity issues
Learning styles of minority students
Racial tolerance in education
---
Publications
Jones, L. (2018, Fall). Black fish in a White pond: Identity development of African American Students in predominately White suburban schools. Multicultural Education, 26(1), 35–38.
Peña, C., Jones, L., Orange, A., Simieou, F., & Márquez, J. (2018, June). Academic success and resiliency factors: A case study of unaccompanied immigrant children. American Journal of Qualitative Research, 2(1), 142–161.
Jones, L. (2016, September). The importance of civic and social engagement in minority communities. Journal of Family Strength, 16(10),1–11.
Harris Russell, C., McDonald, D., Jones, L., Weaver, L. (2016, September). The Continuum of lens through which teachers view cultural differences: How perceptions impact pedagogy. Journal of Family Strength, 16(5), 1–32.
Sloan, E., Sawyer, C., Warner, T., & Jones, L. (2014). Adolescent Entertainment or violence training? The Hunger Games. Journal of Creativity in Mental Health, 9(3), 427–435. Doi: 10.1080/15401383.2014.903161
Johnson, D., Jones, L., Simieou, F., Matthew, K., & Morgan, B. (2013). The relationship between grade configuration and standardized science test scores of fifth grade students: What school administrators should know. Journal of At-Risk Issues, 17(2), 31 – 38.
Jones, L. (2012, Fall). National Association of African American Studies and Affiliates: How the organization redefines the dialogue about multicultural education. Twentieth Commemorative Edition of the Journal of Intercultural Disciplines,11, 27-36.
Shodavaram, M., Jones, L., Weaver, L., Marquez, J., & Ensle, E. (2009, Spring). Education of non-European ancestry immigrant students in suburban high schools. Multicultural Education, 16(3), 29-36.
Penn, E., Pirtle, D., & Jones, L. (2007). Prevention and diversion of delinquency in Texas. In S. M. Cox, J. M. Allen, R. D. Hanser, & J. J. Conrad (Eds.). Juvenile Justice: A guide to theory, policy, and practice (6th ed.) (pp. 204 – 215). Thousand Oaks, CA: Sage Publications.
---
Awards and Accomplishments
University of Houston – Clear Lake, University Faculty Fellowship Award (2019-2020)
The Brazos Valley African American National Heritage Society and Museum Honoree for significant contributions to our community, the museum, the state or country (2019)
University of Houston – Clear Lake Sigma Alpha Pi Chapter of The National Society of Leadership and Success Excellence in Service to Students Award (2018)
University of Houston – Clear Lake Alumni Association Outstanding Professor Award & Fellowship (2016)
Piper Award Nominee – Outstanding Teaching Award (2004)
National Association of African American Studies (NAAAS) Board of Directors (2003)
---