Psychology M.S. with Human Factors Concentration
Interdisciplinary Psychological Science
As a Human Factors specialist from University of Houston-Clear Lake, you will be trained to utilize principles and methods associated with Cognitive Psychology to design and improve human-machine interfaces, technology, and equipment. Human Factors is interdisciplinary, combining elements of engineering, computing, and psychology, and can be applied to software engineering, interface design, product development, industrial engineering, instructional technology, industrial safety, architecture, and medical technology.

The keystone of the application of Human Factors to these industries is the utilization and implementation of User-Centered Design, a process that insures the requirements of the ultimate user of the technology (a human) are integrated into the design and construction of the technology itself. The proliferation of technology in industry has generated an increased demand for professionals with knowledge of the process and methods associated with Human Factors.
Build Valuable Skills for a Hands-On Career
This program allows many opportunities for you to receive hands-on experience through coursework, laboratory research, and collaborations with industrial partners. Currently, the UHCL program is one of few terminal Master's programs accredited by the Human Factors and Ergonomics society in the nation and is directly aimed at preparing you for a career in industry. As a Human Factors professional, you will be prepared to assume such roles as Human Factors Specialist, UI/UX Developer or Engineer, and Human Computer Interaction Specialist. Additionally, graduates are prepared for the Board Certified Professional Ergonomist exam.

This program is designed for all backgrounds and a degree in psychology is not a requirement for admission. Many of the alumni of this program had previous non-psychology undergraduate degrees such as engineering, computer science/engineering, architecture, and medicine.
---
Admission Requirements
University of Houston-Clear Lake's College of Human Science and Humanities wants to help you reach your educational goals. Discover the admissions requirements that will let you become the next UHCL Hawk.

Psychology M.S. with Human Factors Concentration

Admission Deadline

Fall Only:

Early Review: February 1
Final Deadline: May 1

Application

Incoming Students/External Applicants - Apply online through the UHCL Graduate Application Portal for admission to the University of Houston-Clear Lake as a graduate student.

Current students/Internal Applicants - Students already enrolled in the Psychology M.S. program and wishing to enroll in the Human Factors Concentration must formally apply. Additional information can be obtained by contacting the faculty coordinator, Dr. Steven Sutherland at Sutherland@uhcl.edu.

Documents for admission are submitted after completion of the application. All required documents are due by the program application deadline (i.e., Official College Transcripts, GRE Scores, and supporting documents).

Admission in the Psychology MS concentrations (Human Factors and Neuroscience) may be given as an incoming or current UHCL student. Student may initially seek acceptance into the Psychology, MS then apply to the concentrations the following Fall semester. Acceptance into the Psychology, MS program does NOT guarantee acceptance into the concentration programs.

Requirements

Students wishing to enroll in the Human Factors Concentration must formally apply. Additional information can be obtained by contacting the faculty coordinator, Dr. Steven Sutherland at Sutherland@uhcl.edu.

GRE Scores Not Required: Students are welcomed to submit a GRE to assist in the admission review process. For students who do not wish to provide GRE scores, the GRE requirement will automatically be removed from the e-service checklist after successful submission of the admission application.
Official Transcripts: Students should submit official transcripts from every college or university attended to the University of Houston-Clear Lake, Office of Admissions or International Admissions.

Please review New Student Admissions in the Graduate Catalog under Transcripts and Records Information to learn how to submit an official college transcript to UHCL.

Required Additional Supporting Documents: The following documents and information should be uploaded through the UHCL Graduate Application Portal:

Curriculum Vitae: An expanded résumé describing previous education; all work experience; relevant course work and relevant volunteer activities; any honors, presentations, papers, avocations or other relevant life experiences.
Statement of purpose and goals (not to exceed 1,000 words): describing your reasons for wanting this degree and how it fits into career goals.
Contact information for two (2) letters of recommendation: Students identify recommenders through the UHCL Graduate Application Portal. Once recommenders and contact information is submitted, recommenders will receive an email to a link to submit the letter of recommendation. Recommendations from academic faculty and/or work supervisors who know the applicant well are especially important. At least one from an academic source.

Admission Review Process

Application to the Human Factors Concentration plan can be made at any point during the year. Notification is usually provided within one month of the submission deadline. Applicants are not admitted into the Human Factors Concentration until they receive formal notice from the Human Factors Selection Committee.

Students may take graduate courses before being formally accepted into Human Factors Concentration or Certificate Program; however, certain courses (Practicum and Internship) will be restricted to those students who have been formally admitted into the program.
---
Degree Requirements
This degree has a specific set of courses you'll need to complete before you can graduate from University of Houston-Clear Lake. Learn more about the classes that will help you complete the requirements of this degree.
Psychology, Human Factors Concentration, M.S.
---
Cost Information
Investigate the direction of your future with this look into the prospective costs of a degree from UHCL.
Tuition and Fees
Fee Schedule Calculator
---
Locations
---
Accreditations and Distinctions
The Human Factors Certificate and the Human Factors concentration in the M.S. Psychology program are both accredited by the Human Factors and Ergonomics Society.
---
Psychology M.S. with Human Factors Concentration Faculty
Steven Sutherland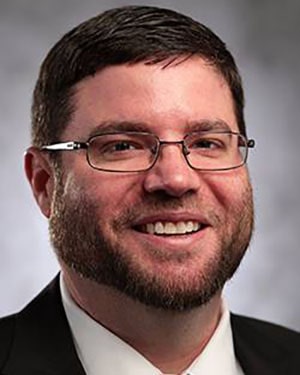 Steven Sutherland
Associate Professor of Psychology,
Human Sciences and Humanities
Contact number: 281-283-3474
Email: sutherland@uhcl.edu
Office: Bayou 2233.08