Credit Card Processing Fee Policy
Effective July 18, 2022, payments for student accounts related to tuition and fees (including short term or emergency loans) made by credit or debit card (used as a credit card) will be assessed a processing fee of 1.40%.
This fee covers processing charges assessed by the credit card companies, and it is applicable only when you use a credit or debit card (used as a credit card) for tuition or fee payments. The processing fee will be charged at the time of payment.
This fee does not impact other methods of payment or departmental credit/ debit card payments. Credit and debit cards will continue to be accepted by departments online and in person (as applicable). We have collected payment options available that do not assess such a charge in the "Additional Payment Methods" section of this page.
What to Expect
A 1.40% processing fee will be assessed for tuition and fee payments made with a credit or debit card by MasterCard, Discover, Visa or American Express.
This charge will appear as a separate transaction on the cardholder's credit card statement.
The fee is non-refundable.
Credit/debit card payments shall be made online.
Credit/debit card payments are not accepted by phone.
This payment policy will permit UHCL to keep costs down for all of our students so we can provide outstanding academic programs and services, while continuing to provide other no-cost options for student tuition and fee payments.
Additional Payment Methods
To avoid the credit card processing fee, we offer other options for tuition and fee payments with no additional cost to payer.
Online
Online
You can make your payment via electronic check or ACH transaction. Enter the bank account routing and account numbers from your personal check. Do not use your debit card information.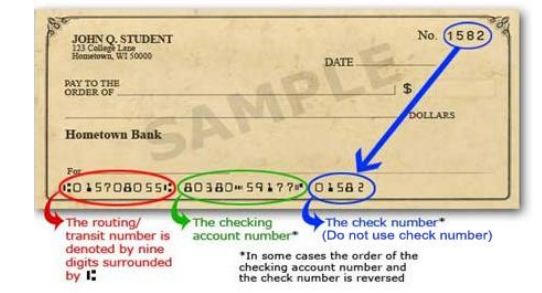 If you are uncertain about what information to use, please contact your banking institution.
Do not include the check number.
The entry of incomplete or inaccurate information may lead to a $20 fee for items returned for:

Account Not Found
Unable to Locate
Insufficient Funds
You may use your BankMobile account by using the "Online Bill Pay" feature and avoid the processing fee. To learn how, follow these instructions.
By Mail
By Mail
To pay via personal check, cashier check or money order, mail your payment to:
UHCL Student Business Services
2700 Bay Area Blvd, Mail Code 106
Houston, TX 77058
Payments must be received by UHCL 24 business hours in advance of the payment deadline date to allow adequate processing time prior to the deadline.
The student's name and UHCL student ID number must accompany all mailed payments to ensure timely processing.
In Person
In Person
Payment by check, money order or cash may be made in person at Student Business Services at either campus.
UH-Clear Lake: Monday - Friday: 8am - 5pm
UHCL at Pearland: Monday - Friday: 8am - 5pm
Hours are subject to change. Please visit the Student Business Services website for current information.
After-hour payments can be placed in the secure depository slot adjacent to the Student Business Services windows at the Clear Lake and Pearland campuses.
The student's name and UHCL student ID must accompany payments to ensure timely processing.
Payments placed in the depository after hours on a payment deadline date will not be processed until the next business day.
In this instance, late payment fees and/or the deletion of course schedules will apply.
A $20 Return Fee will be assessed for any returned check, including payment made online or via electronic check/ACH.
Frequently Asked Questions