Vice President for Administration and Finance
Mark Denney
Email: denney@uhcl.edu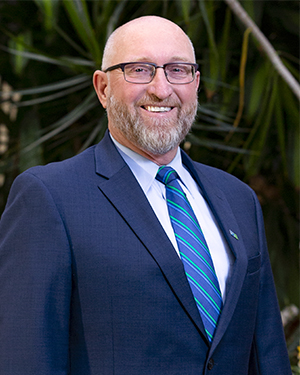 Mark Denney joined University of Houston-Clear Lake as the Vice President for Administration and Finance in October, 2018. He came to UHCL from Southern Oregon University where he served as the Associate Vice President for Budgets and Planning from 2014-2018. Prior to that, Mr. Denney served as the Senior Budget Analyst at Mt Hood Community College just outside Portland Oregon.
Prior to these positions, he was the Chief Business Officer at Salida Union School District and the Accounting Manager/Controller at Modesto City Schools, a public education district with over 30,000 students, both were in northern California. He has also held positions from Senior Business Analyst, Plant Accountant and Plant Controller at multiple locations in Oregon and California with the manufacturing industry for fortune 500 companies.
Mr. Denney's initial professional experience was in the United States Marine Corps where he served as a Financial Management Officer, initially overseeing payroll and travel, then progressing to serving as the Budget Officer/Comptroller for both the First Marine Division in Okinawa Japan and the First Marine Expeditionary Force (I MEF) at Camp Pendleton California. Mr. Denney served 13 years on active duty and 12 years in the reserves before retiring in 2005 as a Lieutenant Colonel
Mr. Denney holds a Bachelor of Science from Oregon State University in Financial Management and Control and a Master Business Administration from Portland State University.
Reporting Units
Administration and Finance Division
Executive Assistant
Shirley Nilsen
Phone: 281-283-2111

Bayou Bldg, Suite 2317
2700 Bay Area Blvd
Houston Texas 77058-1002