Associate Vice President, UHCL at Pearland
Beth Lewis
Email: lewisbe@uhcl.edu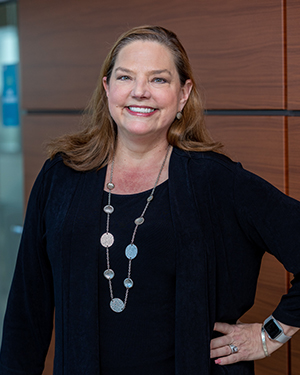 Dr. Beth Lewis joined UHCL's leadership team in September 2020 as the first-ever interim associate vice president and chief operations officer for UH-Clear Lake at Pearland. She brings more than 33 years of experience in higher education instruction and administration to her role, most of which were in Texas.
In her position, Dr. Lewis manages the implementation of the strategic plan, administration and management of all academics, continuing education, strategic enrollment management and public service program development.
A native Houstonian, Dr. Lewis spent three years as executive vice president and chief academic officer, and one year as vice president for Academic Affairs at Del Mar College in Corpus Christi. She was also the direct supervisor of five deans, chaired the Emergency Management Team, and co-chaired the Strategic Planning Committee. One of her noteworthy achievements at Del Mar College was serving as the administrative lead on building a new campus, and the renovation of one of the college's existing campuses.
Her administrative experience also includes serving as president of College of the Mainland in Galveston County, founding vice president of Academic Affairs at Northeast Lakeview College of the Alamo Colleges System in San Antonio, and dean of Academic Affairs for Blinn College in Brenham. Prior to her years in administration, she served as an English professor at two community colleges and as an adjunct faculty member at Sam Houston State University.
Dr. Lewis holds a Doctorate in Educational Leadership and a master's degree in English, both from Sam Houston State University. She earned her bachelor's degree in English from The University of Texas at Austin.