International Robotics Symposium Sept. 19-21
The International Measurement Confederation (IMEKO) Technical Committee 17 will bring the International Symposium on Measurement and Control in Robotics to University of Houston-Clear Lake on Sept. 19-21.
The symposium will focus on research, applications, trends and innovations in the fields of robotics, telerobotics, simulator platforms and mobile work machines, as well as virtual reality/augmented reality and 3-D modeling and simulation.
IMEKO TC 17 is comprised of members of the 17-nation confederation, which is calling out to engineers and researchers worldwide to contribute to the symposium's workshops and panels. The Institute of Electrical and Electronics Engineers (IEEE) is sponsoring the event. All papers are peer reviewed and will be published with IMEKO and IEEE guidelines.
For more information and registration, visit the symposium website at ISMCR.org.
---
Past Events
2018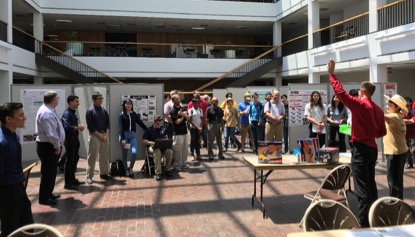 Houston Robotics & AI Day 2018
Aug. 3, 2018
The third annual Houston Robotics & AI Day took place on Friday, August 3 in the UHCL Bayou building with over 50 people in attendance. Dr. Reg Berka of Houston Mechatronics kicked off the event with a keynote speech highlighting the breakthrough technology currently in development for Aquanaut, the underwater autonomous transforming robot. The morning continued with presentations from Houston-area robotics and AI students and faculty. A poster session followed with additional students highlighting and discussing the work in which they are currently involved.
This annual event provides a showcase of the current projects and research being done at Houston-area academic institutions including UHCL, the main and downtown campuses of the University of Houston, San Jacinto College, and Rice University. Anyone interested in robotics and AI is encouraged to attend.
---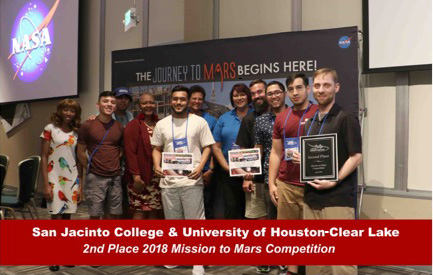 NASA Swarmathon Competition
April 17, 18, 19, 2018
A combined team from UHCL and San Jacinto College returned from the NASA Swarmathon competition at Kennedy Space Center with the second place award for the Mission to Mars competition. The NASA Swarmathon is a multi-year competition with the challenge to develop cooperative robots for Mars exploration and resource gathering. For the physical robot competition, the UHCL-SJC team competed with 23 other Minority Serving Universities and Community Colleges to determine the optimum search algorithms for these robotic swarms. Pictured are the students and faculty from both schools as they receive the award from the NASA/University of New Mexico staff at the competition at KSC.
For more information on this competition and to see the final results, check out http://nasaswarmathon.com.
---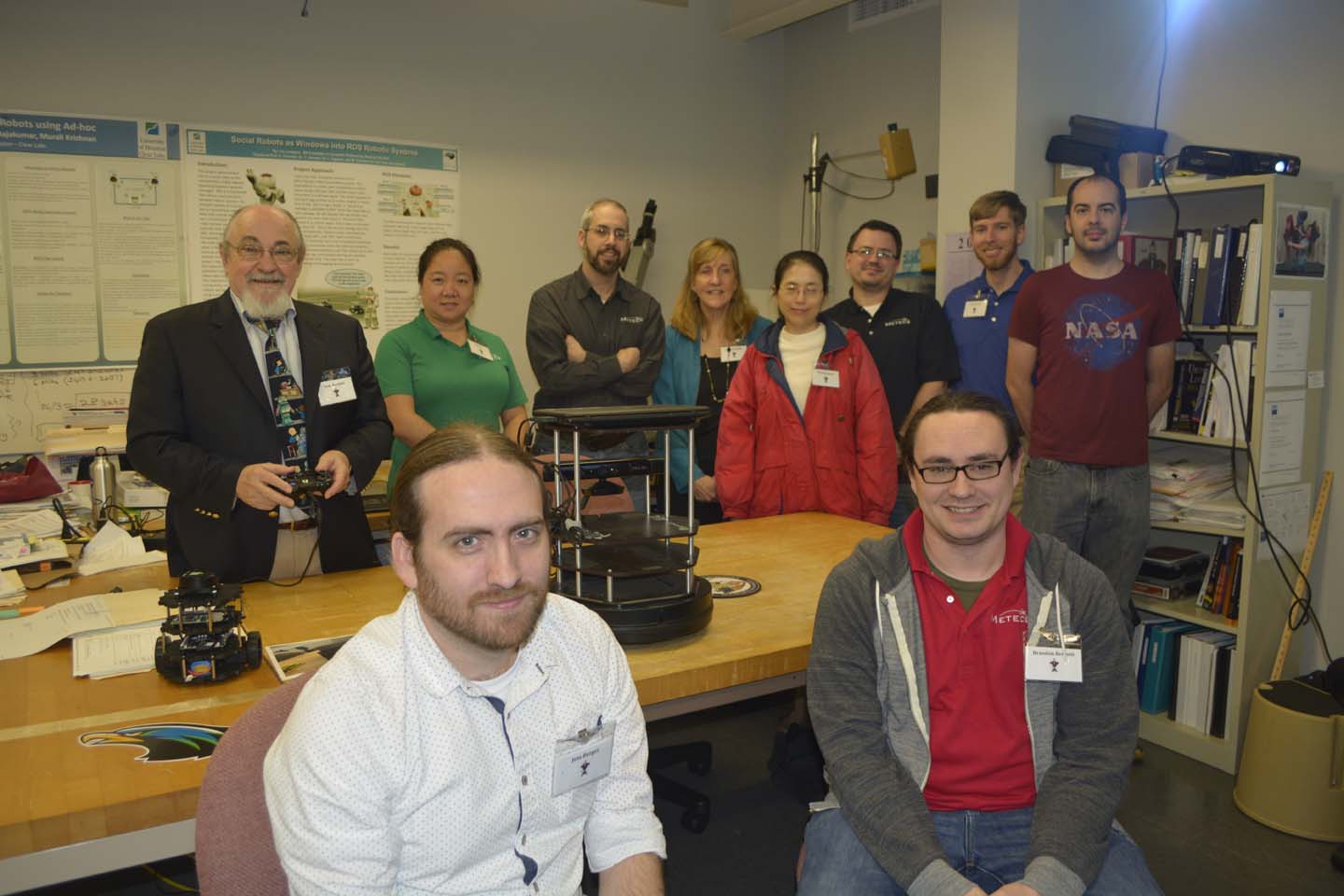 Center for Robotics Software Robot Operating System
January – February 2018
The Center for Robotics Software hosted a 3-day seminar for engineers and programmers from the local company METECS. The seminar taught the fundamentals of the Robot Operating System (ROS). Instructors, Dr. Thomas Harman, Dr. Luong Nguyen and Carol Fairchild provided lectures, hands-on simulation exercises and robot demonstrations to the group. The METECS employees were very interested and engaged. All felt that the ROS workshop was successful and additional seminars are anticipated.
2017
UHCL Swarmathon Team Pushing Robotics to New Frontiers
UH-Clear Lake Hosts Center for Robotic Software with Kickoff Event
Houston Robotics and AI Day showcases area research, technology
July 21, 2017
Area educators, engineers and students gathered at University of Houston-Clear Lake for the Houston Robotics and AI Day on Friday, July 21 for presentations and demonstrations of the latest research and applications of robotics and artificial-intelligence technology. Read More
Robotics and AI Day provides a showcase of what is, what can be
August 14, 2017
Three wide-eyed middle-school students stood over Turtlebot 3 "Burger," one of the latest robots procured by University of Houston-Clear Lake's Center for Robotics Software. Under eight inches tall, it doesn't look much like a robot. It doesn't look anything at all like a turtle, let alone a hamburger. Learn More